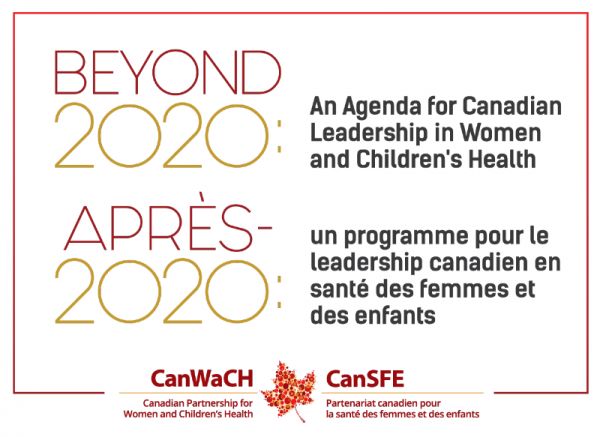 #CanWaCH2020 | #CanSFE2020
For registered attendees, the Pre-Conference Discussion Paper (which will be presented on Day 1) is now available. Download it here. 
Missed your chance to register? You can attend virtually as the entire Conference will be live streamed! Register here to be able to access the Conference webcast.
Beyond 2020: An Agenda for Canadian Leadership in Women and Children's Health
April 18-19, 2018
Westin Ottawa, 11 Colonel By Drive, Ottawa
The 'must-attend' conference for any Canadian organization or individual planning global health and development projects and programs for beyond 2020!
The global health and development landscape has changed. New 'lenses' have emerged to guide us in shaping, evaluating, and executing health-based development interventions. These lenses include key domestic shifts outlined in the Feminist International Assistance Policy, and new international frameworks such as the Sustainable Development Goals, the Women Deliver "Deliver for Good" campaign, and the Every Woman Every Child Global Strategy.
Why attend:
Is your organization considering and/or working on the implementation of the federal Feminist International Assistance Policy for your organization?
Is your organization planning or drafting program and project proposals for beyond 2020?
Is your organization planning monitoring and evaluation activities for your organization?
Global Affairs Canada representatives will be part of the Beyond 2020 Conference and conversations about the future of Canadian leadership in women and children's health.

Conference Friend Contributor:

Updates:
The Conference Master of Ceremonies is Caroline Codsi, Founder of Women in Governance. You can learn more about Caroline here. 
Parliamentary Secretary to the Minister of International Development Celina Caesar-Chavannes will deliver the closing keynote speech and Sophie Grégoire Trudeau will deliver the closing remarks for Day 1. 
We are launching the First Annual CanWaCH Awards for Canadian Excellence in Women and Children's Health. They will be given out as part of the Conference's April 18th evening reception.
Registration is now closed. Please register on site.