Budget 2022: Key Highlights for CanWaCH Members and the International Development Sector
This summary includes immediate highlights of Federal Budget 2022 tabled by Finance Minister Chrystia Freeland in the House of Commons on April 7, 2022. Further analysis and implications of budget measures will be shared on our social media channels in the coming days.
Key Ongoing Actions
In the past year, including through Budget 2021, the federal government has announced a range of important programs and initiatives that are advancing Canada's leadership in the world, including:
More than $2.7 billion since the start of the COVID-19 pandemic to support low- and middle-income countries, including by providing access to vaccines, therapeutics, and testing;
$5.3 billion over five years to double Canada's international climate financing to help developing countries tackle climate change;
$180 million at the Generation Equality Forum to support the economic participation and higher education of women around the world;
$1.5 billion over three years to the International Development Association to help meet the financing needs of the world's poorest countries as they recover from the pandemic; and,
$3.7 billion, or 20 percent of Canada's newly allocated IMF Special Drawing Rights, in support for poverty reduction, sustainability, growth, and resiliency in low-income and vulnerable countries to help those who need it most.
Supporting Ukrainians Through the Crisis
To date in 2022, Canada has committed $145 million in humanitarian assistance, and $35 million in development assistance to provide direct support to Ukrainians who have been affected by the illegal Russian invasion. This includes $30 million that matched the donations of individual Canadians. However, we know that more needs to be done to help Ukraine continue to provide essential services to its people.
Providing International Assistance
Now, more than ever, it is critical that Canada work to build a safer, more stable, and more prosperous world for all. Canada has an important role to play in promoting and strengthening democracy and human rights, and ensuring that, through our Feminist International Assistance Policy, we do our part to improve the lives of women, girls, and vulnerable populations around the world.
The significant challenges facing the international community require strong, united responses from the world's leading democracies. That is why Canada has continued to maintain high levels of international assistance, with our International Assistance Envelope expenditures reaching a record total of more than $7.6 billion on a cash basis in 2020-21.
Canada has provided significant investments to support the global response to COVID-19; doubled our commitment to help low- and middle-income countries mitigate and adapt to climate change; and provided financial support through the World Bank and International Monetary Fund to help vulnerable countries cope with new crises.
Through Budget 2022, Canada will continue to enhance our assistance efforts, with a focus on bringing an end to the COVID-19 pandemic and strengthening global health security.
Chart 5.2 shows growth going forward, and the government is committed to increasing international assistance funding towards 2030.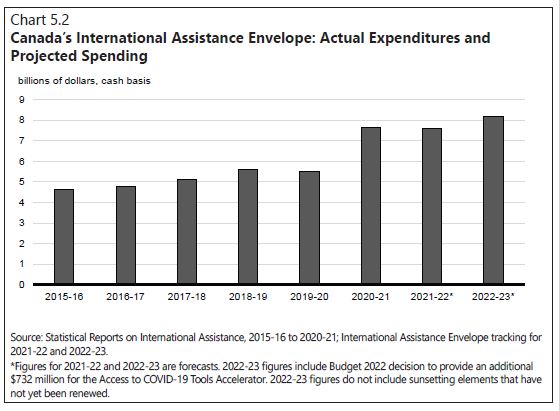 Leading in the Global Fight Against COVID-19
As we have seen over the past two years, COVID-19 knows no borders. Since February 2020, Canada has committed more than $2.7 billion in international assistance to fight the pandemic, including a contribution of more than $1.3 billion to the Access to COVID-19 Tools Accelerator (ACT-A)—a global effort to improve equitable access to COVID-19 vaccines, tests, and treatments. This made Canada one of only six countries to meet or exceed the independently assessed voluntary contribution target for the ACT-A's 2020-21 funding cycle.
Budget 2022 proposes to provide $732 million in 2022-23 to Global Affairs Canada to further support the efforts of the Access to COVID-19 Tools Accelerator. and to ensure that Canada continues to provide its fair share to global efforts to improve access to vaccines, therapeutics, and other tools to fight COVID-19. This will bring Canada's total contribution to the Access to COVID-19 Tools Accelerator to more than $2 billion since the start of the pandemic.
Strengthening Global Health Security
Canada is a long-standing contributor to global health security, which is a shared challenge that requires strong and consistent collaboration between countries around the world.
Budget 2022 proposes to provide an additional $296 million over four years, starting in 2023-24, and $74 million ongoing, to Global Affairs Canada to help support efforts to address global health security priorities, such as infectious disease prevention and response.
In 2019, the government committed to increase annual global health spending from $1.1 billion to $1.4 billion by 2023-24. With this additional support, Canada will exceed this commitment, spending nearly $1.5 billion towards global health in 2023-24.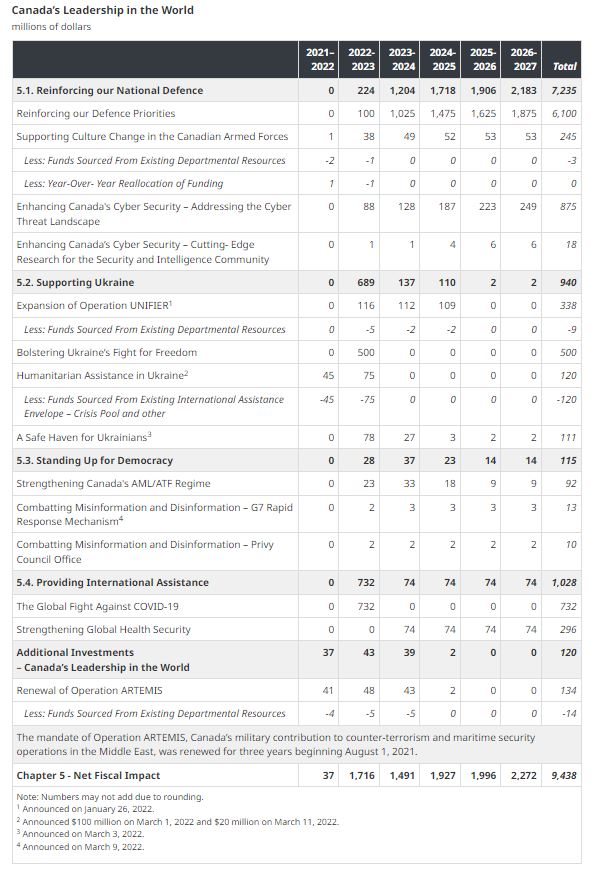 Stronger Partnerships in the Charitable Sector
To ensure sufficient flexibility for charities to carry out their work, Budget 2022 proposes to amend the Income Tax Act to allow a charity to provide its resources to organizations that are not qualified donees, provided that the charity meets certain requirements designed to ensure accountability. This is intended to implement the spirit of Bill S-216, the Effective and Accountable Charities Act, which is currently being considered by Parliament.
Boosting Charitable Spending in Our Communities
Every year, charities are required to spend a minimum amount based on the value of their investment assets. This is known as the "disbursement quota" and it ensures that charitable donations are being invested into our communities.
Following consultations with the charitable sector in 2021, Budget 2022 proposes to introduce a new graduated disbursement quota rate for charities. For investment assets exceeding $1 million, the rate of the disbursement quota will be increased from 3.5 per cent to 5 per cent.
This new, higher rate will boost support for the charitable sector while being set at a level that is sustainable, ensuring the continued availability of funding over the longer term.
These changes will be effective in respect of a charity's fiscal period beginning on or after January 1, 2023, and will be reviewed after five years.
The Canada Revenue Agency will also improve the collection of information from charities, including whether charities are meeting their disbursement quota, and on information related to investments and donor-advised funds held by charities.