Decolonizing monitoring, evaluation and research in global health: Lessons from the Canadian Conference on Global Health 2022
Towards Inclusive Global Health
What do we consider to be "inclusive global health"? What does it look like? And who decides? The 2022 Canadian Conference on Global Health (CCGH 2022), hosted in Toronto from November 21-23 asked sharp questions and explored topics of power, localization and decolonization in the industry. From plenary discussions featuring researchers and government health officials to presentations and workshops facilitated by non-governmental organization practitioners, the sessions challenged attendees to reflect on who benefits from global health outcomes and who is engaged in setting priorities and the global health agenda. Researchers were challenged to reconsider the extractive nature of data collection and contemplate a research process that creates space for community ownership and equal power relationships.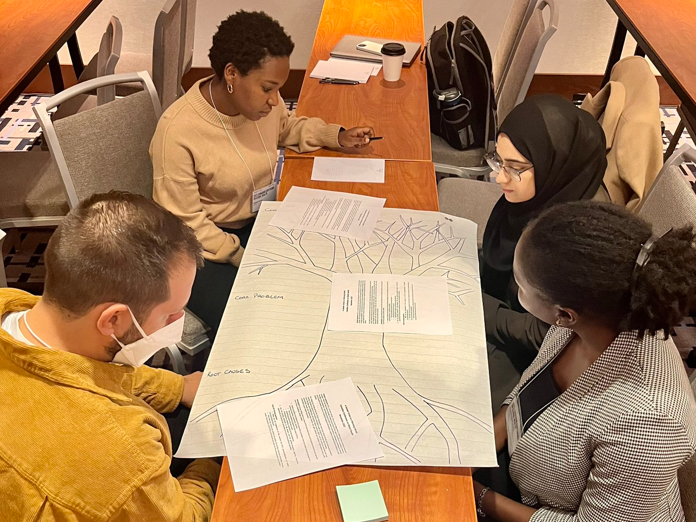 Learning for Monitoring, Evaluation, Research and Learning practice
As a monitoring and evaluation practitioner in the non-profit sector, the sessions focused on evaluation and data collection were insightful. A few highlights for me included:
1. Localizing the development of participatory tools to understand social norms related to gender-based violence amongst adolescents in refugee settings
Right to Play, the University of the Fraser Valley and the Global Women's Institute presented their research and emerging learnings from a localized and collaborative process of research design, instrument development and data collection with girls and boys from refugee and displaced populations in Uganda and Lebanon. The session demonstrated the value of participatory methods including journaling, drawing, vignettes and drama to infer meaning and better understand why change is happening.
2. Remote Data Collection of Sexual and Reproductive Health Outcomes: A Systematic Review of Methodological and Ethical Implications
Luissa Vahedi presented the findings of a systematic review exploring peer-reviewed evidence on the use of remote data collection in humanitarian and fragile settings to collect primary data on sexual and reproductive health (SRH) and gender-based violence (GBV) among women and girls. Important methodological and ethical factors were highlighted from the systematic review that can benefit researchers and practitioners when considering the use of remote data collection tools for SRH and GBV projects. These included the use of non-probability sampling methods, the bias associated with access to technology and participant safety. The presentation underlined the importance of a risk assessment to consider the methodological and ethical implications before deciding to use remote data collection tools.
3. Decolonizing global health monitoring, evaluation, research and learning: with, by and for communities
The virtual symposium featured presentations from SeeChange, Katswe Sistahood and Salanga, which challenged the extractive nature of monitoring and evaluation processes. This session offered alternative approaches that promote community ownership of monitoring and evaluation practice. The practical examples shared by the presenters provided participants with tools to enable increased community-led monitoring, evaluation and research. If you are interested in learning more, you can check out Salanga's webinar on Community-led Monitoring, Evaluation, Accountability and Learning here.
"Nothing about us without us"
The CCGH 2022 conference challenged me to improve the continuous reflection on our monitoring, evaluation, accountability and learning (MEAL) practice, particularly, how to strengthen community ownership of MEAL processes and increase agency – especially of those most affected by global health challenges. Evaluation and research can be extractive in nature and disempowering to communities we work with. The conference equipped participants with resources that will help improve our practice and create an increasingly inclusive environment. For those interested in learning more about CCGH 2022, please visit the conference website.
David Amaya is a global development worker with more than 10 years of experience in monitoring and evaluation. David is currently a Monitoring, Evaluation, and Learning Manager at Right To Play International based in Toronto; a child-focused organization that aims to protect, educate, and empower children to rise above adversity using the power of play. David has also worked in different contexts in the health, nutrition, education, youth empowerment, child protection, and WASH sectors. Click here to connect on LinkedIn.