Designing Digital Dialogue: Communications for Systems Change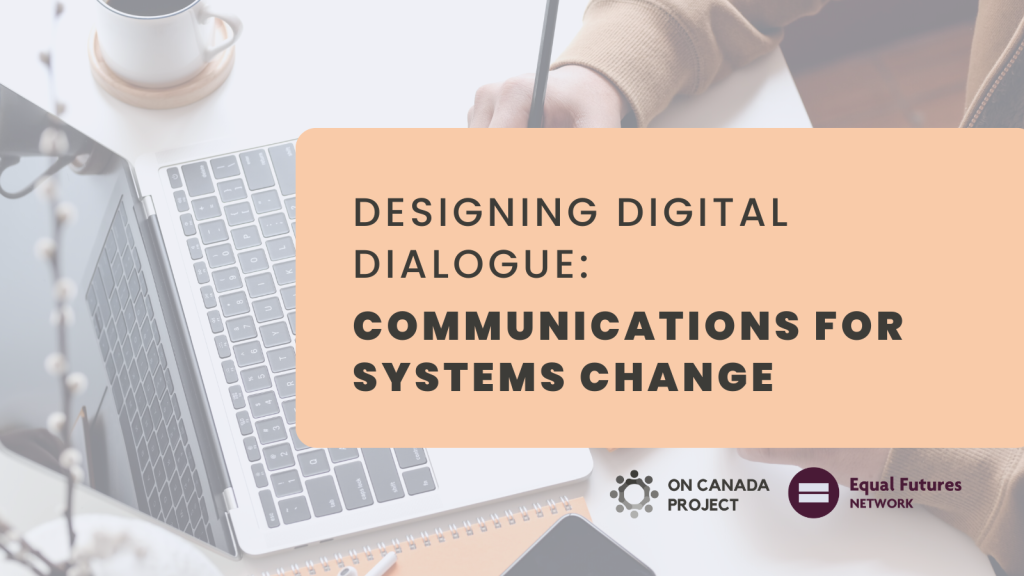 As social media platforms became communications lifelines during the pandemic, our digital worlds have expanded. With this has come shifts in power, as new voices entered the group chat amplifying causes in new ways. As we collectively build a shared language to talk about the inequities around us – led largely by Black, Indigenous, and Trans leaders – we are starting to engage with issues in different ways, demanding more from our employers and coming into an awareness that something needs to change.
Seeing these shifts, leaders are rushing to figure out how to respond while also navigating what these power shifts mean for them and their organizations. We've also seen a rush to talk about justice, equity, diversity and inclusion (JEDI) and a growing sense of overwhelm, fear, and unfortunately division.
On Canada Project has been experimenting at the frontlines of digital communications and community building over the last two years. We've organically grown a community of over 165k followers across Canada. What started as a passion project to bridge information gaps and help people access credible, critical and compassionate information has grown into a platform for systems change.
Our secret lies in community, not communications.
We believe a collective approach to communications centred in solidarity and partnership building is the only way forward. When we work together across organizations to intentionally engage communities, we can amplify our advocacy tenfold.
Our team has partnered with Equal Futures Network, a CanWaCH initiative, to design a resource that helps leaders, communications practitioners, and social media managers level up their digital communications and public engagement strategies. We are excited to introduce Designing Digital Dialogue: Communications for Systems Change!
Use the code 'CanWaCHmember' to enroll in the training and receive access to the toolkit, training modules and other materials for free! Please ensure that you sign-up online using your organizational email.
What does it mean to grow a community to 165,000 unique followers, 89% of which live across Canada? It means our content connects with people. It means people feel heard and seen in what we share. It means we've figured out how to share complex and nuanced information in a way that doesn't scare people away. It means we are building the trust needed to enter spaces with curiosity and creativity,
This is not just a course, it's a learning community. We will be hosting lunch & learns over the next 6 months and building a thriving discord community where we will cultivate trust, and support our collective unlearning, community engagement, and advocacy work.
To learn more, join us on October 12 at 3 p.m. ET for an interactive 90 minute webinar led by Gina Uppal and Sam Krishnapillai from the On Canada Project. This webinar will highlight the goals of the toolkit, and participants will receive a detailed walkthrough of the materials, a personalized learning plan, and an opportunity to connect with other community members undergoing this work.
Learn more and sign up here: https://oncanadaproject.ca/ocp-learns
Meet a community of leaders to learn, unlearn, and build with:
Building our empathy muscle is critical for this work — and creating space for storytelling and reflection is how we train ourselves. We have intentionally used personal narratives to ground our approach in the experiences and expertise of community leaders. Throughout the course, we dive into community dialogues where you will learn from leaders who share their strategies for building trust and meaningfully centring justice and equity in our process.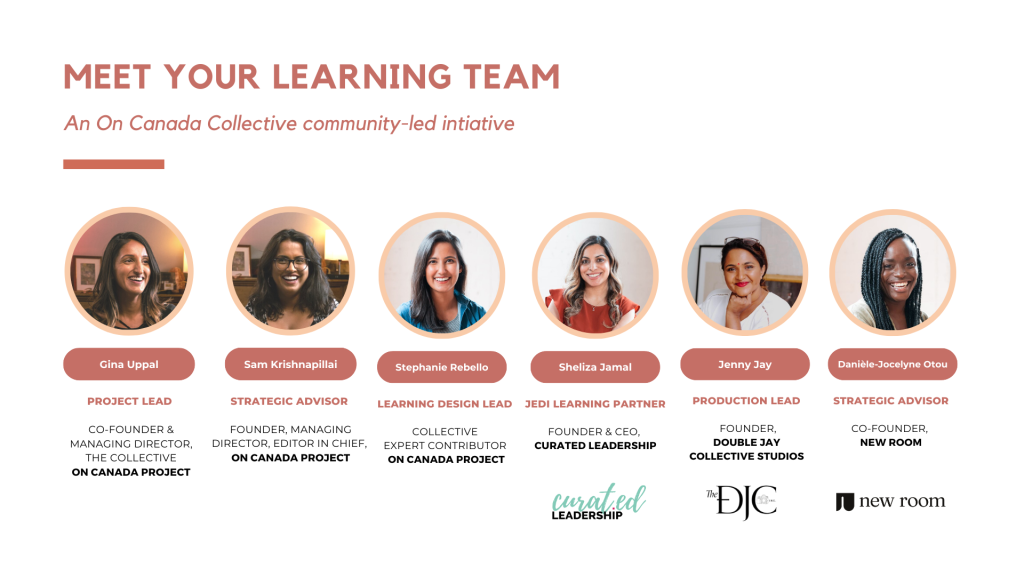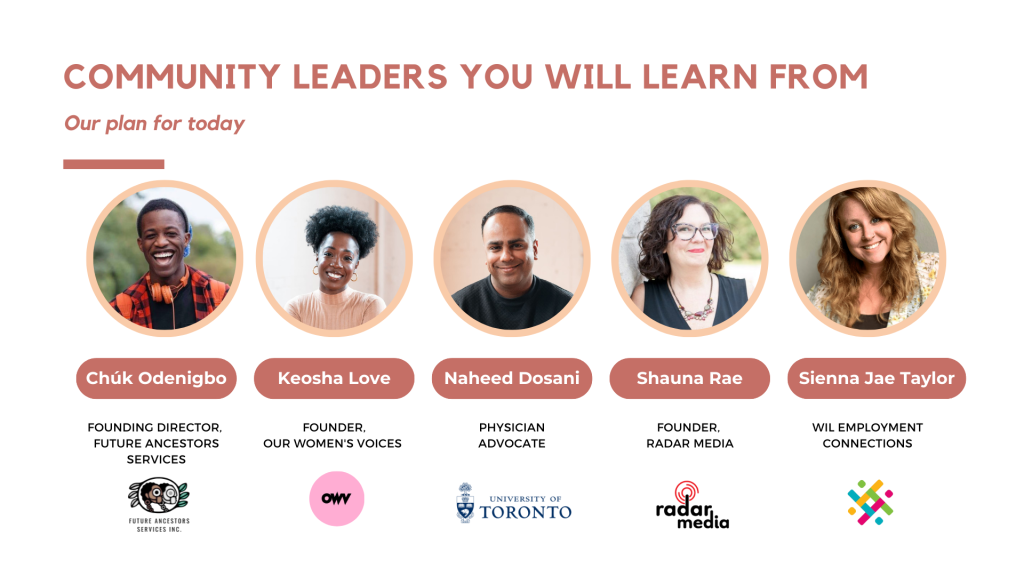 This is a critical time for investing in community-led change and meaningful solidarity. Division is a strategic tool that has been used for centuries to splinter marginalized groups, strategically weakening their collective power. With increased polarization around issues that have no business being polarized (read: human rights), coming together across communities and working in solidarity across issues has never been more important.
Stay tuned for our Designing Digital Dialogue blog series that dives deeper into our learning approach with sneak peeks of course content and the lessons we've learned over the last two years!
About Gina:
Gina is the co-founder of On Canada Project, where she is co-managing director, and executive producer of learning experiences. Over the last year, Gina helped launch the On Canada Collective, a network of leaders that work to steward justice and equity by crafting creative media and learning experiences that help people unpack complex topics and engage in compassionate conversations. Supporting this learning journey is critical for building a culture that allows diverse perspectives to shine. This not only leads to better products and services but creates transformative experiences that grow leaders personally and professionally, ultimately deepening their impact.