Reflections From Our Week at Women Deliver 2023
One of the largest multi-sectoral convenings to advance gender equality, Women Deliver 2023 was hosted in Kigali, Rwanda from July 17 to 20. Our participation in the conference saw us host a ministerial roundtable, engage in a side event co-hosted by two CanWaCH Members, hear and learn from gender equality advocates and host a networking reception that connected members and sector partners in attendance.
Our time in Rwanda also saw us visit projects by members and their partners! We met with project partners working to implement one of the 11 projects working to advance the health and rights of women and girls around the world and an organization working alongside community and government partners taking a strong rights- and equity-based approach to promoting maternal and child health. We reflect on the week below:
Mobilizing Canada's Collective Power to Advance Gender Equality, Everywhere
In advance of the conference, CanWaCH members joined Minister Harjiit Sajjan, Minister Marci Ien, MP Arielle Kayabaga, and MP Leah Taylor Roy representing CAPPD for an engaging roundtable. Organizing these types of discussions outside of Canada is of notable importance as they bring together a diverse and different set of people that the Ministers don't have the opportunity to regularly engage with, and particularly, colleagues who work closest to programming.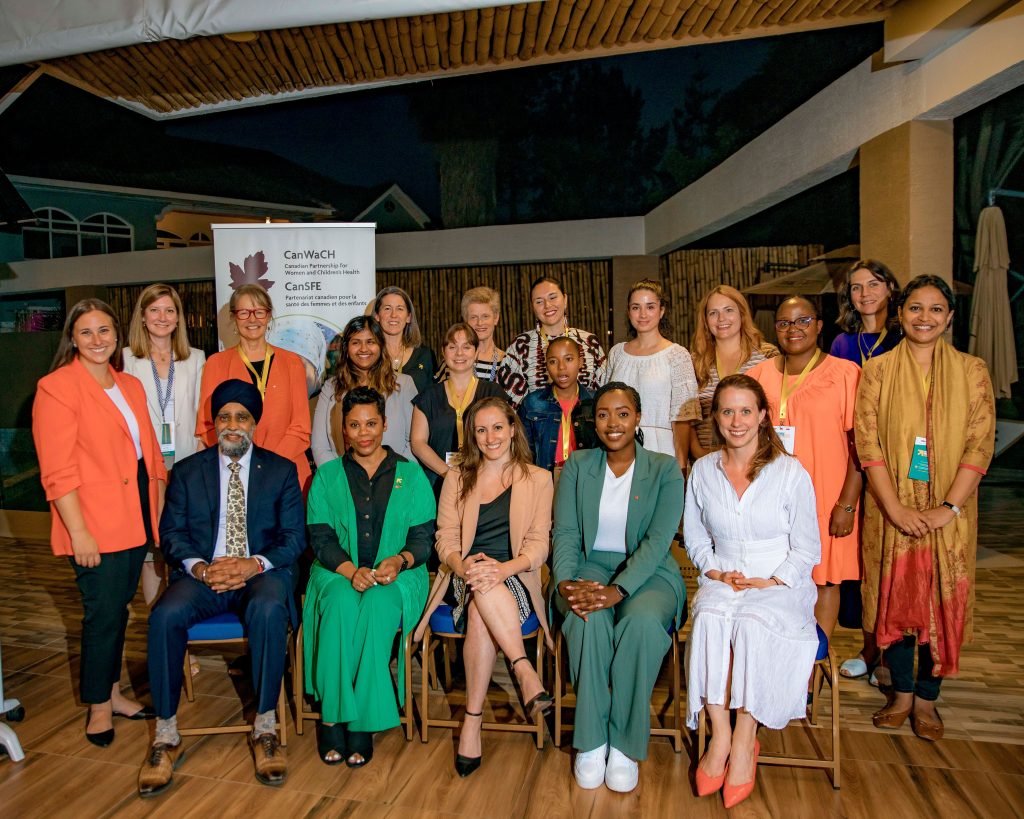 The roundtable considered some key questions: what successful Canadian engagement could look like at Women Deliver 2023 and beyond, what are some of the successes and challenges Canada has faced in the 4 years since the 10-year commitment was made at Women Deliver 2019, and how Canada can show up to these global spaces to make them more inclusive for a diverse range of voices. Participants were also able to share stories of impact and how the commitment that Canada made in 2019 has fundamentally changed how Canada is delivering gender-transformative health programs since. Photos from the roundtable can be viewed here.
Investing in community health workers for health equity
We were pleased to join Results Canada and UNICEF Canada for Investing in Community Health Workers for Health Equity, a side event that made the case for why we must make smart and sustainable investments from the bottom-up, including the people in communities who are the very foundation of effective and resilient health systems.
The backbone of the health system in many countries around the world, community health workers help patients access essential resources, educate them about health issues and make health care accessible to millions of people every day. The discussion highlighted the disproportionate burden of labour and unpaid work held by community health workers – and in particular women – and the need to revalue and redistribute work. It also considered the ways health systems would suffer and health outcomes would backslide in their absence.
In response to the question, "what is one tweet you want the audience to leave with?", we shared the following message at the culmination of the discussion:
We need to call on donors to work with countries to provide funding and remove barriers in support of public health systems that are community-designed, community-led, community-responsive and community-powered. #BreakBarriersBuildHealth
Gender and Climate Justice as One
The impacts of climate change disproportionately affect women and girls around the world. A plenary discussion, Mobilizing for Change: Advancing Climate and Gender Justice as One, brought together youth climate activists, grassroots leaders working at the intersection of gender and climate for a discussion on shifting power so that girls, women and young people can take a lead in meaningful climate action. Here are three things we heard:
"[People ask,] Why are women interested in climate. And I ask – why not? Men are not asked to justify their engagement. Women's participation in climate is fundamental to realizing our rights" Mwanahamisi Singano
"You cannot talk about or work towards climate justice without bringing universal human rights, SOGIE (sexual orientation, gender identity, and gender expression) issues, disaster risk reduction, biodiversity protection etc. There are women who have been self-taught to be able to speak science, economic justice etc. When we go into a room talking about fossil fuels, how many women are represented? We need women to be in those spaces." – Viva Tatawaqa
"It's easy to pull people together. It's harder to maintain it." Mwanahamisi Singano
Coming together for an evening of connection and solidarity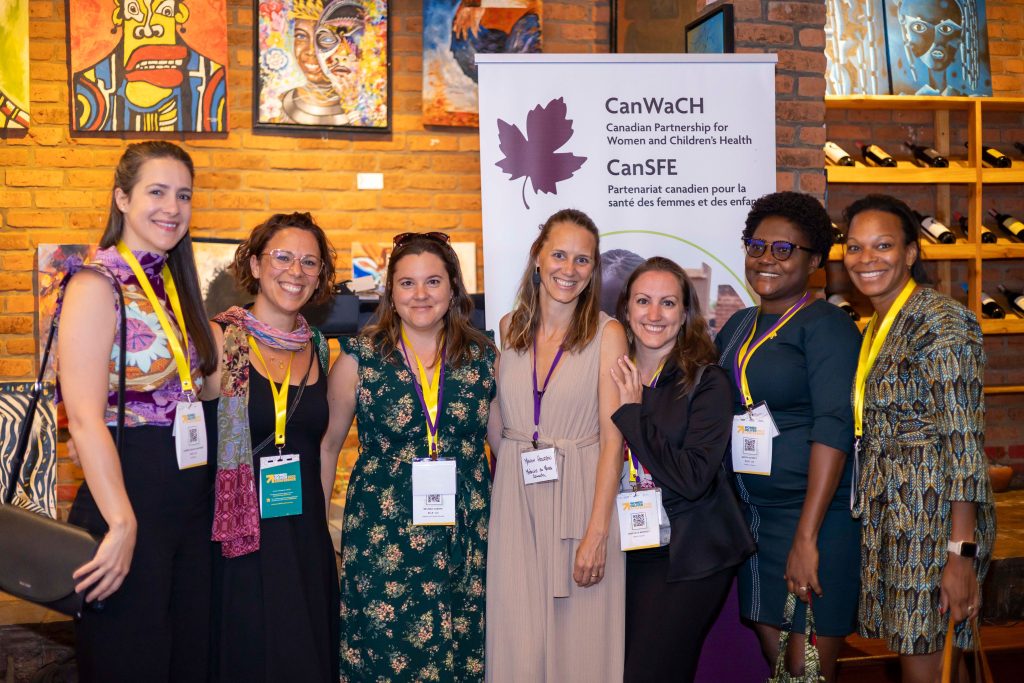 We were pleased to host a networking reception alongside the conference. The evening saw Canadian delegates and global partners connect with one another, share learnings and reflections and galvanize momentum for the work ahead. Thank you to everyone that took part! Photos of the evening can be viewed here.
Funding announced to support neglected and underfunded areas of sexual and reproductive health and rights (SRHR)
During a panel discussion on sexual and reproductive health and rights (SRHR), bodily autonomy and abortion rights, the government of Canada announced more than $200 million in funding for new projects to advance SRHR and gender equality internationally. The projects are part of the new Canada SheSOARS initiative, funded as part of the 10-Year Commitment to Global Health and Rights.
It was encouraging to see that projects funded under the SheSOARS initiative will support neglected and underfunded areas of SRHR, including family planning, comprehensive sexuality education, advocacy for SRHR, safe abortion and post-abortion care, and sexual and gender-based violence. The funding announced will go towards 15 projects in more than 18 countries, with a focus on Africa. We celebrate all of our members receiving funding!
Visiting members and partners working to support sexual and reproductive health rights and maternal and child health
Started in 1986, Reseau des Femmes was the first Rwandan organization aimed at improving the status of women. Partnering with one of our members, l'AMIE, they are implementing one of the 11 Health and Rights projects working to advance the health and rights of women and girls around the world. We met with their team, including youth outreach workers, who are connecting with youth to share knowledge about their sexual and reproductive health and rights right in their community, as well as health care professionals working to strengthen the capacity of hospital and clinic staff to provide responsive and adolescent-friendly health services.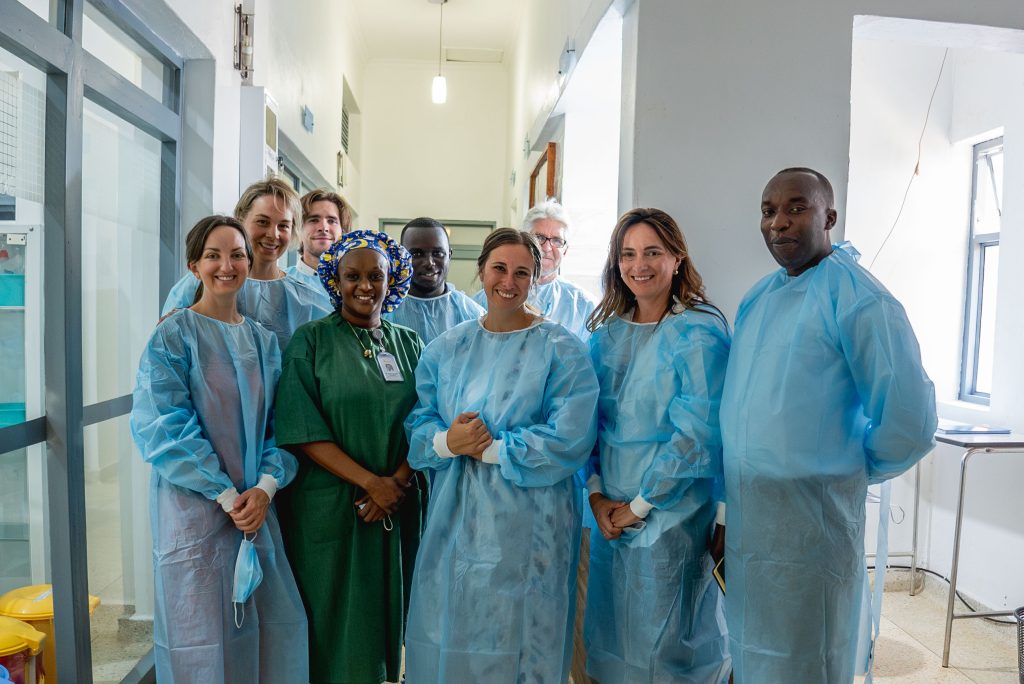 When we met with Partners in Health Rwanda, they shared their approach to programming, which centers a rights-based approach, working closely with rights holders (the community) and duty-holders (the government). They have worked in close collaboration with the government of Rwanda at the district health hospital in Kirehe, with a particular focus on maternal and child health.
We had the honour of meeting with staff, hearing about their work and visiting their Pediatric Development Centre (PDC), neonatal ward, and delivery wards. In addition to building a program at the PDC with 'expert parents' who provide mentorship for other parents whose children have been born with developmental abnormalities, they have invested considerably in their neonatal unit, ensuring that 'those who can't speak for themselves' have their right to health and wellbeing recognized.
They have also invested technology such as a portable ultrasound which can provide much-needed antenatal care and identify high risk pregnancies to make sure expectant mothers can get the care they need as well as a drone that significantly cuts down on transit time delivering blood, medicines and vaccines. Compared to other areas, the hospital records a significantly lower mortality rate and it has been recognized as the second best in the country.
Wielding a strong rights- and equity-based approach, the hospital is always looking to address inequities and vulnerabilities and pride themselves on never turning anyone away for care.
Taking a holistic approach to move communities out of extreme poverty: A conversation with Food for the Hungry
As we concluded our time in Rwanda, we sat down for a conversation with Alice Kamau, the Country Director of Rwanda at Food for the Hungry. Working in close partnership with 10 communities at a time, Alice remarked on the holistic approach to the organization's work, with their efforts to move communities out of extreme poverty. Their work centers on promoting food security alongside initiatives that help with health care, housing, education and climate change. Meeting people where they are, they work with the whole community and undertake extensive community mapping and goal setting, maintaining partnerships until the community has achieved those goals. Last year they held a big celebration when graduating one of their communities, once the community felt that they no longer needed their support.