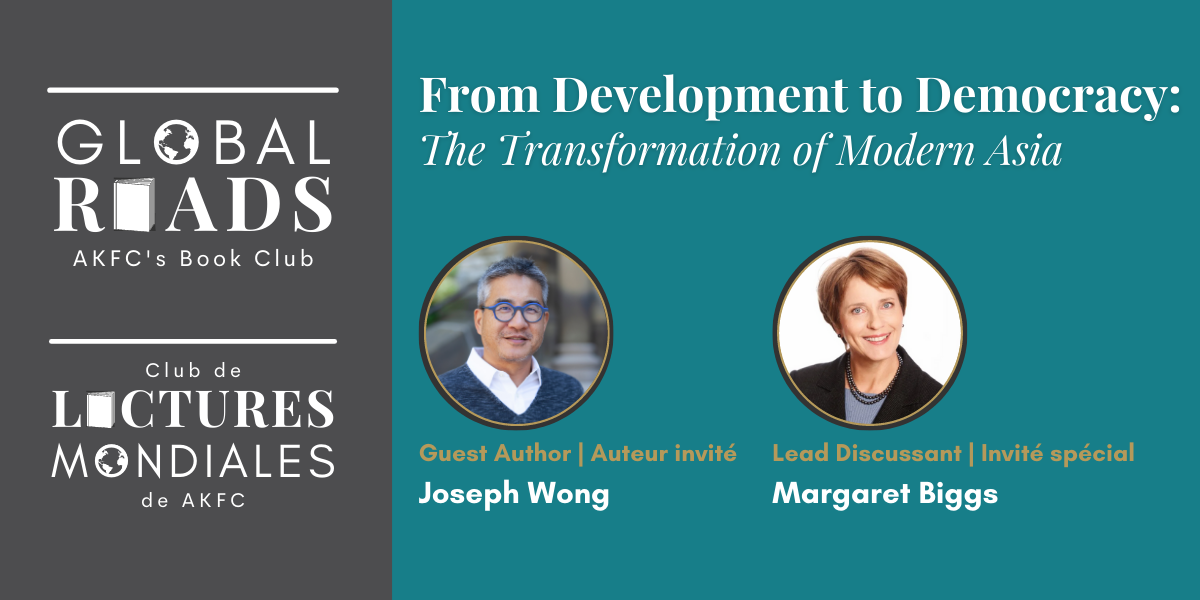 Aga Khan Foundation Canada is pleased to invite you to join our book club series, Global Reads.
Join us on October 23rd for another captivating Global Reads session on From Development to Democracy: The Transformation of Modern Asia. We will be joined by the esteemed co-author, Joseph Wong, a renowned scholar in comparative politics, to dive into the book's engrossing exploration of Asia's evolution in the context of democracy and development within the region.
Margaret Biggs, a nonresident senior fellow at the Brookings Center for Sustainable Development with years of experience in research, policy, and foreign development, will engage the co-author in an informative conversation about the book's themes. Be a part of this invaluable conversation, whether you are fascinated by Asia's transformation or passionate about insightful global affairs topics.
About the series
Global Reads is a book club series where participants can connect and learn together with other globally minded professionals. Global Reads primarily explores recent works focused on international affairs, policy, or practice—with an emphasis on innovation, new voices, and diverse perspectives. Notable leaders and thinkers from the international affairs, global development, and allied sectors facilitate lively and inclusive discussions, providing a structure for collaborative interpretation, learning, and growth.
Join Global Reads to:
Forge new connections with likeminded, globally focused thinkers
Encounter inspiring, challenging, and unconventional ideas
Gain a fresh perspective on your work
Reignite your professional development goals
Questions? Please contact [email protected]