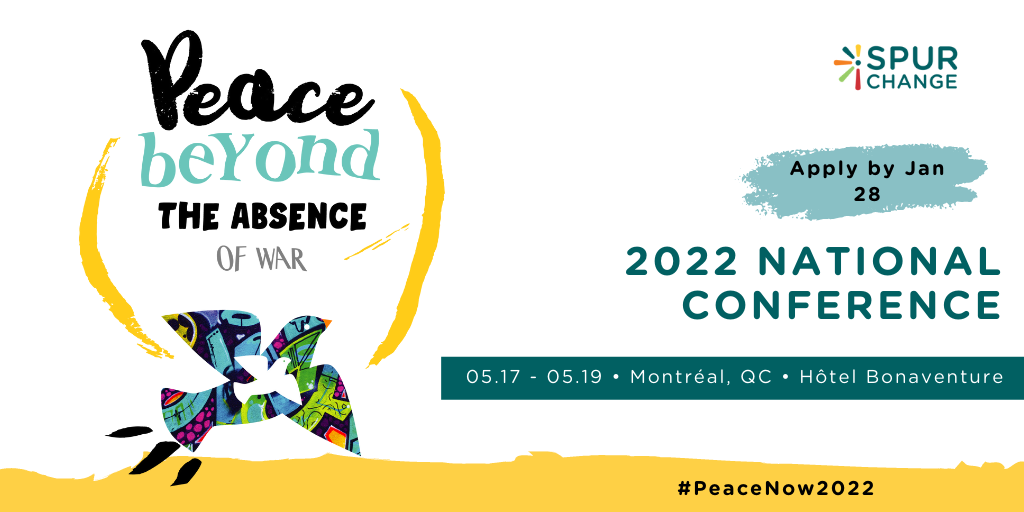 Spur Change, in partnership with l'Association québécoise des organismes de coopération internationale (AQOCI), is inviting small and medium organizations (SMOs), educators and youth from coast-to-coast-to-coast to its Annual National Conference "Peace: Beyond the absence of war" which will take place from May 17 to 19, 2022 at the Bonaventure Hotel, in downtown Montreal.
Peace is more than the absence of war or armed conflict. To build sustainable peace, should we not also urgently take into consideration social and environmental justice, food safety and sovereignty, freedom of movement, respect for human rights and decolonization? Moreover, we cannot ignore that the pandemic has significantly intensified inequalities threatening peace around the world.
Through discussion panels, training, peer sharing workshops and artistic content, we will delve deeper into the notion of peace and explore ways in which a culture of peace can be nourished within international solidarity, small and medium organizations and global citizenship education. We will also focus on the importance of gender equality and intersectional analysis to help develop inclusive, sustainable and efficient solutions to address structural and systemic barriers to peace. We will explore how these structural causes intersect with other dynamics of repression and violence and systemic issues.
During this 3-day conference, over a hundred small and medium-sized organizations, teachers and youth will join together to consider these questions, explore solutions and share possible courses of action to build a peaceful world.
The deadline to submit an application is January 28, 2022: Eventbrite.ca