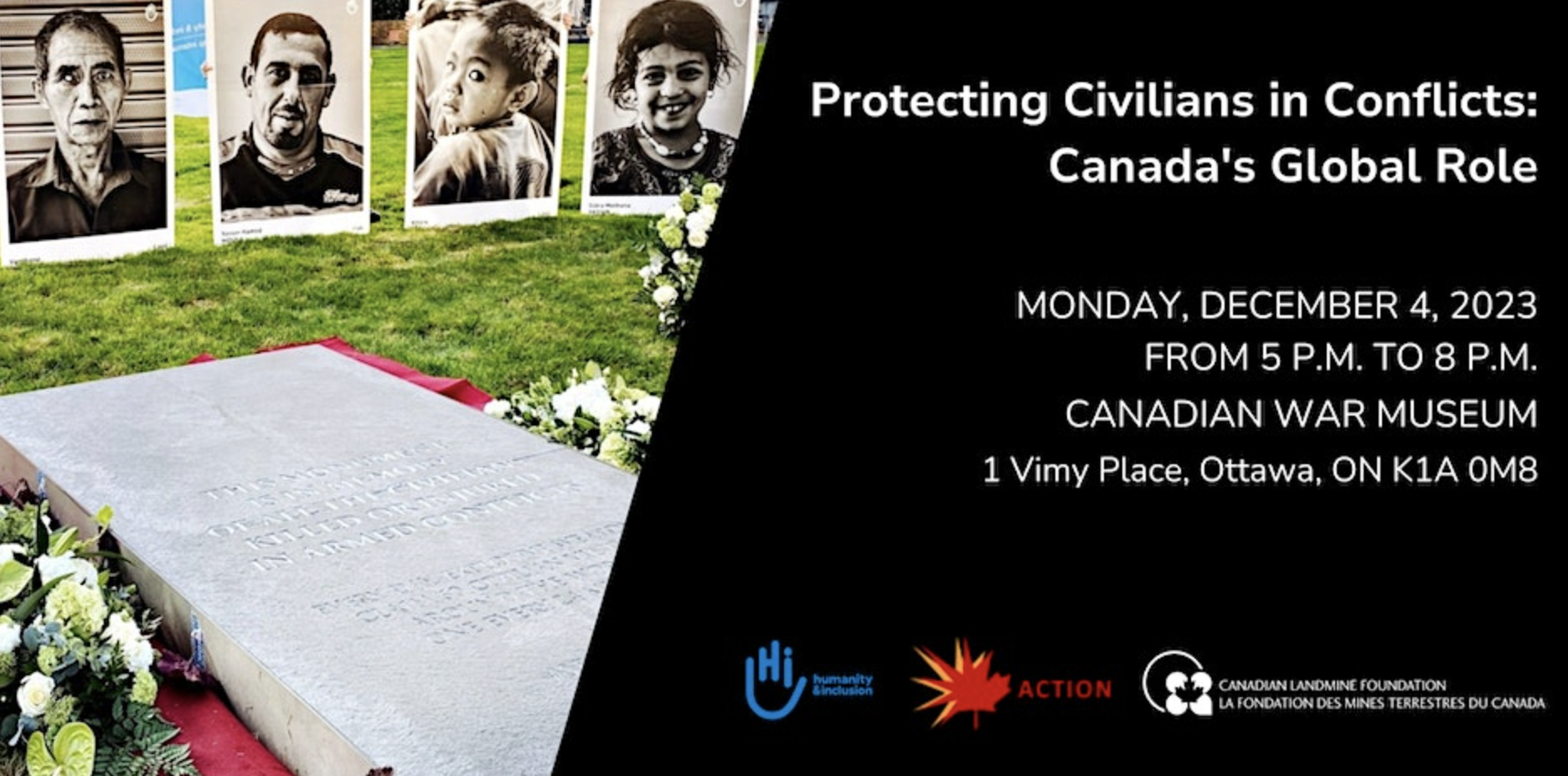 Humanity & Inclusion Canada, the Canadian Landmine Foundation and Mines Action Canada are pleased to invite you to the ceremony for the Monument to the Unknown Civilian on Monday, December 4, starting at 5pm. We will be gathering around this memorial inspired by the Tomb of the Unknown Soldier to commemorate the thousands of men, women and children around the world unjustly killed and wounded by explosive weapons.
Too often in conflict, civilians are the first victims. As violence escalates around the world, their protection remains an absolute necessity.
The memorial will be attended by :
– Colonel Juan Carlos Baquero, Military, Naval and Air Attaché to the Colombian Embassy in Canada
– Her Excellency Yuliya Kovaliv, Ukrainian Ambassador to Canada
This will be followed by a panel discussion on the evolution of Canadian leadership in civilian protection from the Ottawa Treaty banning landmines to the present day. A unique opportunity to discuss current issues and challenges, past experiences and possible policy approaches, with the generous participation of:
– The Honourable Lloyd Axworthy, Former Canadian Minister of Foreign Affairs, Board member of the Canadian Landmine Foundation and Chair of the World Refugee & Migration Council
– The Honourable Peter MacKay, Former Canadian Minister of Foreign Affairs and Former Minister of National Defence
– Professor Jennifer Welsh, Canada 150 Research Chair in Global Governance & Security at McGill University and Director of the Centre for International Peace and Security Studies
– Nujeen Mustafa, Youth Advocate for the rights of refugees & people with disabilities and Survivor of bombing in Syria
Click here to register!