Through my eyes: Art for Development
WUSC is currently looking for 16 artists based in Canada to create a total of 16 original art pieces, each representing one of the Sustainable Development Goals (SDGs)!
Introduction
WUSC is a Canadian non-profit organization working to create a better world for all young people. We bring together a diverse network of students, volunteers, schools, governments, and businesses who share this vision. Together, we develop solutions in education, economic opportunities, and empowerment to overcome inequality and exclusion for youth around the world, particularly young women and young refugees. WUSC currently works in over 20 countries across Africa, Asia, the Middle East, and Latin America.
Background
As the deadline to achieving the Sustainable Development Goals (SDGs) by 2030 approaches, the need for collaboration, mobilization, creativity, and innovation is greater than ever. Such work is often restricted by factors such as geographical location, language, and funding. But art is universal. Through artistic expression, people with different cultures, languages, experiences, and socioeconomic backgrounds can communicate, collaborate, and get inspired.
Between July 2023 and January 2024, artists in Canada, Ghana, and Malawi will create a total of 32 art pieces, each inspired by and representing one of the SDGs. Sixteen art pieces have already been commissioned to artists based in Ghana and in Malawi, and we are currently recruiting artists to complete the Canadian part of the project.
CALL FOR PROPOSALS
We are calling upon all Canada-based artists to create an original art piece that represents one of the first 16 Sustainable Development Goals (SDGs) from their very own perspective. These art pieces will accompany 16 other representations of the SDGs, created by artists in Ghana and Malawi, thus culminating in 32 total art pieces. SDG17 – Partnership for the Goals – will be co-created by attendees at WUSC's annual International Forum in February 2024.
The exhibit will then launch and travel across Canada until March 2027. The objective is to present various and unique perspectives of how the SDGs impact communities all over the world, while creating space for discussion, collaboration and solidarity.
Who can submit a proposal?
Any and all artists living in Canada are welcomed and encouraged to apply. The artist will select at least one (1) SDG, with the option of selecting up to four (4) SDGs, each being represented by their own original artwork. Once the artist has selected their SDG(s), we invite you to answer the following guiding questions to help inspire and direct your piece:
Looking at the reality: How does [insert opposite/absence of SDG] affect your community? i.e. How does poor quality of education affect your community or How doesthe lack of clean water and sanitation affect your community?
Looking forward with hope: How would [achievement of SDG] impact your community? i.e. How would access to quality education for all have an impact on your community? How would access to clean water and sanitation impact your community?
Technical Requirements
Art pieces can be material or digital, however the final ratio of digital versus physical included in the traveling exhibition will be about 1 digital piece for 4 physical pieces. Below are specific guidelines and limitations we ask you to keep in mind when conceptualizing your artwork and submitting your proposal.
Limitations:
Size (for material art): Maximum 5' x 3' (1.5m x 1m)
Weight: Maximum 15kg (35lbs)
Length (for digital art): Maximum 5 minutes
Quality expectations:
Video: 1920 x 1080 resolution at 30 frames per second (fps)
Photographs: Minimum 2000 x 2000px at 300 pixels per inch (ppi)
Sound: A .wav file is preferred, but a .mp3 file is a secondary option if .wav is
unavailable. If using a .mp3 file, we ask it to be 320 kilobytes per second (kbps)
Selection criteria:
Originality of the concept and story behind the artwork
Relevance to the selected SDG
Variety of mediums and types of art
Geographical representation of artists location throughout Canada
Respect of technical requirements
Compensation
Selected artists will receive, following the signature of their contracts and delivery of the artwork, a modest financial compensation of $250, in addition to reimbursement of art materials required to produce the selected art piece(s), up to $100. All compensation details are described in the contract that will be shared with selected artists.
Timeline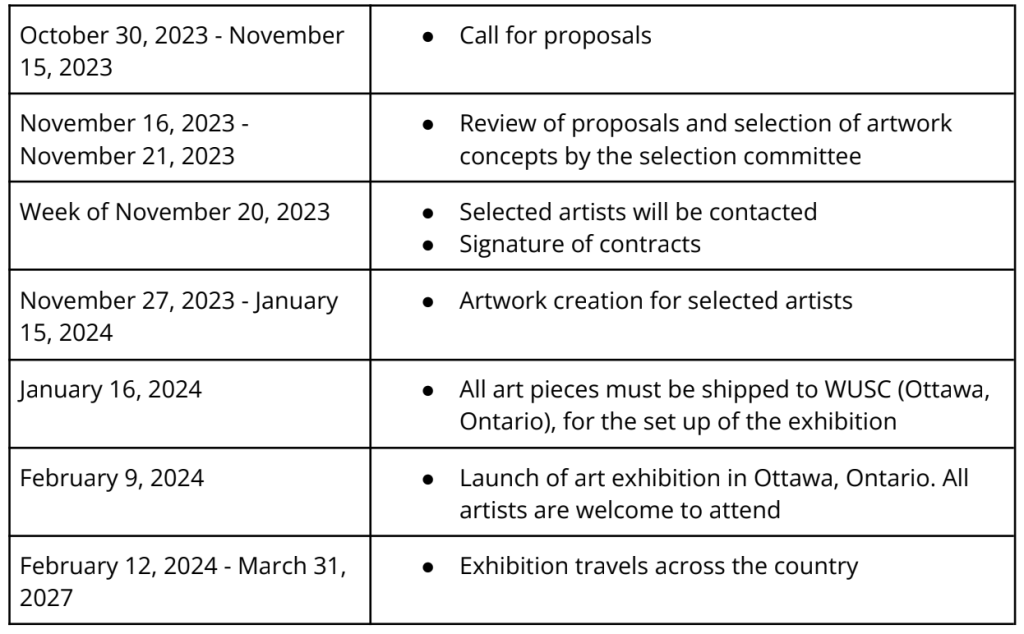 ---
How to Apply:
Option 1 – Apply Online
Please click here to fill out the online application to submit your artwork proposal.
Please note that only selected artists will be contacted during the week of November 20, 2023.
The Through My Eyes: Art for Development exhibition is a WUSC project, in partnership with Global Affairs Canada, with the objective of engaging people in Canada in support of global development and the SDGs in Canada. Should you have any questions regarding the project or the proposal process, please contact us at [email protected].