On March 19, 2020, CanWaCH staff presented a webinar on working virtually/remotely during the COVID-19 pandemic, sharing best practices, tips and tricks, personal experiences and innovative technologies for working in a virtual environment.
This resource page includes a recording of the webinar, presentation slides, a Frequently Asked Questions (FAQs) article, as well as resources and tools we have found to be useful when navigating a virtual environment. The list of resources and tools is by no means exhaustive, and may not be available in all countries or languages.
Webinar
Help us make future webinars even better by taking this short survey
View the webinar by section:
Part 1. Introductions
Welcome and Overview– Charmaine Crockett, Director, Stakeholder Engagement
Greetings from Global Affairs Canada– David Boucher, Senior Policy Advisor
Part 2. Navigating a virtual/ remote workplace
A. Organizational Best Practices– Nicole Jamrozinski, Senior Program Coordinator
B. Technology and Tools​ – Antu Hossain, Global Health Impact Officer
C. Personal Considerations– Caitlin Reid, Senior Communications Officer
D. Working Virtually during COVID-19– Erin Jex, Gender Equality Officer
Part 3. Questions and Answers
Part 4. Concluding Remarks– Helen Scott, CEO
Download the presentation slides here.
FAQs
Click here for a list of frequently asked questions from webinar participants about navigating the virtual workplace. This is not an exhaustive list of questions. If you have any further questions, please contact us at [email protected].
Infosheet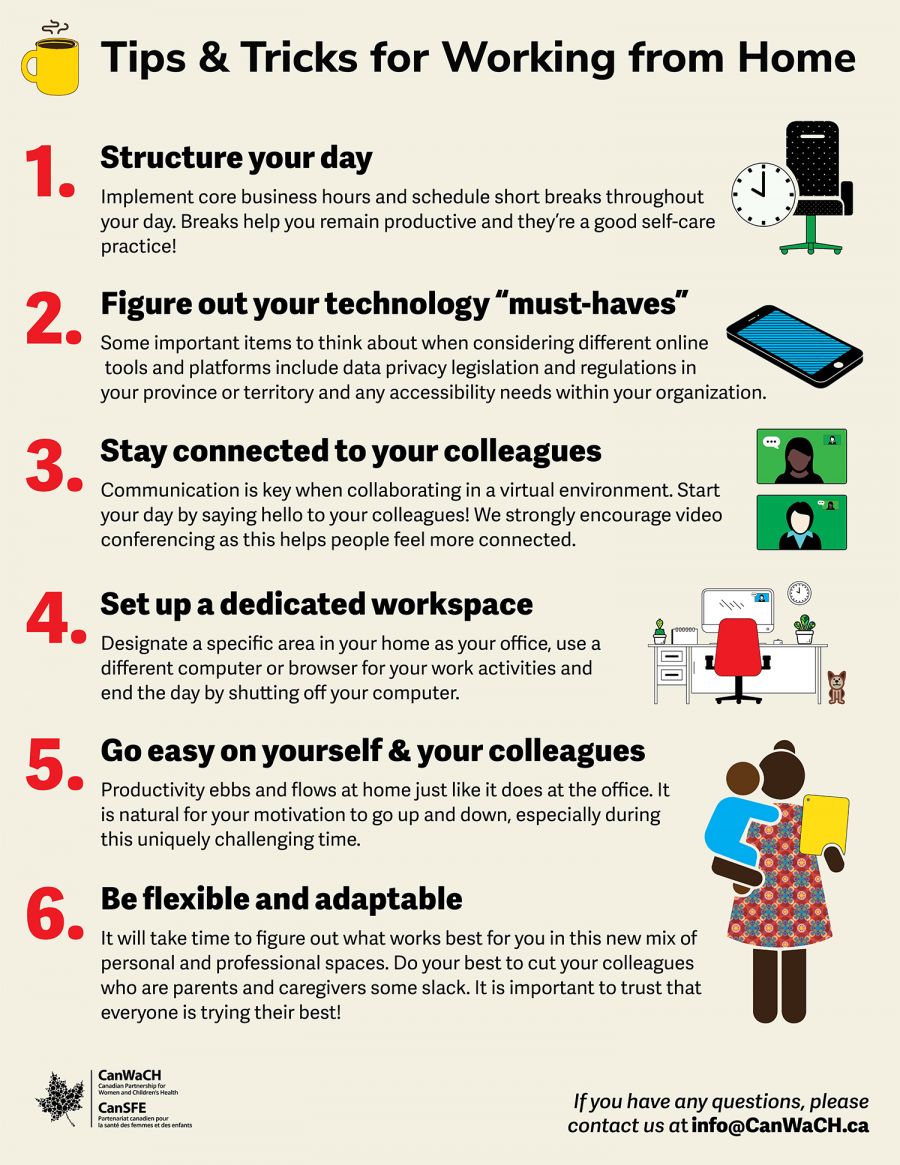 Resources
Coronavirus: A quick start guide to working from home
Facilitating Live Online Discussions in the time of COVID-19: Lessons from a Harvard Kennedy School course
A quick primer on running online events and meetings
A Guide to Remote Working for Nonprofits
Nonprofit Resources for Remote Work During the COVID-19 Outbreak
Coronavirus: A quick start guide to working from home
COVID-19: How Nonprofits Can Establish Effective Telecommuting Practices
Best Practices for a Gender Inclusive Virtual Workplace
The Tech You Need to Get Started Working Remotely
Remote Working: Setting Yourself and Your Teams Up for Success
Team and Project Management: RingCentral (formerly Glip)
File Sharing: Google Drive
Video Conferencing: Zoom
Glip Tutorials
5 Quick Tips for Getting Started
Messaging and Collaboration Basics
Beyond the Basics: Managing Projects in Glip
Glip File Sharing with Group Chat
Glip Team Calendar with Group Chat
Other video conference platforms
Slack
Skype
Google Chats (previously Hangouts)
Go-To Meetings
Facetime
WhatsApp (mobile only)
Adobe Connect
Maestro Connect
Facebook Workplace and Video Messenger
Blue Jeans
Click here to compare different video conferencing pricing and features
Other file sharing platforms
Slack
Skype
Google Chats
WhatsApp
Podio
Asana
Facebook workplace
Microsoft Teams
Electronic signatures
Virtual translation services
Interprefy
Pendleton Translations
Additional Readings
COVID-19 Non-profit & Philanthropy Resources
Strategies for Chairing Gender Inclusive Meetings
Fostering LGBTBQ+ Inclusivity in Digital Spaces
COVID-19 Resources for Communications Professionals
Workplace Pandemic Plans: What Employers Should Know
Nonprofits on the front lines of COVID-19
Eventbrite's Guide to Switching to Online/Virtual Events
Resources and Information for Nonprofit & Voluntary Organizations