Roadmap to vaccine delivery in rural and remote communities around the world
Throughout history, Canada has led the way in championing the health rights of people everywhere. Canadian organizations and volunteers have helped deliver immunization campaigns to fight polio, measles and rubella. But there's still work to be done. Right now, vaccines are being delivered around the world to fight COVID-19 and healthcare workers have been preparing to inject them.
While the trip from airport tarmac to vaccination clinics in urban centres might be short, how does the vaccination process work in rural and remote communities? Here is a roadmap from vaccine production to injection:
Step 1: Manufacturing

Vaccines are manufactured all over the world from Belgium to India to the US. 
Step 2: Shipment

Once manufactured, vaccines need to be delivered to airport tarmacs around the world.
Step 3: Transportation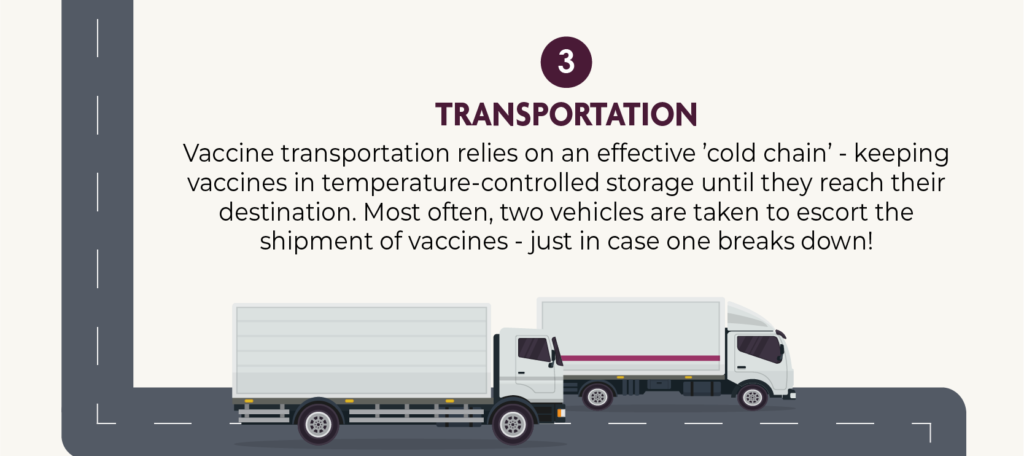 This is where things get tricky! How do you transport the vaccines from the airport tarmac to rural and remote communities?
Vaccine transportation relies on an effective 'cold chain' – a series of events that keep vaccines in temperature-controlled storage until they reach their destination. This includes carrying vaccines in cold boxes and ensuring communities have refrigerators that can store them at the right temperature. Most often, two vehicles are taken to escort the shipment of vaccines – just in case one breaks down!
Do you have what it takes to deliver vaccines to some of the world's hardest to reach communities? Test your skills with the online Vaccinator Quest game from ONE.
Step 4: Arrival in the community

This is a critical step that requires significant investment and time to prepare. CARE Canada estimates that for every $1 invested in vaccine doses, $5 must be invested before the vaccines get to the communities, including the costs of training, equipping and supporting health workers, and strengthening supply chains and healthcare systems. By the time the vaccines have safely arrived, healthcare workers are ready to receive and store them at local hospitals, medical clinics and pharmacies.
Step 5: Vaccination clinics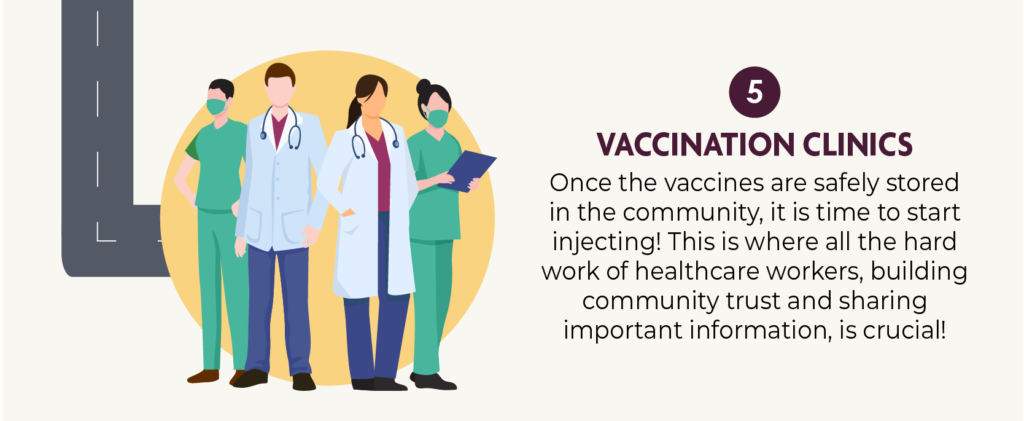 Once the vaccines are safely stored in the community, it is time to start injecting!
This is where all the hard work of community health workers, building community trust and sharing important information is crucial! What are healthcare workers doing to prepare while the vaccines are on route?