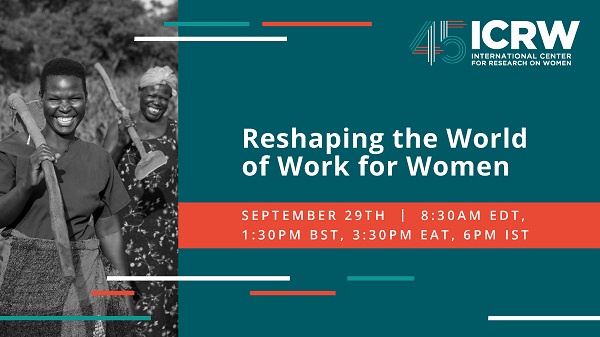 COVID-19 has strained global health systems beyond capacity, and the economic fallout has been far-reaching: job losses, wage cuts, small businesses closing their doors, and the added burden to social safety networks and government programs.
In crises like the coronavirus, women are often the first to drop out of paid work and the last to join back. Their experiences are compounded by fewer employment opportunities, disruptions in childcare, an increased burden of unpaid care for the ill and elderly, an uptick in gender-based violence, and increased competition for resources.
The systemic inequities highlighted by the pandemic shed light on the many barriers women face in the world of work. New and innovative recovery efforts are required to address these inequities and set women up for success.
During this second event in ICRW's 45th anniversary series, we will be joined by speakers from across regions who bring unique perspectives on work in South Asia and East Africa and aim to build a new foundation of support for women in both paid and unpaid work.
These conversations will help us look more closely at the barriers that women perpetually face—leaving them on the periphery—and how we can together tackle these challenges to build toward more inclusive and resilient economies.