Learning, sharing, strengthening capacity.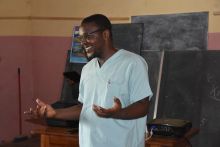 These are three key priorities at CanWaCH, under our mandate to undertake responsive convening and training of members to support members' global health and gender equality activities. There is significant knowledge and expertise within our member organizations. CanWaCH is proud to facilitate a series of knowledge exchange opportunities between our members.
To make this learning widely accessible, we are launching the 2019 CanWaCH Learning Series. This is a comprehensive and purpose-driven series of learning opportunities for members and associates to foster the exchange of best practices, expertise and practical capacity-strengthening opportunities.
CanWaCH will release learning opportunities in global health data challenges and gender equality across a variety of digital mediums in response to our members' and associates' learning needs. Guided by key themes and feedback from our members the Learning Series will feature experts from within our membership and knowledgeable guests in collaborative spaces designed to foster knowledge exchange.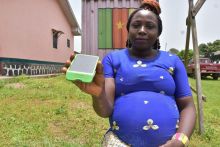 To launch the Learning Series, we are thrilled to share our collaboration with Dr. Patrick Okwen of Effective Basic Services (eBASE Africa) in Cameroon and Miriam Nkangu with the University of Ottawa, who joined us from Cameroon to share insights from the BornFyne Project and to present their key learnings and experiences in partnership-building in health from using mobile applications and geographic information systems in a fragile context. In the first session of this two-part learning offering, Dr. Okwen and Miriam outline the objectives of the project. The BornFyne project consists of a randomized control trial which relies on a pre-natal management system and geospatial data to support maternal health services access in Cameroon. They also highlight key learnings related to building lasting and positive relationships with academic institutions and community stakeholders.
As Miriam notes, "Our partnership development strategy has been built on trust and sharing common objectives and vision. Specifically, with the BornFyne project, the key element was identifying strategic and relevant stakeholders."
Please check out part one of this series:
The BornFyne Project is supported by Grand Challenges Canada, funded by the Government of Canada and Global Affairs Canada, and implemented in Cameroon by the WHO Collaborating Centre for Knowledge Translation and Health Technology Assessment in Health Equity at the University of Ottawa (CanWaCH member) in collaboration with Effective Basic Services (eBASE) Africa and the Ministry of Public Health at the district level in Cameroon. The co-principal investigators of the project are Janet Hatcher-Roberts and Dr. Sanni Yaya.
Stay tuned for part two of this series, which covers the project's technical aspects related to geospatial data, the randomized control trial, and mobile applications.