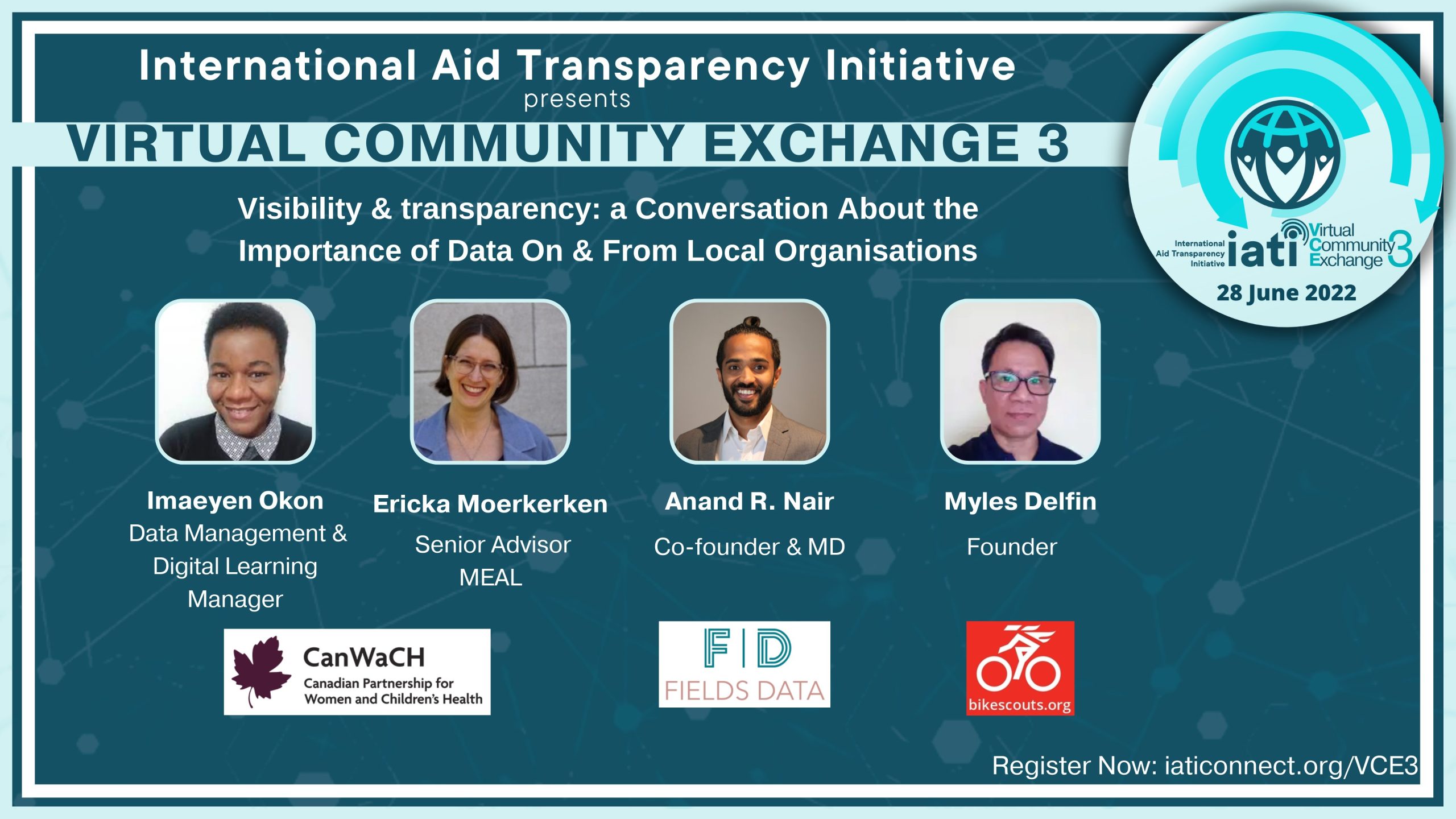 On Tuesday 28 June, from 1 p.m. – 4:30 p.m. UTC (9 a.m. – 12:30 p.m. EDT), the IATI Secretariat will host 'Virtual Community Exchange 3' (VCE3). The VCE3 agenda is now available.
All sessions will have live interpretation (French/Spanish/English) and will be hosted on IATI's own Zoom Event-Space.
The VCE is an informal, interactive, and community-driven opportunity for you to engage with the wider IATI Community. It offers a space for shared learning, to spark discussions or showcase flagship projects. Moreover, this third VCE serves as a springboard to the scheduled in-person Community Exchange at the end of this year.
The agenda for the Virtual Community Exchange 3 is now available.
Check out the VCE3 Information Pack and our Getting Ready-document for additional information.
Join CanWaCH for Session 2: 'Visibility and transparency: a conversation about the importance of data on and from local organisations' at 13:30-14:15 (UTC) / 09:30-10:15 (EDT)
In an interactive conversation, CanWaCH, Fields Data, Bike Scouts, and David Marchesseault, Evaluation Manager, Strategic Policy Branch (PFM), Global Affairs Canada, will dive into the following issues: Ensuring the availability of comprehensive and transparent international aid data and that data collected by local organisations is valued and available; Capturing the right data to support transparency and aligning commitments and reality; and Recognizing the benefits for all stakeholders (data users, publishers and partners) of collecting and publishing this data.