A Story a Minute: Reflections from the Organic Performance of CanWaCH Public Education Videos
Between April and November 2022, CanWaCH shared a series of public education videos which sought to provide concise and engaging information on vaccine equity, sexual and reproductive health, access to contraceptives, nutrition and access to clean water. The videos were shared simultaneously in English and French across key moments that included World Health Day, World Water Week and World Immunization Week.
Over the course of this period, videos were shared to the immediate CanWaCH social media audience, with no paid promotion. We reflect on what we learned, areas to watch and interesting takeaways: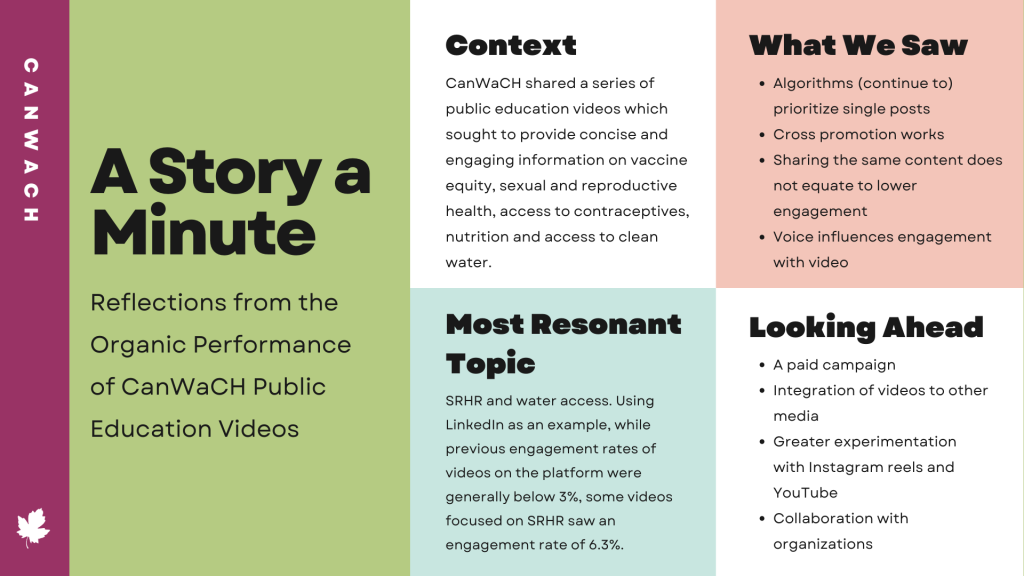 What We've Seen and Learned:
Algorithms (continue to) prioritize single posts over multiple ones at a time.
Of notable importance to Canadian organizations posting content in both English and French, CanWaCH found that even when videos were released at the same time and enjoyed a similar rate of engagement, one video was viewed more times than the other.
For example, for our first video shared on Twitter, which recognized the importance of access to clean water on World Health Day, impressions for the video were 109 and 253 for our French and English videos respectively. This indicates that, much like image and text-based content, posts which are shared at the same time by the same profile do not receive the same viewership from the profile's audience.
Language is a factor, but not always.
While English videos overarchingly performed better than French videos, in some instances, the language did not always influence the way people engaged with videos. On Facebook, for example, one of the videos on the provision of sexual and reproductive rights services saw an engagement rate of 14.1% on the French and 6.8% on the English.
Cross-promotion works.
Amid the vast scale of content shared on social media, some content can get lost in newsfeeds. To bring the information shared in the videos to more audiences, CanWaCH experimented with including the video shared on social media in other mediums such as our newsletter.
This led to more people seeing the content, and higher rates of engagement. For example, for our Twitter video on vaccine equity, shared during World Immunization Week, its inclusion in our April 2022 newsletter, saw the video record over 706 impressions for the English video and 188 for the French. The English video also featured 16 engagements, compared to the 12 recorded for the World Health Day video.
Sharing the same content does not always equate to lower engagement.
Through the course of the organic campaign, CanWaCH shared some of the videos multiple times over different moments and international days. In some cases, such as when a video had already been shared on multiple platforms and seen multiple times, this led to lower engagement the second time it was shared, such as the first and second instance the vaccine equity video was shared.
Yet, in some cases, the same video was viewed more times and received higher engagement the second time it was shared, such as this video raising awareness of contaminated water that recorded 1,082 impressions and 36 engagements in August compared to 262 impressions and 15 engagements in April or a video on SRHR video shared in French receiving 120 impressions in June but 190 impressions in July. This could be a result of the fact that people do not always see the content shared by people they follow or resonate with a message differently at different periods of the year or newscycle.
Voice – and a personal engagement with issues – influences engagement with video.
The design of this round of videos was focused on text and music, supplemented with stock video footage. While this medium offered an opportunity to focus on short and concise content and knowledge sharing, other videos shared by CanWaCH such as one featuring Arissa Roy in August, and another featuring Sara Wolfe in June, recorded more engagement, impressions and views when compared to the public education videos.
When looking ahead to more public education videos, an area CanWaCH and other organizations can potentially look to integrate is a more first-person and human-centred perspective that draws on a personal voice.
Areas to Watch:
Instagram reels – A growing format for short-form video that's hard to ignore:
Instagram has placed considerable attention on its reels feature over the past year as it attempts to tap into the popularity of TikTok and shifting consumer habits to short-form video. This has seen them place more of a focus on reels in its algorithm, which is reflected in the performance of our videos on the platform. Compared to the post format of the vaccine equity video that reached 87 accounts, the Instagram reel of the contraceptive video reached 475 accounts.
YouTube – A medium with new tools for engagement:
YouTube shorts are emerging as a competitor to Instagram reels and TikTok as the company looks to broaden its video footprint and reach. While we focused on Facebook, Instagram, Twitter and LinkedIn, the platform could be worth experimenting with in the coming months, especially with the uncertainty around the longevity of Twitter.
Surprises and interesting takeaways:
Facebook:
Facebook engagement has been falling industry wide, indicating little incentive for resources on the platform. Yet, for our video on the implications of poor nutrition, Facebook saw engagement rates of 10.1% and 4.4% on English and French respectively, some of the highest rates recorded – LinkedIn engagement rates for that video were 2.3% and 0% on English and French whilst Twitter engagement rates were 1.2% and 1.1% for English and French.
LinkedIn:
LinkedIn was a source of continued audience growth and reach for CanWaCH through 2022 and was a platform we held optimistic expectations towards when we began sharing the series. However, in contrast to prevailing trends in other post formats, the platform lagged behind Instagram and Twitter as mediums for engagement. While the platform has grown in the diversity of content professionals share, it does not have the same orientation towards video, at least at this time.
Weekdays are well performing days when compared to the weekend
While some videos were shared on weekends, the best performing posts were recorded on weekdays, with Mondays and Wednesdays being notable days of success. Videos were generally posted during the day at the optimal times suggested by the social media scheduling platform Sprout Social.
Most Resonant Topic:
Sexual and Reproductive Health Rights and Water Access
Across social media platforms, the bulk of the best performing posts have been in the area of sexual and reproductive rights. Using LinkedIn as an example, given that previous engagement rates of videos on the platform were generally below 3%, videos focused on SRHR saw an engagement rate of 6.3% and 3% across the English and French respectively. Water access was another area that resonated with audiences, with one of the best performing posts on Twitter being on water access shared during World Water Week.
Looking Ahead: A Paid Campaign, Questions to Consider and Lessons to Apply
Over the course of 2023, CanWaCH will experiment with paid spend behind some of its videos, some of the questions and areas we'll consider include:
Do videos perform better on LinkedIn when supported by ad spend?
Is the engagement noted on Facebook and Instagram going to be maintained when the video is shown to more users outside of the CanWaCH audience?
Does experimenting with paid spend on weekends increase user engagement on those days?
Drawing from what we've seen and learned, we'll also look to:
Integrate videos to other media such as newsletters, blogs and listicles
Repurpose videos during international moments – But ensure they are well spaced out and not repetitive
Where possible, such as with Instagram reels that announced an extended video length in 2022, experiment with bilingual posts instead of multiple posts
A final area of consideration is how videos would perform if they were shared by different organizations which have a key focus in the message they share? For instance, given videos focussed on themes such as water access, nutrition or SRHR, would they see more engagement if they were shared by an organization that primarily works in those areas?
Connect with the CanWaCH communications officer Biko Mwalagho to engage in this public education initiative!
Hudson Biko Mwalagho is a communications officer at the Canadian Partnership for Women and Children's Health (CanWaCH).