April 2022 Newsletter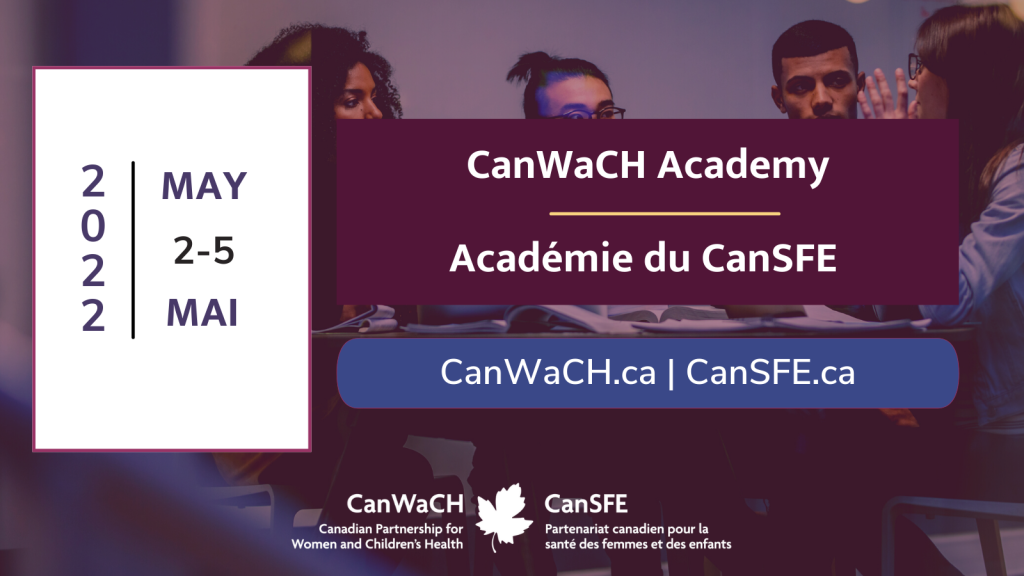 Last Chance to Register for CanWaCH Academy
The CanWaCH Academy will be taking place next week, from May 2-5, 2022! Under the theme, "Recovery, Renewal and Resilience," a wide range of practical workshops and training sessions will be held virtually daily from 11:00 am to 3:00 pm EDT.
Tune in to CanWaCH Academy's closing event for a special announcement! Join us from 2:30 pm to 3 pm EDT on Thursday, May 5 through this link.
Workshops and sessions are open to all. Please note that you must register for each session individually.
You're invited to the Cross-Country CanWaCH Connect
Based in Montreal or Vancouver? Join us for our Cross-Country CanWaCH Connect on May 2 and May 5! Designed for leaders and professionals from across the CanWaCH membership, these engaging evenings include a networking reception, a 3-course dinner and an inspiring keynote speaker focused on leadership, resilience and healthy workplaces. The cost is $50 per ticket.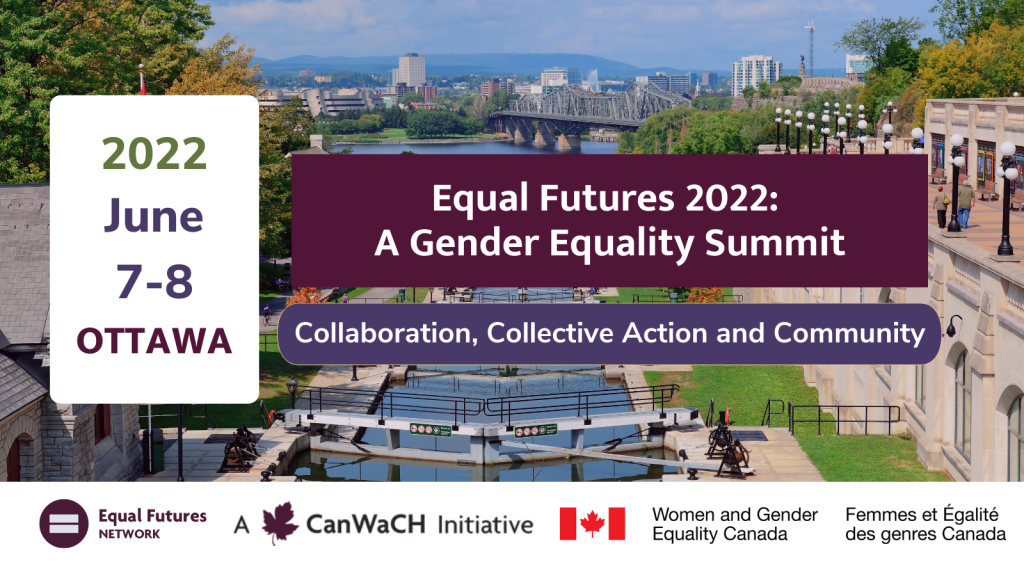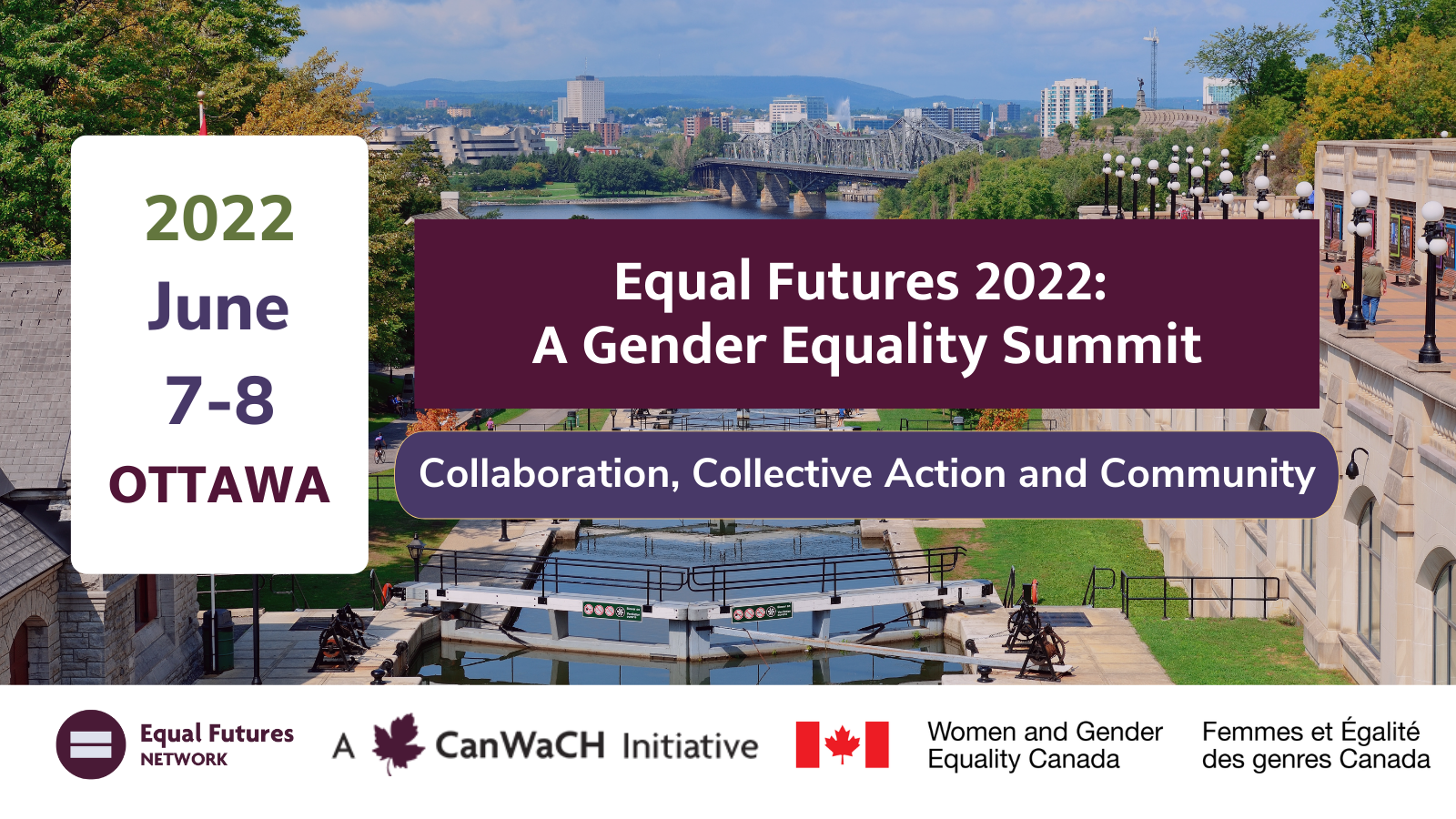 Book Your Spot at the Equal Futures Network's First-Ever Gender Equality Summit in Ottawa
Registration is now open for Equal Futures 2022: A Gender Equality Summit! Taking place from June 7 to 8, 2022, the summit will be held at the beautiful Richcraft Hall, overlooking the Rideau River, at Carleton University in Ottawa.
Click here to book your spot at our inspiring set of keynote addresses, insightful panel discussions and practical workshops. Reserve your room early to receive a preferred rate and ensure your accommodation.
Between the ages of 18 and 30? Learn more about the Equal Futures 2022 Youth Bursary Program.
More information, including programming details and keynote announcements will be communicated through the Equal Futures: A Gender Equality Summit mailing list and Equal Futures Network social media channels.
Equal Futures 2022: A Gender Equality Summit is supported by Women and Gender Equality Canada.
Budget 2022: Key Highlights for CanWaCH Members and the International Development Sector
Budget 2022 proposed additional funding towards global health security, saw Canada announce that it has met its contribution target to the ACT-Accelerator, and proposed the introduction of a new graduated disbursement quota rate for charities. View the immediate highlights of Budget 2022 here.

Data Matters: Get to Know the CanWaCH Project Explorer
Did you know? The CanWaCH Project Explorer has an index of over a thousand projects across 150+ countries! Including an interactive map and search tool, you can find key project details, and results. All data and visuals are open-access, and exportable for use in research, planning, reports, presentations and more.
Learn more by downloading our Project Explorer brief here.
World Immunization Week
It's World Immunization Week! Celebrated in the last week of April, World Immunization Week aims to highlight the importance of global collective action and promotes the use of vaccines to protect people of all ages against disease. This year's theme, "Long Life for All" aims to unify people around the idea that vaccines make it possible for us to follow our dreams, protect our loved ones and live a long, healthy life.
Vaccines are one of the most cost-effective and successful ways to promote wellbeing and save lives lost due preventable diseases. Yet, inequalities in the access, distribution, supply, and manufacture of vaccines see many people in Canada and around the world face barriers to vaccination, with marginalized populations affected most. This World Immunization Week, see how global partnerships can help promote access to vaccines.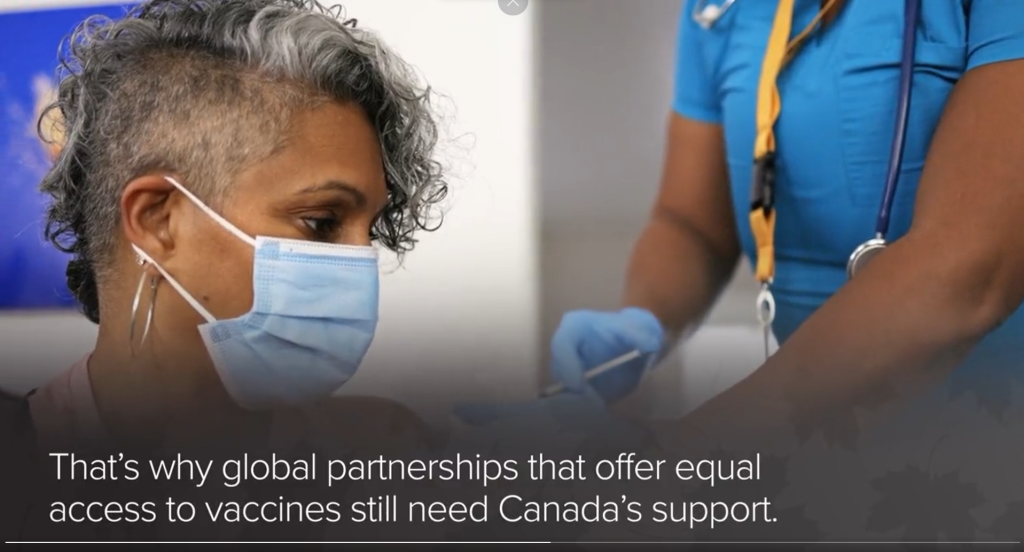 News and Resources:
Downstream impacts: How local access to clean water is improving the lives of women and girls, CanWaCH and Operation Eyesight
A twenty-year journey: The road to mandatory food fortification legislation in Pakistan, Nutrition International
Advancing Gender Equity through Water, Art, and Emotion, ONE DROP
Annual Report – Creating Hope in Conflict: A Humanitarian Grand Challenge, Humanitarian Grand Challenge
Exploring the possibilities, Cuso International
Fact Sheet on Intersectionality, Light for the World
Fighting for women's rights through 'sisterhood bonds' in Colombia, Cuso International
First-ever country-level estimates of unintended pregnancy and abortion, Guttmacher Institute, the World Health Organization and the UN's Human Reproduction Programme
Gender Gaps in COVID-19 Vaccines, CARE Canada
Making the digital shift: How technology improves vitamin A programming, Nutrition International
Nutrition International celebrates 30 years of impact, Nutrition International
Programs show importance of sharing household duties, ADRA Canada
Rapid Gender Analysis in Syria, CARE Canada
Rapid Gender Analysis Ukrainian Refugees in Poland, CARE Canada
SFU researchers use virtual tool, community supports to address mental health gaps in Vietnam, with the support of Grand Challenges Canada, Grand Challenges Canada
Sowing seeds for future growth, improved livelihoods in Tanzania, Cuso International
The Ripple Effect of Water and Social Art, ONE DROP
Towards gender-responsive nutrition programming for adolescent girls in Pakistan, Nutrition International
Village life invigorated by successful coffee strategy, Cuso International
Vitamin A: Around the world and back again (Video), Nutrition International
"What's Love Got to do with It? Bringing Love into International Development Research" by John Cameron, Dalhousie University, International Development Studies
Women's empowerment under the lens of global health equity: Literature review of challenges, best practices, and societal impact, Published in Vol. 2 No. 1 (2022): International Health Trends and Perspectives
Events:
April 26, Road to Recovery for Routine Immunization: Lessons from COVID-19
May 2-5, CanWaCH Academy
May 2, Cross-Country CanWaCH Connect: Montreal, Quebec
May 5, Cross-Country CanWaCH Connect: Vancouver, British Columbia
June 7-8, Equal Futures 2022: A Gender Equality Summit
Featured Event: May 31-June 2, What Works Summit 2022 (CanWaCH Discount Code: WWPartner)
April 24-30, World Immunization Week
April 25, World Malaria Day
April 27, PSEA Dialogue with Global Affairs Canada
May 3-9, National Mental Health Week
May 4-6, Restoring Indigenous Midwifery and Birth Forum
May 5, National Day for Action and Awareness for MMIW2GS
May 5, International Day of the Midwife
May 17, International Day Against Homophobia, Transphobia and Biphobia
May 15-19, 24th IUHPE World Conference on Health Promotion
May 24-June 1, World Health Assembly
May 28, Menstrual Hygiene Day
ADD YOUR EVENT TO OUR EVENTS CALENDAR
Jobs and Opportunities:
Executive and Project Assistant (EPA), CanWaCH
Board of Directors, Ethiopiaid Canada
Call for Nominations: Young Impact Leaders, Future of Good
Department Coordinator, Canadian Foodgrains Bank
Diversity, Equity and Inclusion Manager, UNICEF Canada
Executive Director, Seva Canada
International and Online Volunteer opportunities, Cuso International
Lancement de la Bourse RésoSanté C.-B. 2022, RésoSanté Colombie-Britannique
Officer, Marketing, UNICEF Canada
Parliamentary Officer, Results Canada
Policy and Campaigns Director, Oxfam Quebec
Have an opportunity that you would like to share with us? Please contact us at [email protected].