August 2021 Newsletter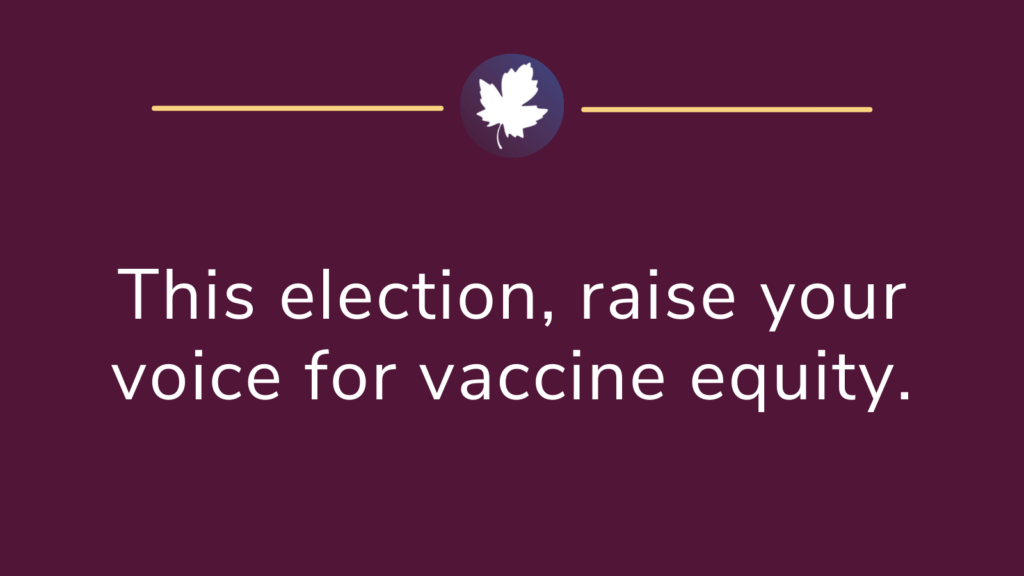 Navigating the 2021 Federal Election
The election writ has dropped! You want to have your voice heard among your audiences and supporters but you want to act appropriately and in accordance with Canada's election laws. You can do both! CanWaCH has prepared an Election Toolkit to support CanWaCH Members in sharing and talking about their work and Canada's role in global health during the federal election. Also interested in discussing gender equality with your candidates? Check out the Equal Futures Network Election Toolkit!
Stay tuned to CanWaCH's social media channels for key developments and global health news from the election campaign. You can also follow election-related news from CanWaCH Members such as #CanadiansVote actions and updates by Results Canada.
Want to take action right now? Tweet your support for global health:
72% of Canadians agree that Canada should be a leader in global health. This election, tell your candidates that you support Canada's proud tradition of investment in women and children's health and rights around the world. ? #ELXN44
CanWaCH receives funding from Women and Gender Equality Canada for new Gender Equality Summit
On August 6, 2021, the Honourable Maryam Monsef, Minister for Women and Gender Equality and Rural Economic Development announced new funding for CanWaCH to support a series of events over the next two years to bring together feminist organizations and community leaders.
The first annual Gender Equality Summit will take place during Canada's Gender Equality Week in September 2022 and will provide a forum for the gender equality movement to come together, in all its diversity, strengthening connections and expertise that will create a fairer, stronger and more equitable Canada. Learn more here.
ADAPT, INNOVATIVE AND MOBILIZE: What We Heard from Women in Leadership
In late July, the Equal Futures Network (an initiative of CanWaCH) in partnership with the Government of Canada, hosted a public broadcast celebrating women in leadership from across the country. Viewers heard from the Assembly of First Nations National Chief RoseAnne Archibald and the Honourable Maryam Monsef, Minister for Women and Gender Equality and Rural and Economic Development, as they shared their reflections on their experience in positions of leadership. Local leaders and youth champions from coast-to-coast-to-coast participated in a private-roundtable discussion. Click here to find out what we heard from them.
Government of Canada's International Assistance Has a "New Look"
The Government of Canada has issued new visual identity guidelines for international assistance projects, including those delivered by CanWaCH Members in partnership with Global Affairs Canada (GAC). Among the graphic options is a new Canada Aid | Aide logo. The new guidelines and directions on how to apply them to recognize your GAC partnerships are available here. If you have any questions, please contact Global Affairs Canada via email.
Data Matters
Video Tutorial: Measuring Women's Empowerment in the Global Health
Explore the contents of CanWaCH's Technical Guidance Note on Measuring Women's Empowerment in the Global Health Sector in this video tutorial. This practical resource has been created for all global health initiatives, particularly those that are part of Canada's 10 Year Commitment to Global Health and Rights
Member Spotlight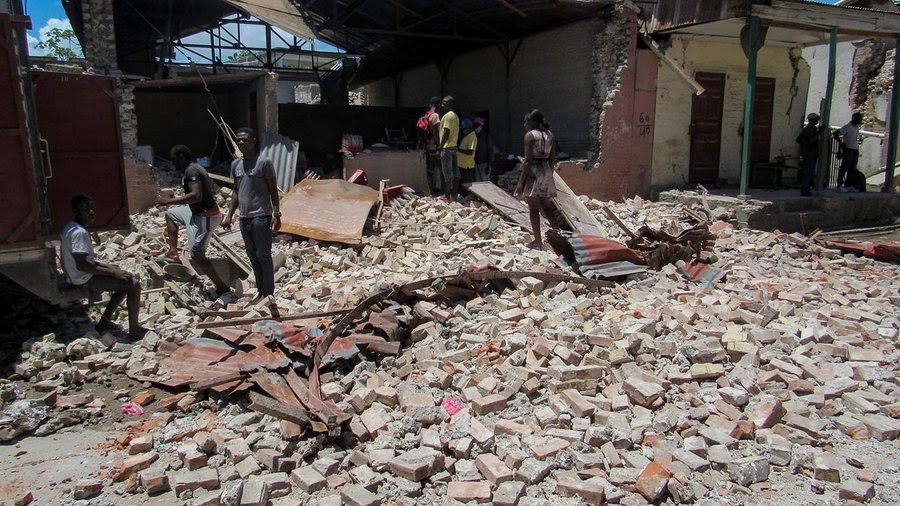 Did you know today is World Humanitarian Day? Read about the quick response by CARE Canada and Save the Children Canada teams in Haiti, following the devastating 7.2 magnitude earthquake that leveled parts of the island last week.
Continue your learning beyond World Humanitarian Day and join Against Hunger Canada for a Gender-Based Violence (GBV) Risk Mitigation in Humanitarian and Development Programs training series facilitated by Action Against Hunger's International Gender Unit, designed for programming professionals who would like to learn more about GBV core concepts and how to mainstream GBV risk mitigation measures across the program cycle.
Upcoming Events
August 19, Exploring Dynamic, Community-Led WASH Systems Dialogue
August 19, Gender Equality and Indigenous Culture Virtual Speaker Series Event
August 24, Pregnancy to Pediatrics: PIH's Accompaniment in Action Summer Webinar Series
August 28-29, Feminist Health Research Conference
September 21-23, Gender-Based Violence Risk Mitigation in Humanitarian and Development Programs
September 19th-25th, Gender Equality Week 2021
News & Resources
CanWaCH's Submission for Pre-Budget Consultations in Advance of the 2022 Budget, CanWaCH
Community led solutions in northern Canada, Cuso International
Education as a means of fighting FGM, Cuso International
Feminist school encourages Peruvian women into politics, Cuso International
Gender Equality is Necessary to End the Climate Crisis, Equal Futures Network
IATI Connect Stories and More on CanWaCH's Project Explorer, International Aid Transparency Initiative
Lady health workers are a key link to successful breastfeeding in Pakistan, Nutrition International
Large-scale food fortification is a game-changing solution to tackling global malnutrition. But we have work to do., Nutrition International
Mission-critical: invest in water, sanitation and hygiene for a healthy and green economic recovery, WaterAid
Protecting breastfeeding for working moms, Nutrition International
Successful Agricultural Program Comes to Life, Cuso International
UK and Canada team up to support youth mental health projects worldwide, Grand Challenges Canada
Video: Technical Guidance Note on Measuring Women's Empowerment in the Global Health Sector, CanWaCH
Women in Leadership: A Coming Together Celebration (Recording), CanWaCH
Jobs & Opportunities
CanWaCH, Board of Directors, Canada
Aga Khan Foundation Canada, Associate, Supporter Engagement, Canada
Equitas, Programs Manager, Montréal or remote
International Development Research Centre, Senior Program Officer, New Delhi
Médecins du Monde Canada, Agent.e de mobilisation, Montréal
Nutrition International, Communications Officer, Ottawa
United Nations Association in Canada – Canada Green Corps (CGC) programme, Finance Officer, Ottawa (Currently remote)
Youth Climate Lab, Co-Executive Director, Remote within Canada
Have an opportunity that you would like to share with us? Please contact us at [email protected].