Data for Impact: December 2021
Happy Holidays from the CanWaCH Metrics team!
Welcome to our Data for Impact Bulletin. This edition features our favorite moments from 2021, highlights what we're looking forward to in 2022, and shares key resources and announcements.
Thank you for following along. We wish you and yours all the best for the holiday season!
Canadian Collaborative for Global Health Request for Proposals: Apply by January 31
CanWaCH, with support from Global Affairs Canada, is excited to announce the second Canadian Collaborative for Global Health!
The Collaborative will bring together Canadian and global partners to generate solutions to urgent data challenges in global health and gender equality. Interested in applying to the Canadian Collaborative for Global Health? Watch a recording of our information session here!
Funding announcements!
On November 24 2021, the Honorable Harjit S. Sajjan, Minister of International Development, announced $325 million in funding for 11 projects with Canadian global health partners. These projects are a part of the historic 10-year investment of $1.4 billion to support the health and rights of women and girls, in all their diversity around the world.
This was followed by the announcement of $195 million for 11 projects by Canadian and international partners to support global nutrition efforts. A portion of this funding is part of the $520 million pledged by Canada at the launch of the Nutrition for Growth Year of Action last year.
Congratulations to our CanWaCH members and sector partners who received funding to advance the health and rights of the most vulnerable, including women, children and adolescents globally! CanWaCH looks forward to working with these organizations to support the advancement of their projects and to highlighting the impact of their work through the Project Explorer.
A Celebration of Canada's Achievements in Sexual and Reproductive Health and Rights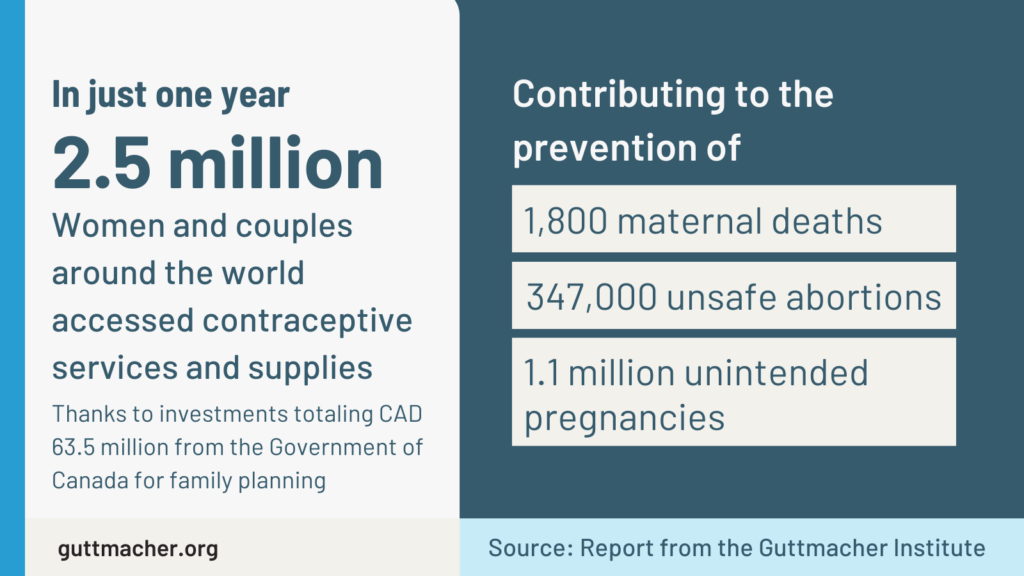 CanWaCH was joined by the Guttmacher Institute to present the findings from their newly released report Just the Numbers: The Impact of Canadian International Assistance for Family Planning, 2020–2021, which documents impacts and achievements of Canada's ongoing commitments to SRHR.
Missed the session? Watch the recording here and read the full report.
Take part in our upcoming Data Drive
Stay tuned for our upcoming Data Drive in the new year! This will offer a chance to update and add projects to our Project Explorer, and to amplify your organization's work and impact in global health and gender equality. Project information can be submitted at any time throughout the year. If you have any questions, please contact Imaeyen Okon, Senior Data Management Officer.
On our Radar
Our favourite moments from 2021
Guidance on measuring women's empowerment released: CanWaCH's Technical Guidance Note on Measuring Women's Empowerment in the Global Health Sector is a practical resource created for all global health initiatives, particularly those that are part of Canada's 10-Year Commitment to Global Health and Rights. Explore the contents of the note in this video tutorial.
Critical Dialogues Series:
Our critical dialogues series leveraged findings from the 2018 – 2020 Canadian Collaborative for Global Health to share adaptive shifts in data methodologies, guidance and lessons learned in gender equality programming.
CanWaCH at the IATI Virtual Community Exchange events: CanWaCH was thrilled to take part in the International Aid Transparency Initiative (IATI)'s Virtual Community Exchange events this year! Watch the recording of our sessions at VCE1 & VCE 2 and check out the recap of both events here.
Bridging Data Gaps Through the CanWaCH Project Explorer: Check out Carleton University's feature of the CanWaCH Project Explorer in it's online platform PANL Perspectives.
Launch of the Network Map: Our new interactive tool through the Equal Futures Network, the Network Map allows you to locate organizations, groups and projects working to advance gender equality from coast-to-coast-to-coast.
A year in stats
As we wrap up the year, check out our compilation of infographics that marked key moments, achievements, and International Days