December 2020 Newsletter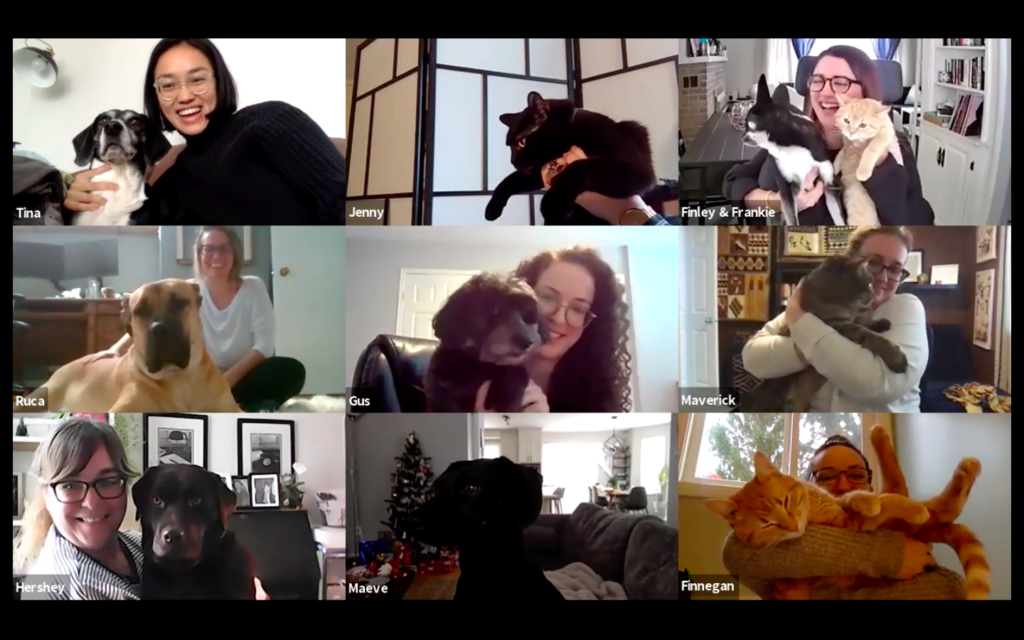 Happy holidays from the pets of CanWaCH!
Because it's 2020…the CanWaCH team asked some of our favourite office mates to join in our annual holiday greeting. From all of us at CanWaCH—including our furry coworkers—we wish you and yours the very best for the holiday season!
Canadians say healthcare workers around the world should receive the COVID-19 vaccine first
Our latest public opinion poll conducted by Abacus Data reveals that 76% of Canadians believe frontline healthcare workers, a field dominated by women, should get priority when it comes to a COVID-19 vaccine. Learn more
Share your work through our CanWaCH Impact Series!
The CanWaCH Impact Stories Series is a timely initiative to showcase your organization's accomplishments and impact among decision-makers and Canadians as we enter a new funding cycle in global health, especially amid resourcing challenges associated with COVID-19. Submit your story here.
Announcing the launch of the Equal Futures Network
The Equal Futures Network connects national, regional, community and grassroots organizations, agencies, civil society and projects from across Canada that are committed to advancing gender equality and ensuring equal futures for all! Connect with the Equal Futures Network on Instagram and Twitter to stay tuned for more exciting updates.
Our 2019-2020 Annual Report is here!
From mobilizing evidence to engaging stakeholders, our 2019-2020 Annual Report details how we're charting the course for a world where more women, children and adolescents thrive.
Last call for Membership renewals
We believe the work of our Members is incredibly important here in Canada and around the world. As a valued Member of CanWaCH, we invite you to renew your membership as we work together to address the ever-pressing global health and gender equality issues globally.
The Government of Canada shows leadership on the world stage
December 14th was a milestone day for Canada's global leadership. The Government of Canada announced significant commitments to ensure equitable distribution of COVID-19 vaccines around the world through the World Health Organization's Access to COVID-19 Tools (ACT) Accelerator, facilitating the procurement of vaccines for vulnerable countries and supporting frontline healthcare workers fighting COVID-19.
Canada also co-hosted the launch of a Nutrition for Growth (N4G) Year of Action, emphasizing the connections between gender and nutrition, and acknowledging nutrition as a central component of the COVID-19 response. CanWaCH recognizes this important first step in a year of commitments towards building a world without malnutrition. Learn more.
Update: COVID-19 Dialogue and Solutions Groups
CanWaCH has been working closely with Global Affairs Canada and other partners in the international development sector on two consultative groups to generate dialogue and solutions in response to COVID-19. We invite members to learn more here and to contact [email protected] with any questions.
CanWaCH welcomes three new board directors
At the CanWaCH Annual General Meeting on November 24th, the CanWaCH membership welcomed three new members to our Board of Directors: Mark Brender, National Director, Partners in Health Canada; Rowena Pinto, Chief Program Officer, UNICEF Canada; and, Barbara Grantham, President and CEO, CARE Canada. We are grateful for the addition of their rich knowledge and diverse expertise on the board.
The CanWaCH AGM was also a moment to bid a fond farewell and deep gratitude to CanWaCH's outgoing Board Chair, Dr. Stanley Zlotkin. Dr. Zlotkin, Chief, Centre for Global Child Health at SickKids, is a long-time member of the CanWaCH board and has served as chair since 2018. His leadership, dedication and contributions have navigated CanWaCH through a diversification of its funding, programming and offerings to the benefit of all CanWaCH member organizations. Thank you Stan!
CanWaCH's Gender Equality Training to continue in the new year!
CanWaCH's Gender Equality Training Modules are designed to build the confidence and capacity of the CanWaCH membership in the application of gender transformative programming in women, adolescent and children's health. January training will take place over seven mornings (EST) from January 18th to 27th. In February, training is scheduled over seven afternoons (EST) from February 17th to 26th. A French session will be held in late February 2021. To learn more or to register, please contact Erica Fotheringham. Please note, space is limited!
Data Matters
Calling all CanWaCH members! CanWaCH's last Data Drive of 2020 is underway. 

CanWaCH's 2020 Global Health Impact Reportis here! This year, the report reflects on equitable partnerships and localization within the context of achieving the SDG commitments around global health and gender equality. As part of our commitment to support the realization of localization, one of our goals is to build a robust database of local expertise to reflect these efforts. We launched our last Data Drive of the year because we want to know who you are partnering with on your projects to better understand who the local leaders are. Contact Imaeyen Okon for any assistance.
Articles & Publications
To advance nutrition we cannot ignore violence against women, Nutrition International
Canadians Support Vaccinating Healthcare Workers Worldwide, Abacus Data
Spotlight on gender and neglected tropical diseases, Effect Hope
2020 Global Health Impact Report, CanWaCH
Alternative Rite of Passage Model Lowers Prevalence of Female Genital Mutilation in Kajiado County, Kenya by 24%, Amref Health Africa
Living in a fragile world: the impact of climate change on the sanitation crisis, WaterAid
Invitation to participate in a global survey about your experiences, preferences and access regarding self-care interventions for sexual and reproductive health and rights, The World Health Organization (WHO), Department of Sexual and Reproductive Health and Research
Alexis Gaiptman named Executive Director of Humanity & Inclusion, Humanity & Inclusion
50 Years of the Status of Women Report: Looking Back to Move Forward, CanWaCH
Nine out of 10 in poor nations to miss out on inoculation as west buys up Covid vaccines, The Guardian
A Tale Of Two Crises And The Solutions That Bind Them: Wild Polio And COVID-19, Global Citizen
Nursing as a vehicle for improving child health: A SickKids-Ghana Partnership, Centre for Global Child Health at The Hospital for Sick Children
Upcoming Events
December 18, International Migrants Day
January 27 – 28, Global Health Practitioner Conference (GHPC)
February 2 – 8, International Development Week
February 8 – 10, Global Health Impact Exchange

Add your event to our Events Calendar
Jobs & Opportunities
Senior Manager – Policy and Partnership – Indigenous Innovation, Grand Challenges Canada
Investment Analyst —Transition to Scale, Grand Challenges Canada
Program Analyst, Stars in Global Health & Transition to Scale, Grand Challenges Canada
Global Programs & Partnerships Manager, Canadian Association of Midwives
Policy and Advocacy Officer, Results Canada
Financial Analyst, Care Canada
Corporate Partnerships Officer, Médecins Sans Frontières / Doctors Without Borders Canada
Director, International Programs and Policy, WaterAid Canada
Funding Officer, Oxfam Canada
Campaign Director, Cooperation Canada
Digital Marketing Associate, World Renew
Donor Engagement Associate, Children Believe
Have an opportunity that you would like to share with us? Please contact us at [email protected].