September 2022 Newsletter
CanWaCH Partners with Cooperation Canada for the International Cooperation Futures Festival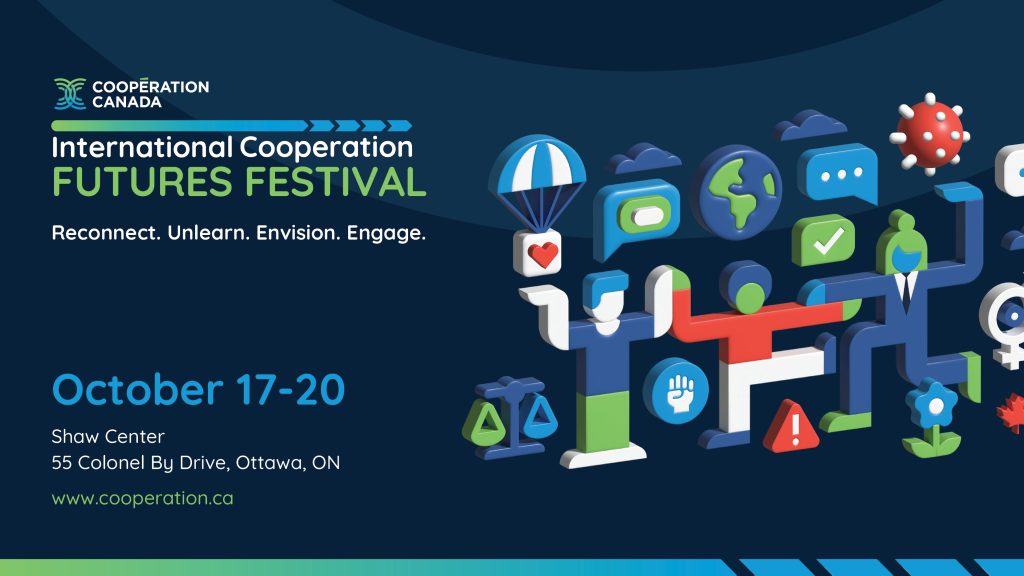 CanWaCH is thrilled to be partnering with Cooperation Canada for the International Cooperation Futures Festival! Taking place at the Shaw Centre in Ottawa from October 17-20th, the festival aims to inject new ideas and energy into Canada's international cooperation ecosystem by re-connecting us while also providing opportunities to learn from and connect with Canadian and global change-makers.
When registering, use the CanWaCH promo code "COALITION" to receive a 5% discount after choosing the non-member registration option.
Join us for an open meeting of CanWaCH's Public Engagement Working Group
The CanWaCH Public Engagement Working Group (PEWG) is pleased to invite you to an open meeting on October 5th from 1-2:30 p.m. EDT!
This is a space to connect with professionals working on public engagement and communications activities at both the organizational and project levels from across the CanWaCH membership.
Join us to exchange updates and plans for upcoming campaigns, projects and international days. Explore and discuss public engagement best practices, innovations, lessons learned and prevalent challenges and opportunities. We welcome updates, questions and experiences from every participant!
Upcoming Moments: Gender Equality Week and Truth and Reconciliation Week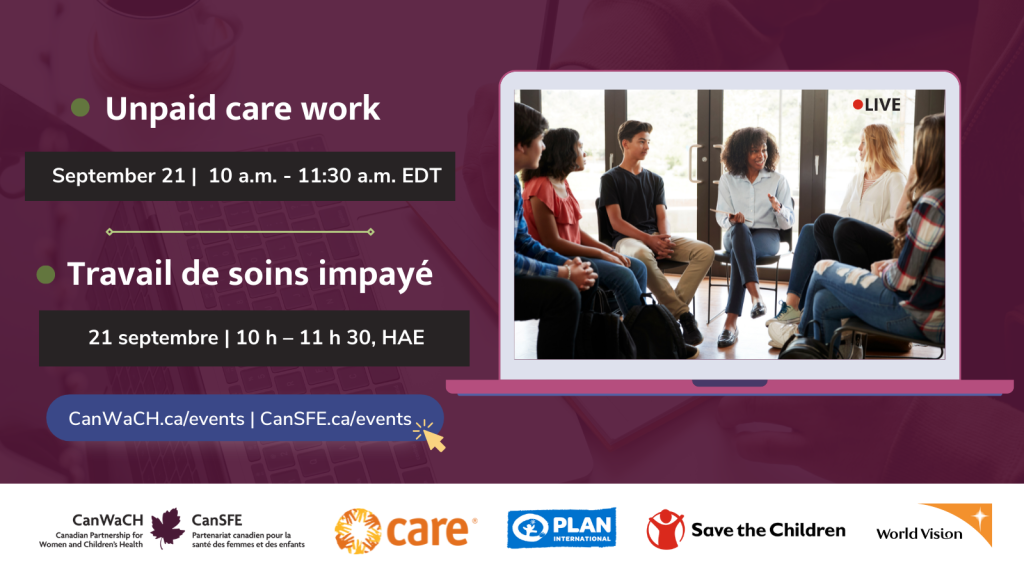 Gender Equality Week in Canada takes place from September 18 to 24th! The week marks an annual opportunity to celebrate the important contributions of women and gender diverse communities while paving the road forward towards equal futures for all. Looking to join the conversation? Use the hashtag #GenderEqualityWeek!
Inspired by this year's theme, Equal Rights, Equal Opportunities, and its spotlight on International Equal Pay Day, CanWaCH will be hosting a discussion on unpaid care on Wednesday, September 21, from 10-11:30 a.m. EDT in partnership with Care Canada, Plan International Canada, Save the Children, and World Vision Canada. Click here to join the conversation.
The economic impact of iron deficiency is clear, contributing to an over $70B annual global GDP loss, and an estimated 20% decrease in women's earning potential. Presented with CanWaCH on September 20, Lucky Iron Fish will host a digital lunch and learn session to showcase their latest data and research on the use of Lucky Iron Fish to address iron deficiency anemia. Click here to register.
CanWaCH will also be hosting a Designing Digital Dialogue Webinar on September 20th ahead of the official launch of our new digital public engagement learning toolkit in October! Are you a CanWaCH member? Contact us at [email protected] for your exclusive code to access an advance copy of the toolkit.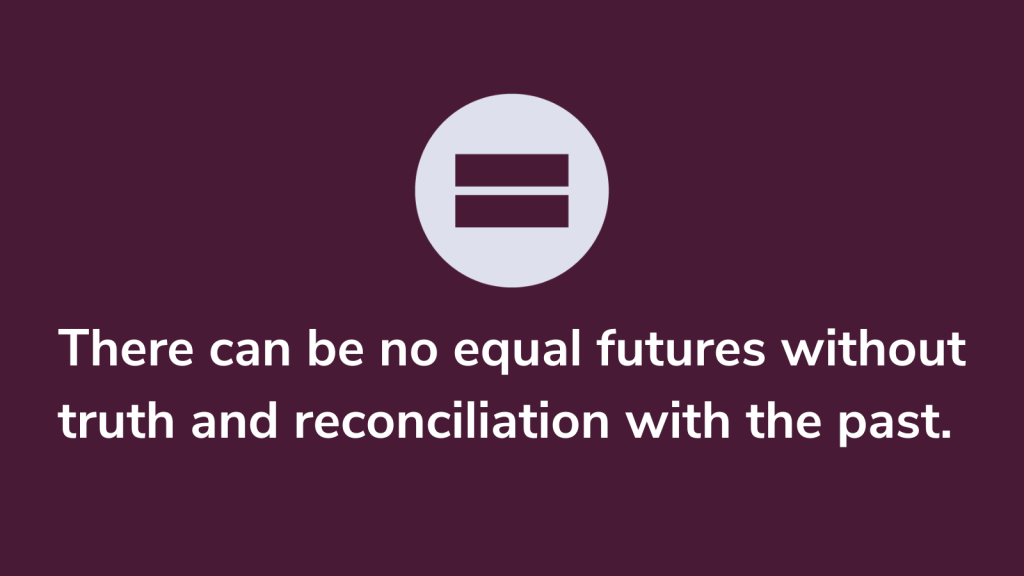 September 26-30 marks Truth and Reconciliation Week, with September 30 marking the second annual National Day for Truth and Reconciliation. This year's theme is "Remembering the Children", recognizing children lost to the residential school system and honouring Survivors and their families.
Last Call for Board Nominations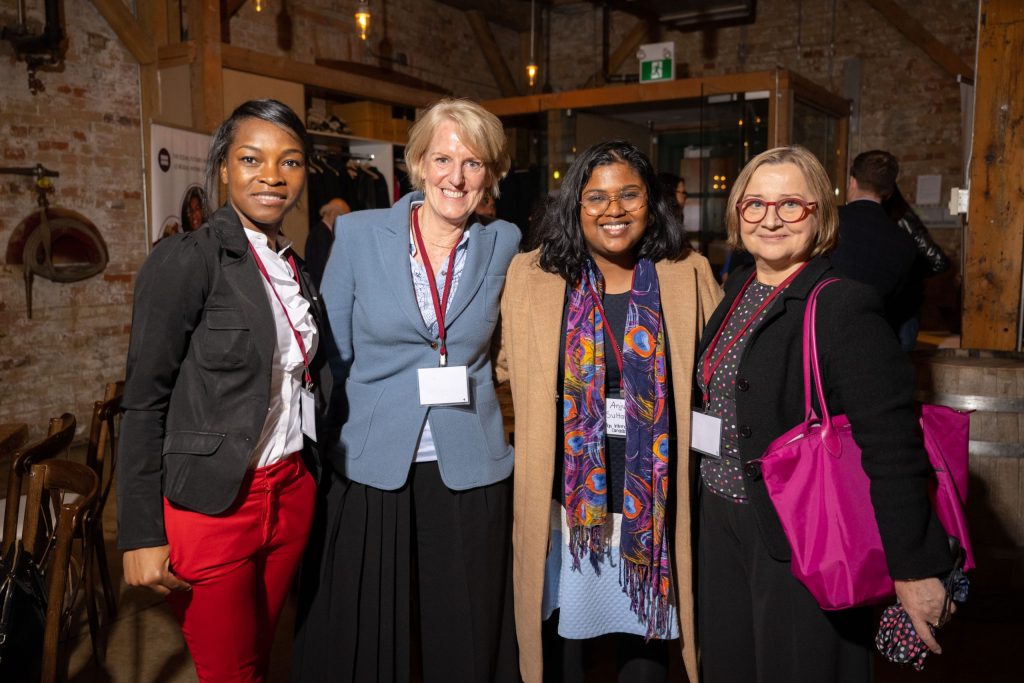 The CanWaCH Board of Directors supports good governance, accountability and the strategic direction of the organization. We are looking for enthusiastic leaders who can bring their passion and expertise to support CanWaCH's initiatives and objectives. Please submit your nomination by 5 p.m. EDT on September 30th.
Data Matters: Share Your Feedback on our Technical Guidance Note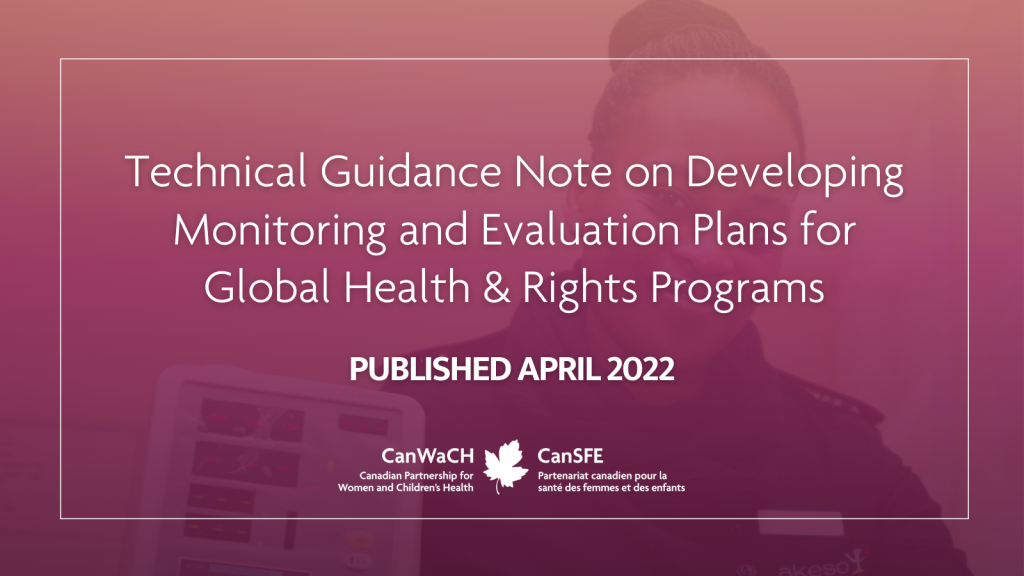 In April 2022, CanWaCH launched the Technical Guidance Note on Developing Monitoring and Evaluation Plans for Global Health & Rights Programs. We hope this tool has been useful in your projects and are seeking your feedback and recommendations! Please contact us at [email protected] to participate in this process.
News and Publications
Adolescent Atlas for Action, Population Council
Cuso International 2021–2022 Annual Report, Cuso International
Design and implement an early warning and early action strategy in Uganda, Fields Data
Government endorses large scale mandatory food fortification to prevent high burden of neural tube defects in Ethiopia, Nutrition International
"Great progress thanks to the ACOSME project!, CECI and the International Health Unit of the University of Montreal
#HealthToo, Women in Global Health
Launch of the Tumaini Project, Health and Rights of Women, Adolescents and Children, Panzi Foundation and the University of Montreal
Maternal anaemia addressed through iron and folic acid supplementation in the newly merged tribal districts of Khyber Pakhtunkhwa, Nutrition International
Nutrition International talks adolescent nutrition at 13th Africa Regional Conference for Girl Guides and Girl Scouts, Nutrition International
One Drop Foundation releases its 2021 Impact Report, One Drop
SRHR in adolescence. Insights from the Real Choices, Real Lives Cohort Study. Full report and Executive Summary, Plan International
West Java government and Nutrition International commit to improve adolescents' nutrition, Nutrition International
Women and youth find hope through community savings-and-loans programs, Children Believe
Upcoming Events
September 13-27, 77th session of the UN General Assembly (UNGA 77)
September 16 and 17, Mind the Gap Summit: Strengthening Gender Diversity in the Canadian Economy
September 18, Feminist Health Conference
September 18, International Equal Pay Day
September 18-24, Gender Equality Week
September 19, NCCIH Webinar – Past, Present, and Future: The Story of a Northern Ontario First Nations Health Data Partnership
September 19, World Humanitarian Day
September 19-20, 10th Annual International Conference on Sustainable Development (ICSD)
September 20, Introducing Designing Digital Dialogue: Communications for Systems Change!
September 21, International Day of Peace
September 22: Jacqueline Quinless on Decolonizing Data
September 22, CAWST's AGM + Global Impact Celebration
September 23, Perspectives from the Inuit Nunangat: CommunityFirst approaches to health and social issues among Inuit communities
September 28, International Safe Abortion Day
September 28, Crossroads International Open House
September 29, Women United for Food Security in Peru
September 29, Webinar: Digital Storytelling as a Tool in Global Health
September 30, National Day for Truth and Reconciliation
October 1-30, Water in Action
October 11, International Day of the Girl
October 17-20, International Cooperation Futures Festival
November 14-17, International Conference on Family Planning- ICFP 2022, Pattaya City, Thailand & virtual
November 21-23, "Inclusive Global Health in Uncertain Times: Research and Practice", 28th Canadian Conference on Global Health
Jobs and Opportunities
Agent.e de projets en environnement, Le Réseau des femmes en environnement
Chargé.e de programme – Santé et droits sexuels et reproductifs, Oxfam Quebec
Coordinator, Scaling Up Nutrition (SUN) Movement
Communications Officer, Canadian Association of Midwives
Global Child Health Catalyst Grant, Centre for Global Child Health
Information Systems & Analytics Specialist, Oxfam Canada
Manager, Programs and Development, Partners in Health
Manager of Fundraising Operations and Donor Services, Oxfam Canada
Programs and Development Officer (Bilingual), Partners In Health
Program Development Officer, Land-based & Youth Leadership, Right to Play
Reverse Mentoring in Social Impact, Future of Good and Mentor Canada
Senior Development Officer, Partners in Health Canada

Have an opportunity that you would like to share with us? Please contact us at [email protected].