October 2022 Newsletter
Join us for the CanWaCH Annual General Meeting on November 15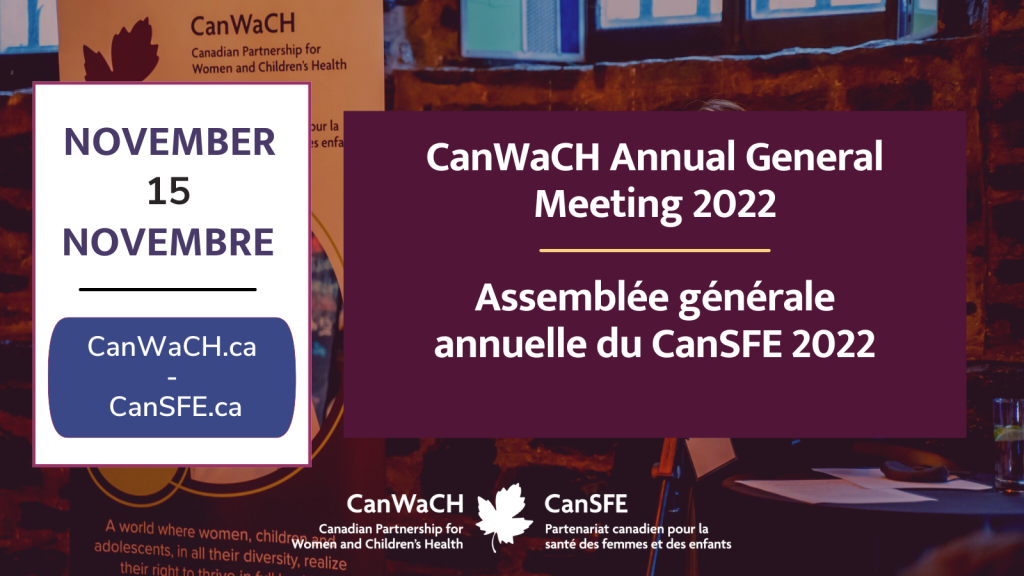 CanWaCH invites you to our Annual General Meeting (AGM) on November 15 from 10 to 11 a.m. EST! Hosted alongside the International Conference on Family Planning, the AGM will feature key CanWaCH strategic and operational updates during the business meeting followed by an inspiring keynote speaker. A cultural competency workshop open to all members will be held later in the afternoon.
Be sure to renew your membership in advance of the AGM! Check your email's inbox for a CanWaCH renewal invoice sent to you on September 15. Please contact us at [email protected] for any inquiries about your CanWaCH membership.
Not a CanWaCH member yet? Visit this page for more information about becoming a member.
International Cooperation Futures Festival Starts Next Week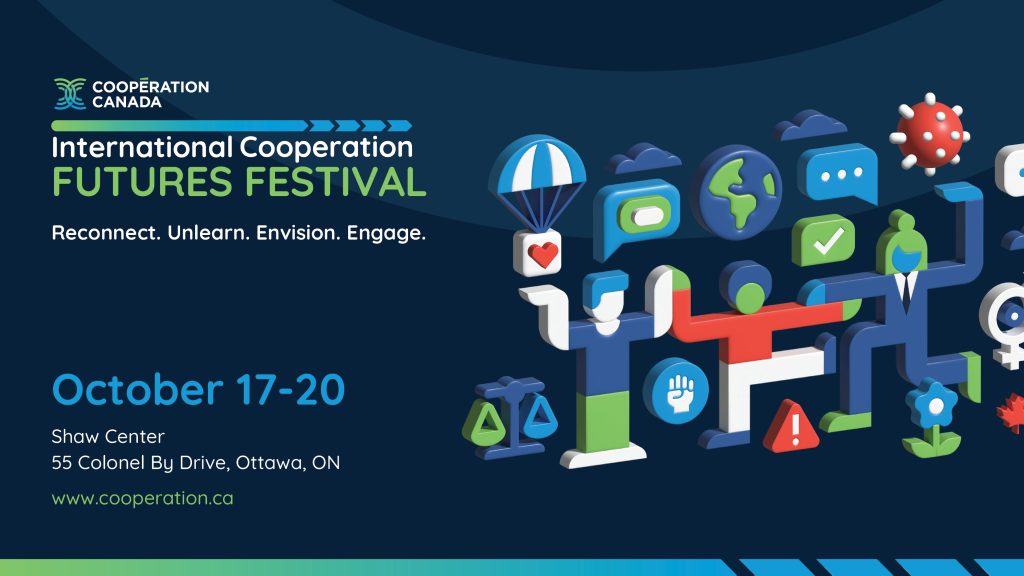 Hosted by Cooperation Canada, the International Cooperation Futures Festival will be taking place at the Shaw Centre in Ottawa from Monday, October 17, to Thursday, October 20! We are excited to be a partner of the festival and present fantastic speakers and sessions on October 17th dedicated to global health as we reconnect, unlearn, envision and engage together!
Registration is still open. Use the CanWaCH promo code "COALITION" to receive a 5% discount after choosing the non-member registration option.
Introducing new tools from CanWaCH
For communications and public engagement professionals: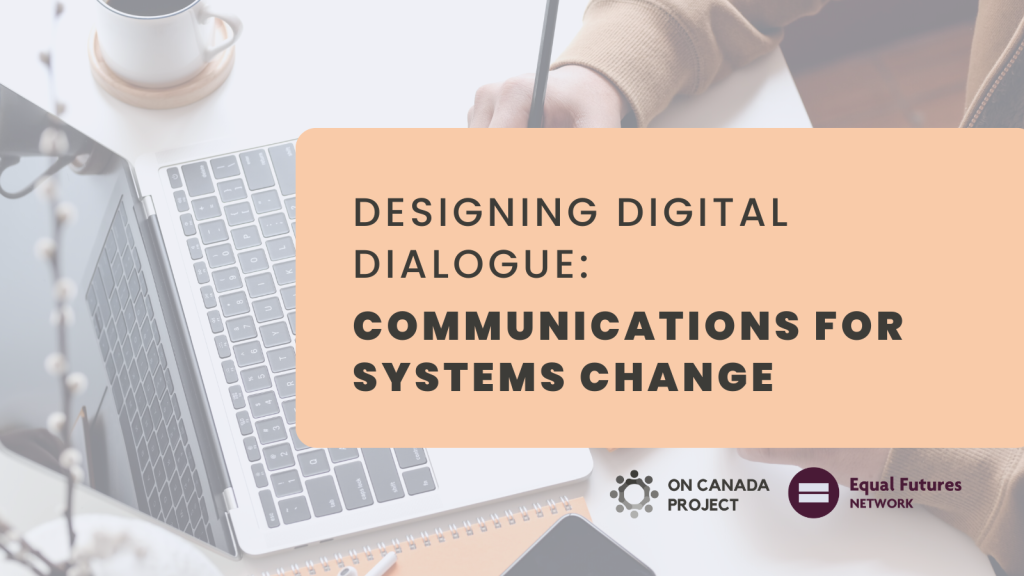 In recent months, we've heard our members share the complexities and challenges of engaging communities and harnessing the power of social media to amplify their social impact.
CanWaCH has been working with the team and community at the On Canada Project to design a resource that helps leaders, communications practitioners, and social media managers level up their digital communications and public engagement strategies. We are excited to introduce Designing Digital Dialogue: Communications for Systems Change!
Use the code 'CanWaCHmember' to enroll in the training and receive access to the toolkit, training modules and other materials for free! Please ensure that you sign-up online using your organizational email.
For gender equality and programming professionals: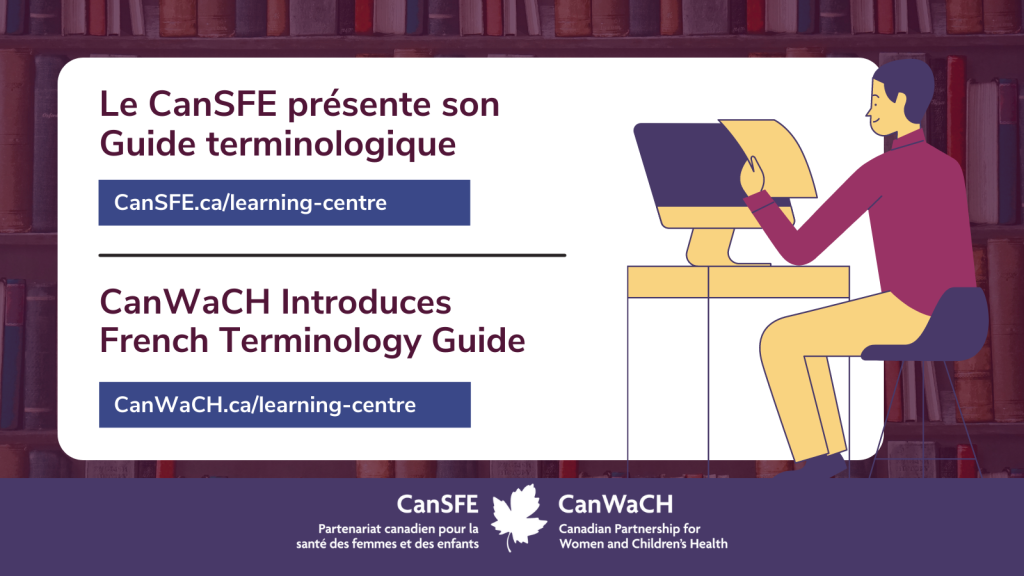 Many gender equality terms used in English have inaccurate or outdated French translations and some do not have a direct French translation. Created by the CanWaCH Gender Equality Working Group, our new French terminology guide provides a tool to harmonize French technical terms in gender equality. Due to the nature of this resource, this tool only exists in French.
A Warm Welcome to the Newest CanWaCH Members!
We're thrilled to welcome Food for the Hungry, Human Concern International and Lucky Iron Fish to the CanWaCH membership!
Dedicated to facilitating sustainable, community development, Food for the Hungry aims to bring about long-term change for those stuck in poverty. Through project development, child sponsorship, and emergency relief, Food for the Hungry Canada is committed to an integrated, holistic approach to development including priorities such as agriculture, education, health, and gender equality.
With an approach to sustainable development that is rooted in empowering the communities they work in, Human Concern International (HCI) works to make positive change in people's lives by eradicating poverty and delivering support to people in crisis. To fight against poverty, HCI leverages its partner network and community knowledge to find lasting and effective solutions in healthcare, education, economic opportunity, and water accessibility.
Lucky Iron Fish is a Canadian social enterprise that offers a simple, affordable, sustainable solution to iron deficiency, the world's largest nutritional challenge. Working with partners including CARE, World Vision and Action Against Hunger, Lucky Iron Fish currently distributes the Fish to more than 90 countries worldwide and provides training opportunities to address iron deficiency in communities across the world.
Call for Submissions
Tools for the Measurement of Gender Equality and Women and Girls' Empowerment
In collaboration with Global Affairs Canada, CanWaCH will be supporting a knowledge sharing session to discuss tools for measuring the empowerment of women and girls. If you have tools for measurement of gender equality and women and girls' empowerment and/or reflection exercises and after-action reviews on the use of these tools, please send them to Erica Fotheringham at [email protected].
ThriveHire Files
June 2022 saw the exciting introduction of ThriveHire to the CanWaCH website. We're thrilled to announce that we are now welcoming submissions! Topics can include but are not limited to global health, career advice, gender equality, job search tips, and international cooperation. For more details, visit CanWaCH.ca/ThriveHire.
In Review: International Day of the Girl and the 77th Session of the United Nations General Assembly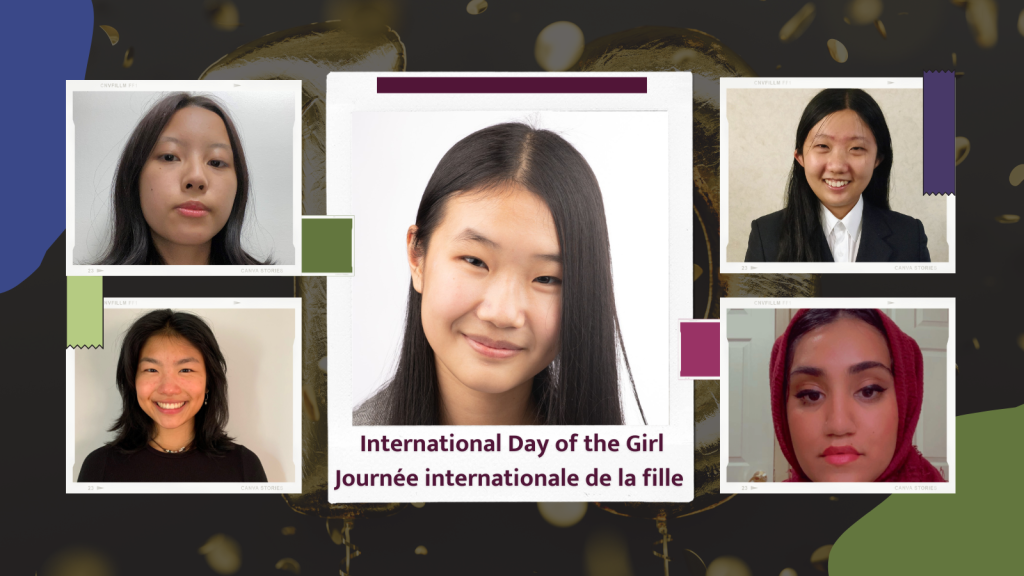 October 11 marked the 10th anniversary of the International Day of the Girl. To commemorate the day, we highlighted the young leaders joining our team later this month through Plan International Canada's Girls Belong Here initiative! Read the blog here.
The final week of September marked the end of the 77th Session of the United Nations General Assembly. The session saw Canada step up and step out with a historic pledge of $1.2 billion to the Global Fund to Fight HIV/AIDS, TB and Malaria! CanWaCH celebrates this investment and looks forward to continuing to work with the government and our members to create a world where every woman and child can thrive and reach their full potential. Check out more reflections from UNGA from CanWaCH's CEO Julia Anderson.
Love Your Eyes this World Sight Day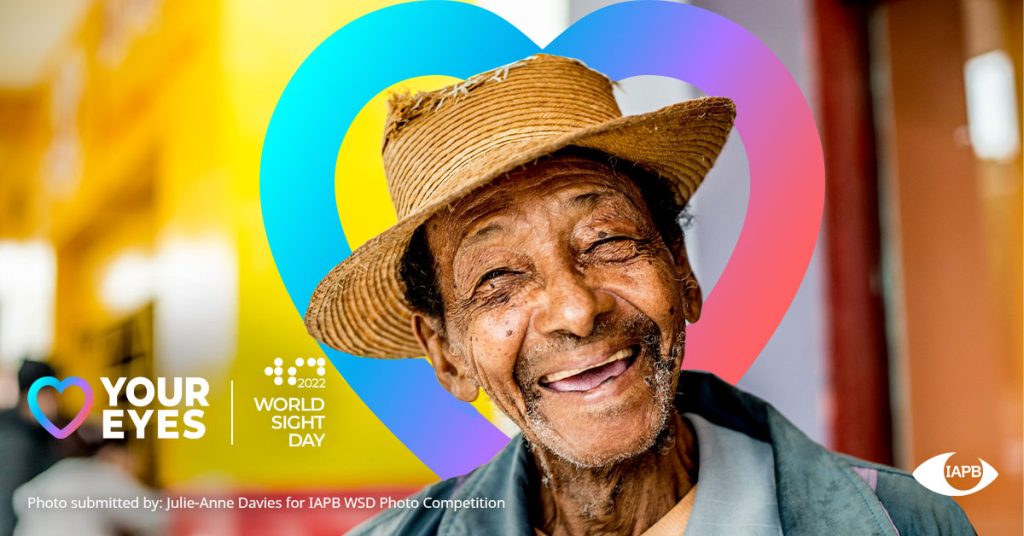 Today marks World Sight Day! This year's campaign focuses on the importance of eye care for all. It's an opportunity to remind people to love their eyes and prioritize their own eye health. Millions worldwide will be sharing how they #LoveYourEyes, download and cut out a pair of heart glasses. Take a photo wearing your heart glasses and post it to your social media accounts! Make sure to tag @sevacanada and @iapb in your posts. Visit Seva Canada for more information on how you can join the conversation!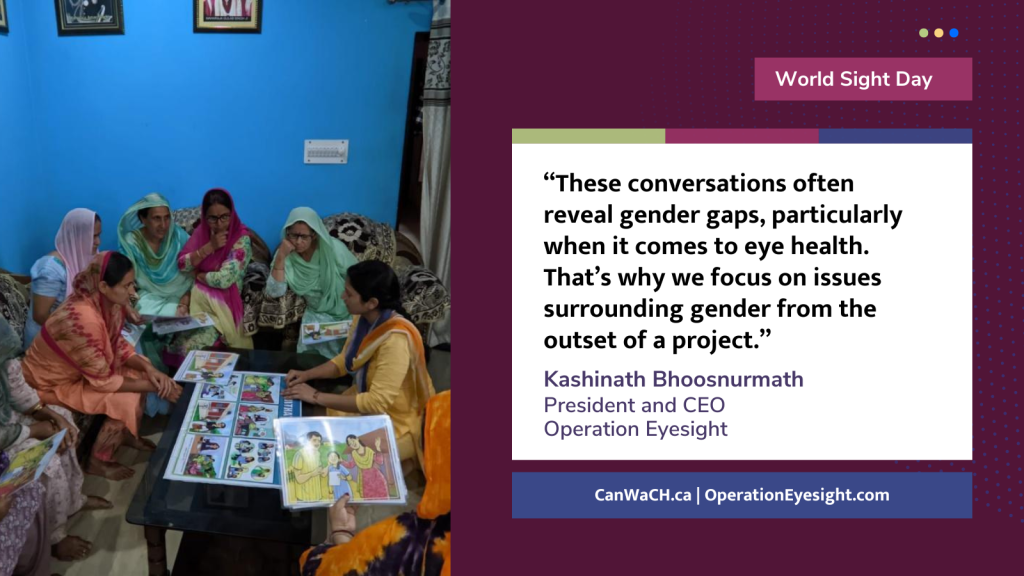 It's also a reminder of the importance of accessible, inclusive and affordable eye care for everyone, everywhere. Learn more about how Operation Eyesight works to improve access to eye health services by prioritizing community engagement in their latest guest blog.
News, Publications and Resources
3 Reasons Why Investing in the Global Fund to Fight AIDS, Tuberculosis and Malaria Matters for Women and Girls, CanWaCH
Collective Commitment: Sustaining Efforts Towards Anti-Racist Change in Canada's International Cooperation Sector, Anti-Racist Cooperation (ARC) Taskforce on Accountability
Engagement collectif : Soutenir les efforts vers une transformation antiraciste dans le secteur de la coopération internationale au Canada, L'équipe stratégique d'AntiRacisme en Coopération
(ARC)
Designing Digital Dialogues: Communications for Systems Change Toolkit, CanWaCH (Use code 'CanWaCHmember' for free access)
Introducing our French Terminology Guide on the Use of Technical Terms in Gender Equality, CanWaCH
Helping Communities Love Their Eyes Through Stories and Collaboration, Operation Eyesight and CanWaCH
Setting the Groundwork for Healthy Women around the World: Reflections from the 77th Session of the United Nations General Assembly, CanWaCH
Advancing Sexual and Reproductive Health and Rights in Universal Health Coverage: An Advocacy Guide, Women Deliver
Canada announces a $1.2-billion contribution to fight HIV/AIDS, tuberculosis and malaria and additional support to mitigate the impact of COVID-19, Global Affairs Canada
Changing the narrative: A shift in tone for first period stories, Nutrition International
CAWST 2021 Annual Report, CAWST
DHS Data Sets Available, USAID
Nutrition International and Partners Kick Off Iodine-Folic Acid Double-Fortified Salt Project in Ethiopia, Nutrition International
Papers to Practice (Podcast), CAWST and EAWAG
Sharing the joy of seeing communities lead their own transformation, Children Believe
Shauna Curry Named a 2022 RBC Canadian Women Entrepreneur Award Finalist, CAWST
Statement from Nutrition International about floods in Pakistan, Nutrition International
State of the World's Girls Report: Equal Power Now, Plan International Canada
The Future of Progress: 2022 Goalkeepers Report, Bill & Melinda Gates Foundation
Using Digital Technologies in Food Fortification for Improved Nutrition Outcomes, Nutrition International
Upcoming Events
October 1-30, Water in Action
October 13, World Sight Day
October 17-20, International Cooperation Futures Festival
October 17, Menstrual Ed 101 – Period 2: Student Perspectives
October 18, The Boards Role in Sustainability, Board Ready Women
October 19, Panel Discussion with the authors of the Intergovernmental Panel on Climate Change (IPCC)'s 6th Assessment Report
October 31-November 4, Health Systems Performance in the Political Agenda: Sharing Lessons for Current and Future Global Challenges
November 14-17, International Conference on Family Planning- ICFP 2022, Pattaya City, Thailand & virtual
November 18, Canada's Leading Forum for Racialized Perinatal Healthcare
November 21-23, "Inclusive Global Health in Uncertain Times: Research and Practice", 28th Canadian Conference on Global Health
November 28-30 and December 1, Journées Annuelles de Santé Publique, Montréal (French Only)
Jobs and Opportunities
Board of Directors Youth Representative Position, HealthBridge
Business Development Manager, Children Believe
Executive Assistant, Global Health Program, IDRC
Gender Advisor – BluePrints, Cuso International
Global Child Health Catalyst Grant, Centre for Global Child Health
Head of Program (HoP), Cuso International
Manager of Partnerships & Project Development, Canadian Association for Global Health
Monitoring, Evaluation, Accountability and Learning (MEAL) Specialist, Cuso International
National Women's Health Research Initiative: Pan-Canadian Women's Health Coalition – Hubs, CIHR Institute of Gender and Health (IGH) in partnership with Women and Gender Equality Canada (WAGE)
OPTions Initiative: Request for Proposals, Grand Challenges Canada
Program Analyst, Global Health Innovation, Grand Challenges Canada
Program Development Officer, Land-based & Youth Leadership, Indigenous Programs, Right to Play International
Program Officer, Monitoring and Evaluation, IDRC Fr.: Administrateur(trice) de programme, Surveillance et évaluation, CRDI
Results Canada Fellowship program, Results Canada French: Programme de perfectionnement en plaidoyer de Résultats Canada, Résultats Canada
Senior Associate, Global Dialogue & Regional Convening Partner Focal, Women Deliver
Senior Manager, Global Partnerships (Maternity Cover), Right to Play International
Volunteer Program Management Specialist, Cuso International
Youth Opportunity! Student and Young Professionals Ambassador for the Canadian Network for NTDs, Canadian Network for Neglected Tropical Diseases
Conseiller.ère principal.e, genre et inclusion sociale, Programmation internationale, Mission Inclusion
Conseiller.ère principal.e, communications et médias, Mission Inclusion
Conseiller(ère) en entrepreneuriat, Cuso International
Conseiller(ère) en Genre et Inclusion Sociale, Cuso International
Chargé.e de programme – Santé et droits sexuels et reproductifs, Oxfam Quebec

Have an opportunity that you would like to share with us? Please contact us at [email protected].