July 2022 Newsletter
CanWaCH Joins Members and Partners in Raising Awareness for the Global Fund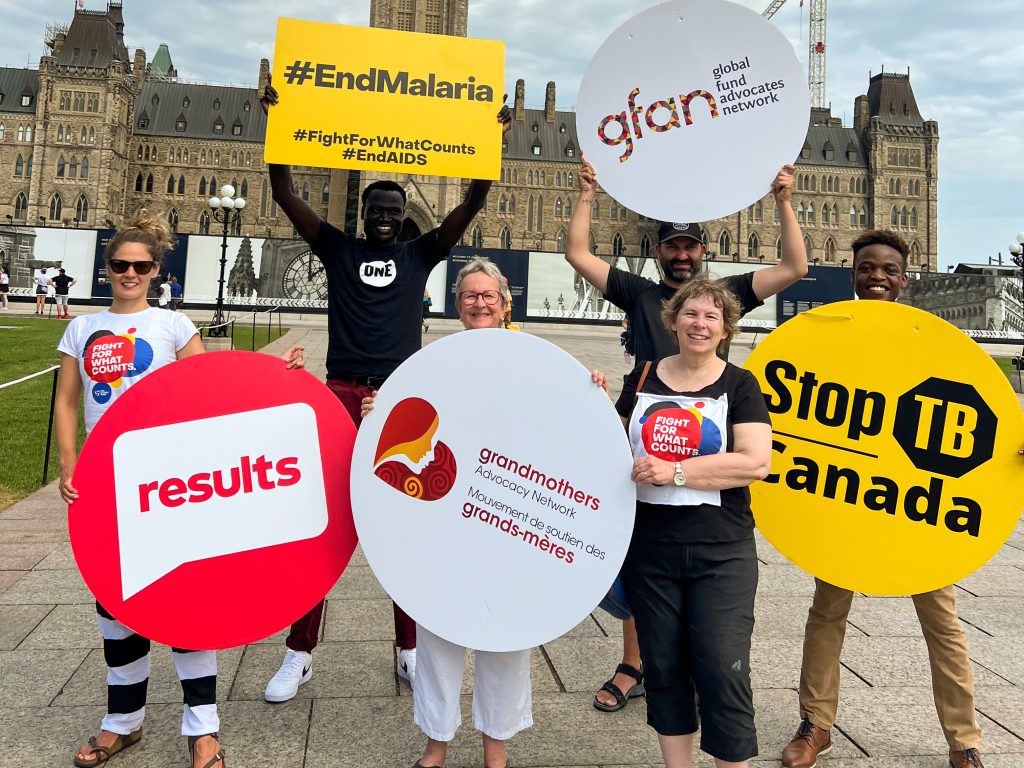 On the morning of Wednesday, July 20, we joined members and partners at Parliament Hill to raise awareness of the Global Fund, a worldwide movement to defeat the HIV/AIDS, TB and malaria epidemics and ensure a healthier, safer, more equitable future for all.
Focusing on the devastating impact of COVID-19 on progress in the fight against malaria, we raised awareness of the importance of the Global Fund in strengthening systems for health to build a healthier, more equitable, pandemic-proof world. Learn more here.
A Warm Welcome to the Newest CanWaCH Members!
We're thrilled to welcome the Centre for Affordable Water and Sanitation Technology (CAWST), SOS Children's Villages Canada and ZMQ Global to the CanWaCH membership!
A charity and licensed engineering firm based in Canada, CAWST works to address the global need for safe drinking water and basic sanitation in developing countries by building local knowledge and skills and helping local partners to initiate, strengthen, and scale up their water, sanitation and hygiene programs. Learn more about their work here.
A member of the SOS Children's Villages International federation, SOS Children's Villages Canada uses a holistic approach in efforts that seek to empower vulnerable children, families, and communities to ensure children's rights are met. Learn more about their work here.
A 'Technology for Development' non-profit social enterprise, ZMQ Global designs and implements technology-linked solutions to empower communities by providing timely information and connecting them with life-saving services. ZMQ works on multiple social issues converging together like healthcare, education and livelihood. Learn more about their work here.
Call for Resources: Canada Pavilion at AIDS 2022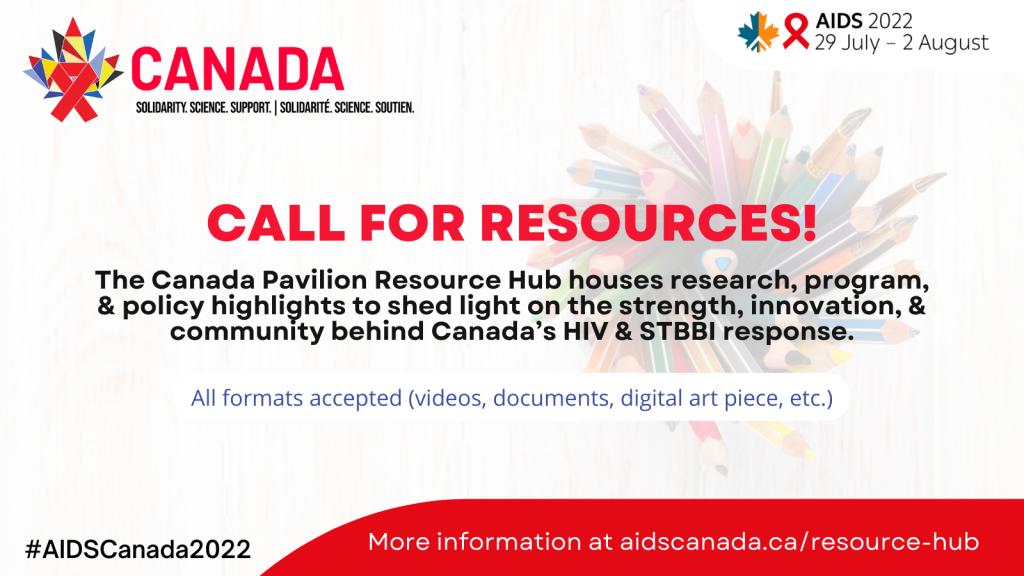 In the lead up to AIDS 2022 on July 29-August 2, the Canadian Association for Global Health (CAGH) is holding an open call for resources for the Canadian Pavilion! Submissions can include reports, videos, photos, articles or other media forms that showcase community innovation, best practices, effective programs, achievements and experiences towards combatting HIV in Canada.
Anti-Racist Cooperation (ARC) Hub Launches Today!
The ARC Hub opens today! A dedicated coordination secretariat on Anti-Racism, the ARC Hub will provide resources, knowledge-exchange platforms, and other supports for international cooperation organizations in their work to tackle racism and apply racial justice principles and approaches to their efforts. Join the virtual launch here. Learn more about the ARC Hub by visiting this page.
Data Matters: Resources from the Third Virtual Community Exchange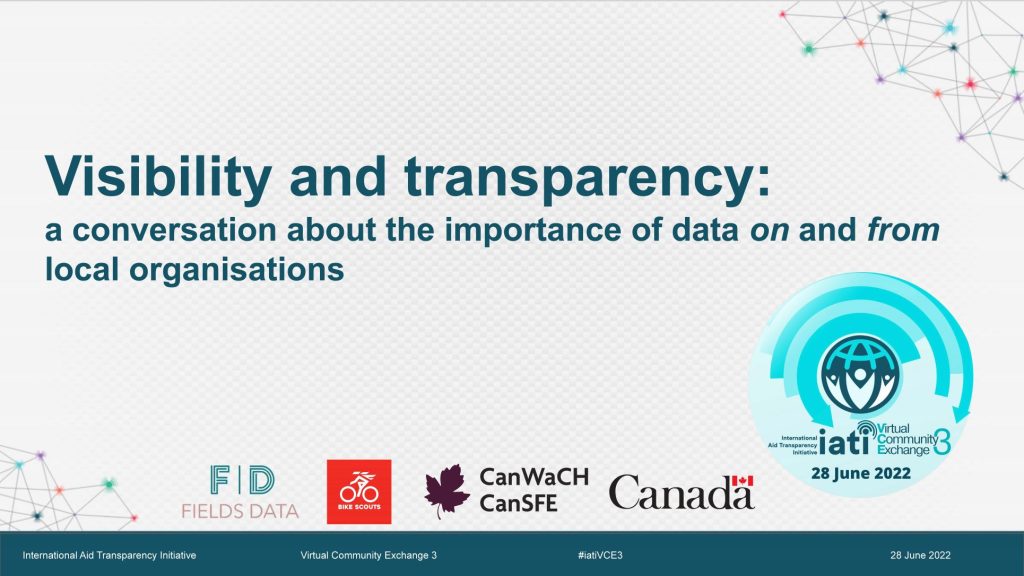 CanWaCH was pleased to take part in the third IATI Virtual Community Exchange (VCE3)! Featuring 31 speakers and 11 community-led sessions, recordings and presentations are now available.
Hosted alongside Fields Data, Bike Scouts, and David Marchesseault, Evaluation Manager, Global Affairs Canada, our VCE3 session 'Visibility and transparency: a conversation about the importance of data on and from local organisations' can be watched here and the presentation accessed here.
What We're Listening To: The Power of Sight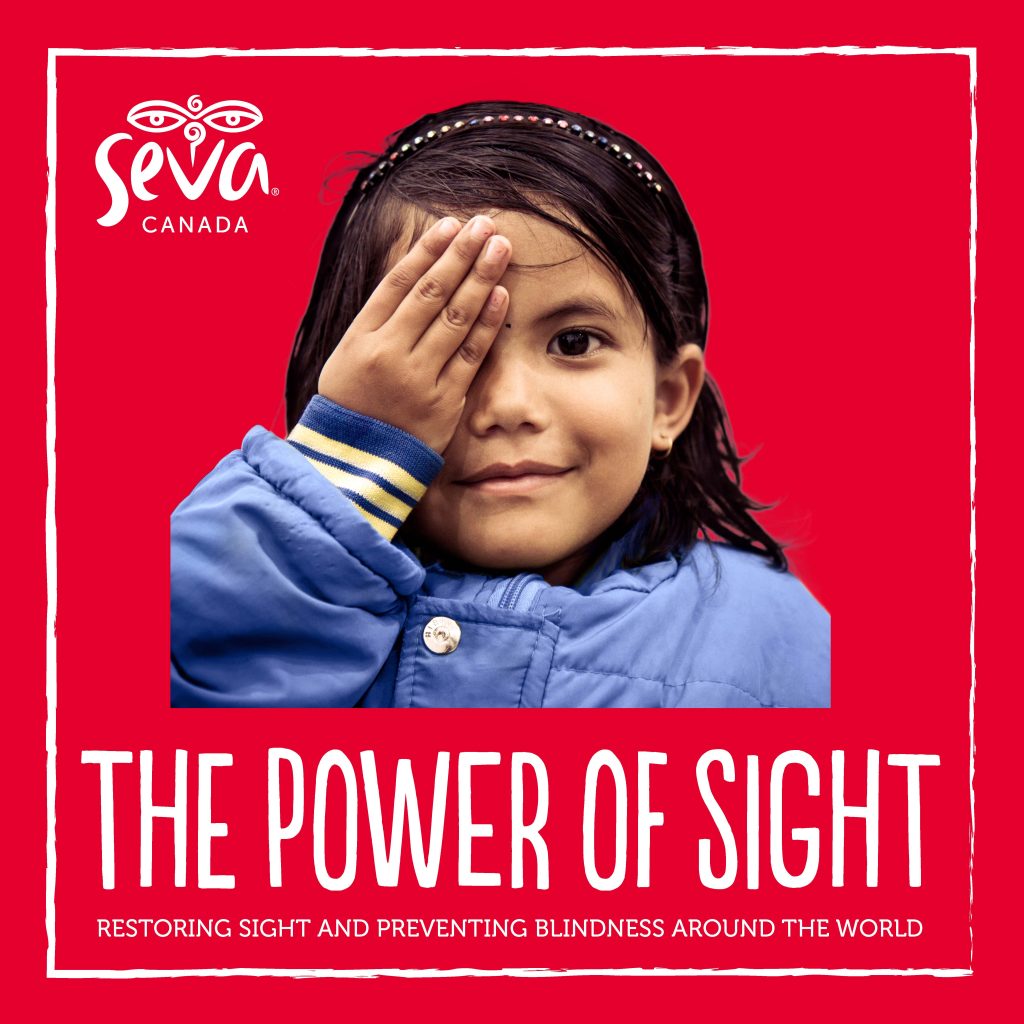 A 3-part podcast series launched in celebration of Seva's 40th anniversary, the Power of Sight discusses why sight is at the forefront of Seva's mission, why development must advance human dignity and why equity is essential in ensuring everyone has access to high-quality eye care. It features firsthand accounts by staff, board members and in-country partners in India, Nepal, Burundi, and Tanzania. Perfect for your summer playlist!
News and Publications
Aid Transparency Index 2022, Publish What You Fund
Are we on track to achieve gender equality by 2030?, UN Women
Bridging education gaps in Canada's north, Cuso International
Co-Creation Toolkit: From design to implementation, Oxfam-Québec
Discussion Paper: Towards A Global Health Strategy for Canada; Discussion Paper Stakeholder Survey, Centre for Global Health at the Dalla Lana School of Public Health and Canadian Association for Global Health (CAGH)
Ethiopian girls build self-confidence, leadership skills through educational program, Cuso International
GiveWell recommends grant to Nutrition International to support vitamin A supplementation, Nutrition International
Improving the quality of care for maternal, newborn and child health, World Health Organization
Kizimba Business Model: Supporting girls and women in Tanzania (Video), Cuso International
Les Comités d'Adolescent.e.s (CADO) : une approche innovante dans la province de Kinshasa, Santé Monde and USI
Motherhood in Childhood: The Untold Story, UNFPA
Policy Report: Subsidizing global health: Women's unpaid work in health systems, Women in Global Health
Research: Decreased Use of Maternal Health Services During Start of Pandemic, Partners in Health Canada
Safe delivery kits support the health of pregnant women in Pakistan, Nutrition International
Shifting mindsets through environmental conservation projects, Cuso International
The anti-racist agenda of Canada's international cooperation sector: From commitment to action, The Philanthropist Journal
The Sheohar 2 Project: Fostering Lasting Change through Water and Art, One Drop
The State of Food Security and Nutrition in the World 2022, Food and Agriculture Organization
Upcoming Events
July 21, ARC Hub Launch
July 27-28, 10th UCG Edition on Diabetes and Endocrinology Conference
July 29 – August 2, 24th International AIDS Conference (AIDS 2022)
August 9, International Day of the World's Indigenous People
August 12, International Youth Day
August 12, IDEAS for Gender Equality Community Building Hybrid Event
August 18-20, Epidémiologie et santé publique: union des forces en Francophonie. IXe Congrès international d'épidémiologie
August 19, World Humanitarian Day
August 23-September 1, World Water Week
August 24-25, 13th International Conference on the Maternal Child Health Handbook
September 23, Perspectives from the Inuit Nunangat: CommunityFirst approaches to health and social issues among Inuit communities
November 14-17, International Conference on Family Planning- ICFP 2022, Pattaya City, Thailand & virtual
November 21-23, "Inclusive Global Health in Uncertain Times: Research and Practice", 28th Canadian Conference on Global Health
Jobs and Opportunities
ARC Hub Program Assistant, Cooperation Canada
Campaign Director, Cooperation Canada
Communications Coordinator (Volunteer), Sex and Self
Content Creator Consultant, Canadian Association of Midwives
Chargé.e de projet, temps partiel, RÉFIPS
Financial Support for Community-Based SRHR Initiatives, Oxfam Canada
Notice of upcoming rapid response monkeypox research funding opportunity, Canadian Institutes of Health Research (CIHR) and the International Development Research Centre (IDRC)
Open Call for submissions, Healthy Population Journal
Senior Advisor MEAL, Save the Children Canada
Social Media Coordinator (Volunteer), Sex and Self
Specialist, Public Relations & Communications, Plan Canada
University/College Representative, Sex and Self
Volunteer Placements – Gender Equality, Project Management, Communications, Fundraising, Graphics Design, Web mastering and Entrepreneurship, Cuso International
Have an opportunity that you would like to share with us? Please contact us at [email protected].