November 2021 Newsletter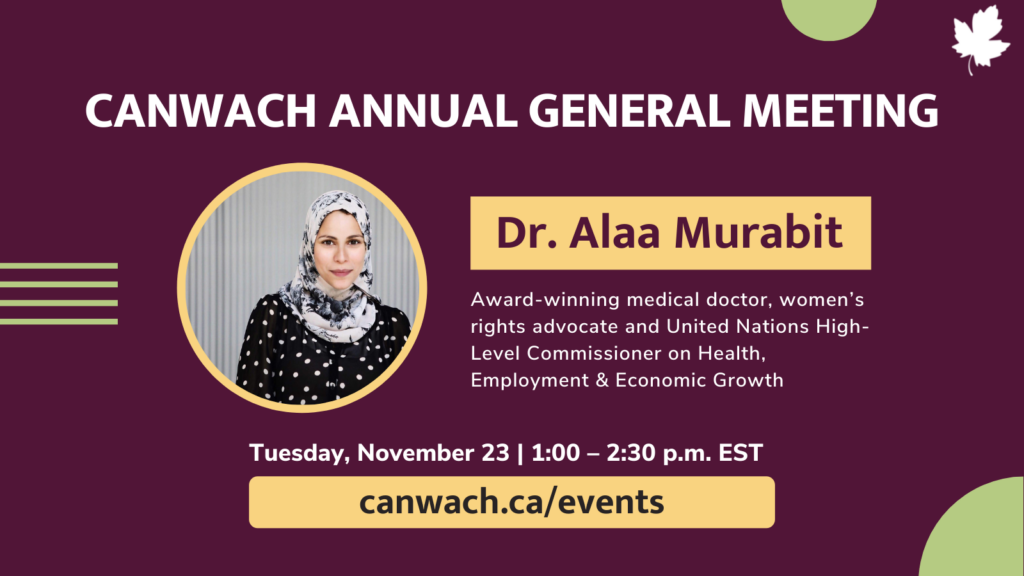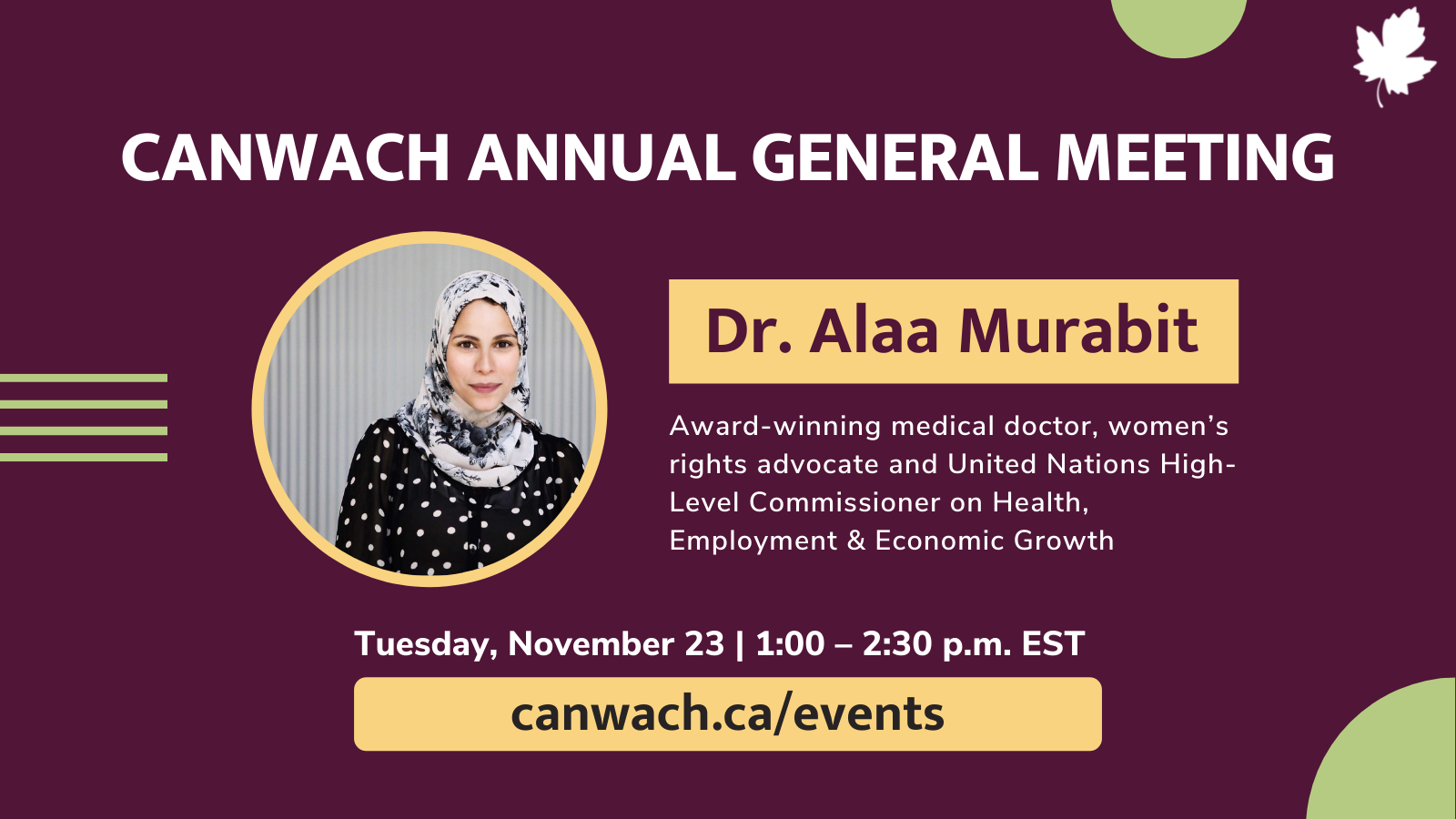 Join us for the CanWaCH Annual General Meeting on November 23, 2021!
The CanWaCH's 2021 Annual General Meeting (AGM) is quickly approaching on November 23 and we would love to see you there. Network with sector colleagues, join the business meeting and hear from Dr. Alaa Murabit, award-winning medical doctor, women's rights advocate and United Nations High-Level Commissioner on Health, Employment & Economic Growth.
If you are a CanWaCH member and the voting representative for your organization has not received their voting information, please contact us.
It's Member & Associate Renewal Time!
If you haven't received your CanWaCH member or associate renewal information or if you would like additional information on becoming a member or associate, please contact Nicole Jamrozinski.
Canadian Collaborative for Global Health: Request for Proposals
CanWaCH, with support from Global Affairs Canada, is excited to announce the second Canadian Collaborative for Global Health!
The Collaborative will bring together Canadian and global partners to generate solutions to urgent data challenges in global health and gender equality. Interested in applying for funding with the Canadian Collaborative for Global Health? Click here for application details and register for our information session on November 29.
Sector News: The G20 Leaders' Summit and Federal Cabinet Sworn-in
On October 26, new ministers were sworn-in for International Development and for Women and Gender Equality in the new federal cabinet. Congratulations and a warm welcome to the Honourable Harjit S. Sajjan, the new Minister of International Development, and the Honorable Marci Ien, the new Minister for Women and Gender Equality and Youth. Learn more about the new cabinet on our website.
Thank you to Maryam Monsef for her years of service as Canada's Minister for Women and Gender Equality. We are inspired by her commitment to advancing the health and rights of women and girls in Canada. And congratulations to the outgoing Minister of International Development Honourable Karina Gould as she begins her role as the Minister of Families, Children and Social Development.
The G20 Leaders' Summit concluded on October 31. Check out the key highlights of Canada's commitments that relate to the advancement of women, children and adolescent health here. CanWaCH applauds the Government of Canada for its bold investment in COVID-19 vaccines and taking a step forward in ending the pandemic everywhere.
The Global Fight Against Malnutrition
The growing malnutrition crisis is a once-in-a generation threat that has reversed decades of progress. By 2022, it is feared that the number of acutely malnourished children could rise by as much as 13.6 million and the number of women suffering with anemia by 4.8 million. And yet it rarely makes the news. Around the world, the COVID-19 pandemic, conflict and climate change are threatening access to healthy food and nutrition services for the world's most marginalized populations, including women, girls and young children.
The disproportionate impact of the COVID-19 pandemic on women and girls also demonstrates that nutrition needs to be treated as a human right and a gender equality issue. Learn more here.
Data Matters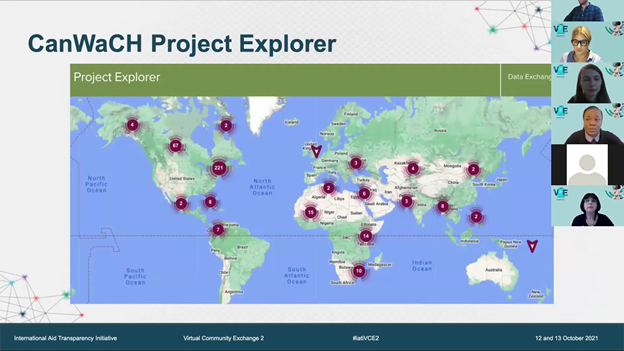 CanWaCH was thrilled to take part in the International Aid Transparency Initiative (IATI)'s second Virtual Community Exchange! Watch the recording to catch up on the discussion about moving the needle toward gender equality through improved gender data quality and accessibility. The session was co-led by Publish What You Fund, CanWaCH, Open Data Watch/Data2X and UN Women.
For access to all sessions, check out this recap of the event.
Calling all students and young professionals!
CanWaCH is proud to support the 8th Annual Canadian Global Health Students and Young Professionals Summit (GHSYPS) taking place virtually on Saturday, November 27, 2021. GHSYPS 2021 will focus on three urgent topics in global health: planetary health, marginalized communities and mental health.
News and Resources
CARE and the SDGs: Impact and Learning Analysis 2015-2020, CARE
Congolese women strengthen their digital skills to fight online violence, Cuso International
Celebrating Girls Town Hall (Video), Cuso International
G20 Summit in Rome Recap: Here's What You Need to Know, Global Citizen
Gender Gaps in COVID-19 Vaccines, CARE Canada
Lady health workers in Pakistan help prevent iodine deficiency disorders, Nutrition International
Putting justice at the heart of climate action, Global Alliance for Green and Gender Action
Scaling a lifesaving intervention: Skin-to-skin for mothers and babies, Grand Challenges Canada's KMC DIB report covered in Devex
Share the bounty, boost the global economy, Results Canada
The Global Fight Against Malnutrition, UNICEF Canada
Events
November 11-13, 14th Annual DLSPH Student Led Conference
November 16, #InvestInNutrition: Taking action to end the malnutrition crisis
November 18, Decolonizing global health: what does it mean for academic institutions?
November 19, World Toilet Day
November 20, World Children's Day
November 23, CanWaCH AGM
November 24-26, Canadian Conference on Global Health: Rethinking partnership paradigms in global health
November 25, International Day for the Elimination of Violence Against Women
November 27, GHSYPS 2021
November 29, Canadian Collaborative for Global Health Information Session
December 3, International Day of Persons with Disabilities
December 5, International Volunteer Day
December 7-8, The Tokyo Nutrition for Growth (N4G) Summit
December 8, Formation sur l'écriture inclusive (Cette session sera offerte en français seulement.)
December 10, Human Rights Day
December 12, International Universal Health Coverage Day
December 13, Canadian Launch of the GlobalChild Platform
Jobs and Opportunities
CanWaCH, Canadian Collaborative for Global Health: Request for Proposals, Canada
Action Against Hunger Canada, Program Development Manager, Canada
Action Canada for Sexual Health and Rights, Director of Government Relations, Canada
ADRA Canada, Gender Equality (GE) Advisor, Canada
Canadian Feed the Children, Senior Manager – Programs and Partnerships, Canada
Commonwealth Foundation, Grants programme, International
Cooperation Canada, Chief Executive Officer, Canada
Cuso International, Digital Marketing Specialist, Canada
Grand Challenges Canada, Global Mental Health program launches second Request for Proposals, International
UNDEF, United Nations Democracy Fund, International
Have an opportunity that you would like to share with us? Please contact us at [email protected].