December 2021 Newsletter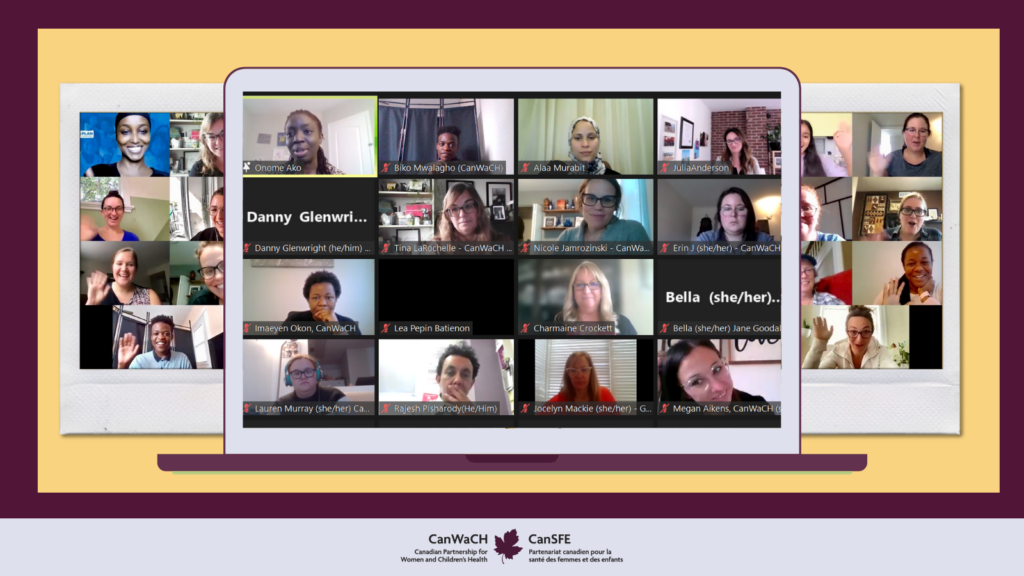 Happy Holidays from the CanWaCH Team!
On November 23, 2021, CanWaCH held its Annual General Meeting. Reflecting on a year where our members, and the global health sector as a whole, demonstrated continued resiliency in the face of adversity. We were able to draw encouragement from the sense of community and collaboration that underpins our membership, hear inspiring words from the remarkable Dr. Alaa Murabit, and reflect on lessons learned while connecting with friends, new and old, during our Coffee with CanWaCH networking sessions.
Thank you for your ongoing support over the past year. Our team eagerly anticipates all that we can do together in 2022. We would like to wish you and yours a very happy holiday season!
CanWaCH is pleased to release our 2020-2021 Annual Report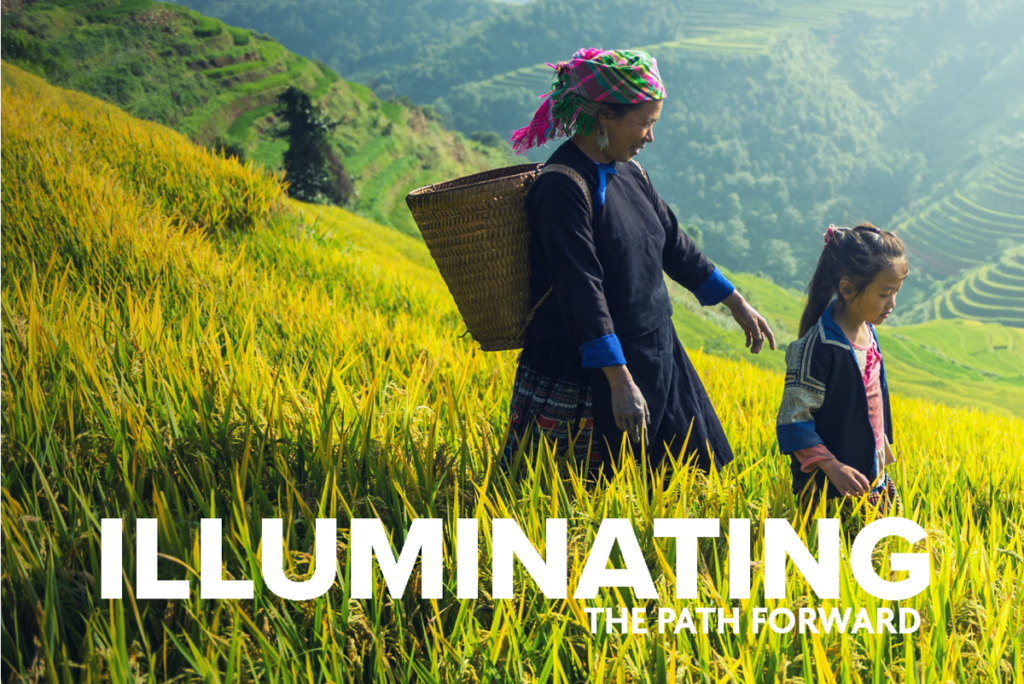 From defining moments to our favourite reads and podcasts, our 2020-2021 Annual Report looks at what we accomplished and how our members worked to ensure that the priorities of women, children and adolescents remain at the heart of what we do.
Share your work through our CanWaCH Impact Series
As we wrap up 2021 and in preparation for International Development Week 2022, the CanWaCH Impact Stories Series is an opportunity to showcase your organization's accomplishments and impact in advancing women, children and adolescents' health to key stakeholders and Canadians.
CanWaCH will produce an infographic demonstrating the impact of your project in both official languages and share it widely across our digital media channels.
CanWaCH's Gender Equality Training is coming back in the new year!
Over the past year, CanWaCH has hosted a set of virtual Gender Equality Training sessions to build the confidence and capacity of the CanWaCH membership in the application of gender transformative programming in women, adolescent and children's health.
CanWaCH is thrilled to announce that the seventh offering of this virtual training will be held in English between February 14 – March 11, 2022. To learn more and for further registration details, please contact Erica Fotheringham. Please note that space is limited to a maximum of 25 participants per session.
C

anWaCH is also recruiting a cohort of Gender Equality Training facilitators
Are you interested in expanding your skills as an expert gender equality trainer in the global cooperation sector? Would you like to have access to a supportive network of fellow gender equality leaders as you deepen your knowledge?
In Spring 2022, CanWaCH will host our first-ever facilitation training workshop, focused on strengthening the sector's gender equality capacity. Selected individuals will be trained in delivering CanWaCH's virtual gender equality modules and have access to one-on-one feedback to bolster their skills as a workshop facilitator.
Check out our expression of interest! There is no cost to participate. If you have any questions, please contact Erica Fotheringham.
Reflections from Nutrition for Growth – Nutrition International
The Nutrition for Growth Summit took place on December 7-8, bringing together governments, business, multilaterals, donors, and other development partners to make data-driven financial, policy, programmatic, and impact commitments to end malnutrition in all its forms.
Click here to read about the nutrition priorities discussed by Nutrition International to drive country-led, evidence-based, and fully financed nutrition programs for the future.
Sector News: Speech from the Throne and Meet the New Parliamentary Secretaries
The Speech from the Throne opens a new session of Parliament and signals the Government's priorities and intentions for the upcoming legislative session as well as for the next budget cycle.
Click here to read the highlights related to global health and gender equality. Click here to meet the new parliamentary secretaries, opposition critics and committee appointments in the Senate.
Out Now: Guttmacher Report on The Impact of Canadian International Assistance for Family Planning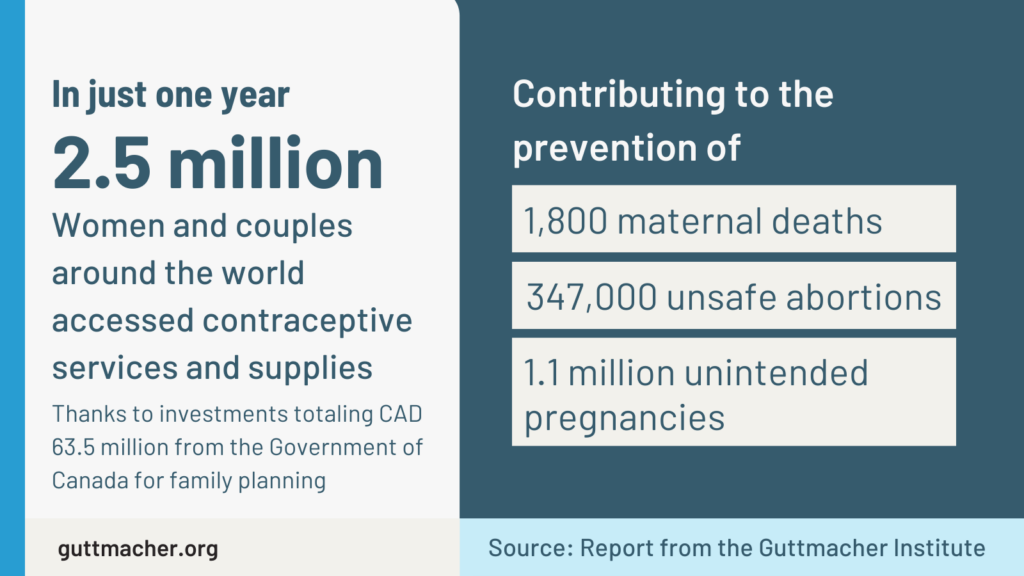 Family planning is part of a comprehensive package of sexual and reproductive health and rights services that are more essential now than ever before in countries where health systems are weak or strained. A new report by the Guttmacher Institute documents the impacts of Canada's ongoing commitments. Read it here.
News and Resources
Canada's International Cooperation Sector Celebrates Ambitious Speech from the Throne, CanWaCH and Cooperation Canada
Minister Sajjan announces $325 million in funding for 11 projects with Canadian global health partners, CanWaCH
Confidence, strength grow with greater access to education, Cuso International
Cuso International resumes global volunteer-sending program, Cuso International
ChildVoice: 2021 Annual Report, Children Believe
Ciella's Journey to Sight [Video], Seva Canada
Enabling innovation through a global pandemic: 2020-2021 Annual Report, Grand Challenges Canada
Tanzania's Ubongo wins Grand Challenges Canada's Rotman Innovation of the Year Award, Grand Challenges Canada
Using innovative solutions to bring healthcare to patients in rural Kenya, Health Partners International of Canada
New research reveals how a mother's nutrition during pregnancy impacts the health of her child through adulthood, Nutrition International
Nutrition International celebrates the Bangladesh National Nutrition Council's accomplishments towards reducing malnutrition in the country, Nutrition International
Researching the role of gender in vitamin A supplementation programs, Nutrition International
Wellbeing Foundation Africa and Nutrition International partner to combat childhood diarrhoea in Kano and Sokoto states, Nigeria, Nutrition International
Elevating women's voices in times of water crisis, One Drop Foundation
The story of Pascaline, One Drop Foundation
Our 2021 Eye Health Heroes, Operation Eyesight
Events
December 9, SLF Pride Talks: Safety at Home for LGBTIQ Communities in sub-Saharan Africa
December 9, Democracy for Human Rights through CEDAW
December 10, CREA Alumni Talks: Bring People In
December 13, The Canadian Launch of the GlobalChild Platform
December 16, ENRICH Impact Event
December 18, International Migrants Day
December 20, Human Solidarity Day
January 6, International Day of Zero Tolerance for Female Genital Mutilation
January 11, International Day of Women and Girls in Science
Jobs and Opportunities
CanWaCH, Canadian Collaborative for Global Health: 2021 Request for Proposals, International
Aga Khan Foundation Canada, International Youth Fellowship program, International
International Service for Human Rights, ISHR Training for Human Rights Defenders, International
Feminists Deliver, Program Coordinator, Canada
Partners In Health Canada, Manager, Annual Giving and Engagement, Canada
MCW Global, Young Leaders Conference – North America, Canada and the USA
Save the Children Canada, Senior Program Finance Manager, Consortium portfolio, Canada
Have an opportunity that you would like to share with us? Please contact us at [email protected].