January 2022 Newsletter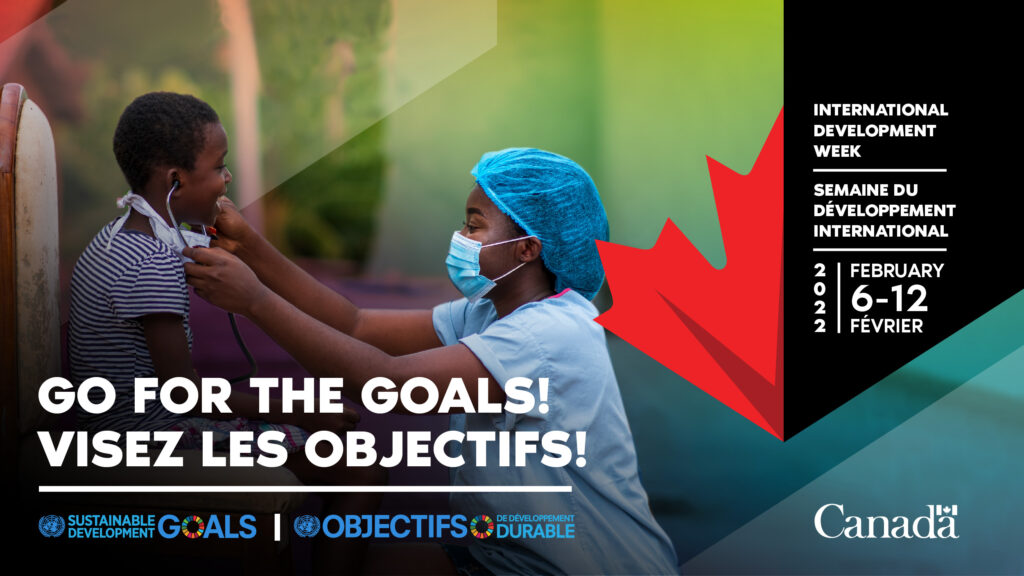 International Development Week 2022: #GoForTheGoals
International Development Week (IDW) 2022 will take place from February 6 to 12! This year's #GoForTheGoals theme calls Canadians to support the achievement of the UN Sustainable Development Goals (SDGs) throughout the year. The week will focus on five subthemes: Gender equality (Monday), Health (Tuesday), Economic Resilience (Wednesday), Education (Thursday) and Climate Action (Friday). Check out events by visiting the CanWaCH events calendar.
Don't miss this key opportunity to showcase your organization's accomplishments and impact by sharing your work through our CanWaCH Impact Series. Join the conversation by using the #GoForTheGoals and #IDW2022 hashtags across social media.
Hosting an IDW event or looking to amplify your work on CanWaCH channels? E-mail CanWaCH's Communications Assistant, Biko Mwalagho.
Gender Transformative Programming in Health: Experiences in Engaging Men and Faith Leaders
Join CanWaCH's Gender Equality Working Group on Monday, February 7 from 11 a.m. – 12 p.m. EST to dive into approaches focused on engaging men/boys and faith/traditional leaders as critical actors in transforming gender norms and promoting positive masculinity.
Speakers from Plan International Canada, World Renew and World Vision Canada will share case studies demonstrating lessons learned and best practices. There will also be time for Q&A at the end. Please note that due to the interactive nature of this session it will only take place in English.
A New Look to Recognize Canada's International Assistance
The Government of Canada has issued new visual identity guidelines for international assistance projects, including those delivered by CanWaCH Members in partnership with Global Affairs Canada (GAC). Among the graphic options is a new Canada Aid | Aide logo. The new guidelines and directions on how to apply them to recognize your GAC partnerships are available here. If you have any questions, please contact Global Affairs Canada via email.
Registration Open for CanWaCH's Gender Equality Training
CanWaCH is thrilled to announce the seventh offering of our virtual Gender Equality Training sessions! Designed to build the confidence and capacity of the CanWaCH membership in the application of gender transformative programming in women, adolescent and children's health, sessions will be held throughout February and March 2022. View the training agenda here.
For the registration details, please contact Erica Fotheringham. Please note that space is limited to 25 participants per session. All sessions will be held in English.
Become a Gender Equality Training facilitator!
In Spring 2022, CanWaCH is hosting our first-ever facilitation training workshop, focused on strengthening sector capacity in gender equality. Through this program, participants will familiarize themselves with CanWaCH's premiere virtual training material and benefit from one-on-one feedback to bolster their facilitation skills.
If you are interested in this opportunity, please fill out this google form! If you have any questions, please contact Erica Fotheringham.
Contribute to the Equal Future Network's GBA+ Assessment
Are you a member of the Equal Futures Network? We want to hear from you! The Equal Futures Network, a CanWaCH initiative, is currently undergoing a Gender Based Analysis Plus (GBA+) Assessment to better understand the experiences of its members and fulfill its commitments to advancing gender equality from an inclusive, rights-based and feminist framework.
If you are a member, please fill out this quick survey to contribute to our GBA+ assessment. This survey will remain open until January 31, 2022.
Canadian Collaborative for Global Health Request for Proposals: Apply by January 31
Check out a recording of the Canadian Collaborative for Global Health Information Session ahead of the fast approaching January 31 deadline for the Request for Proposals!
Member Spotlight: Canadian Network for Neglected Tropical Diseases
January 30 marks the third annual World Neglected Tropical Diseases (NTD) Day. A group of 20 illnesses that occur primarily in tropical and subtropical regions, NTDs impact approximately 1.6 billion people in 149 countries around the world. Click here to see how the Canadian Network for NTDs aims to address NTDs by bringing together Canadian individuals and organizations. Learn more about NTDs and their effect on global health by watching this video.
News and Resources
9 examples of effective technical assistance for nutrition, Nutrition International
Anthropologies of Global Maternal and Reproductive Health, Part of the Global Maternal and Child Health book series
Cross-Border Impact Ventures launches new impact fund with commitments of US$30 million, Grand Challenges Canada
Highlights from the InPATH Project in Malawi, One Drop Foundation
Inequality Kills: Action Needed To Combat Inequality In The Wake Of COVID-19, Oxfam Canada
Ky'okusinga Kirunga to join Amref Health Africa in Canada as Executive Director, Amref Health Africa in Canada
Myanmar: Let's make 2022 the year in which the trend of growing violence and impunity is finally reversed, Save the Children Canada
Nutrition International applauds the Government of Sindh, Pakistan for its new mandatory food fortification law, Nutrition International
Nutrition International welcomes Canada's new global nutrition investments, Nutrition International
One Drop Foundation's 2021 Year in Review, One Drop Foundation
Year in Review – Discover how midwives and nurses save lives in Haiti, Somalia and South Sudan, Canadian Association of Midwives
Events
January 24, International Day of Education
January 24-27, Nutrition Financing Week
January 25, Grant Writing 101: Introduction to Grant Writing for Not-for-Profits
January 30, World NTD Day
February 6, International Day of Zero Tolerance for Female Genital Mutilation
February 6-12, International Development Week
February 7, Gender Transformative Programming in Health: Experiences in Engaging Men and Faith Leaders
February 9, Virtual panel: Irregular migration in Central America and Mexico
May 17-19, Peace: Beyond the absence of war (Deadline to submit an application is January 28, 2022)
Jobs and Opportunities
CanWaCH, Canadian Collaborative for Global Health: 2021 Request for Proposals, International
CanWaCH, Manager of Development and Engagement, Canada
CanWaCH, Senior Policy Advisor, Canada
Aga Khan Foundation Canada, Become an International Youth Fellow, International
Cooperation Canada, Accounting Officer, Canada
Children Believe, Digital Community Coordinator, Canada
Children Believe, Director, Digital & Community Engagement, Canada
Crossroads International, Volunteer Mobilization Officer, Canada
Health Partners International of Canada, Program Development Coordinator, Canada
Oxfam Canada, Planned Giving Specialist, Canada
Partners In Health Canada, Director of Development and Communications, Canada
Partners In Health Canada, Manager, Annual Giving and Engagement, Canada
Have an opportunity that you would like to share with us? Please contact us at [email protected].