January 2023 Newsletter
Welcome to our first newsletter of 2023! This month's edition shares registration information for exciting in-person events and our virtual gender equality training, news you may have missed over the holidays and our new short analysis on 11 sexual and reproductive health projects.
CanWaCH is coming to a city near you this spring!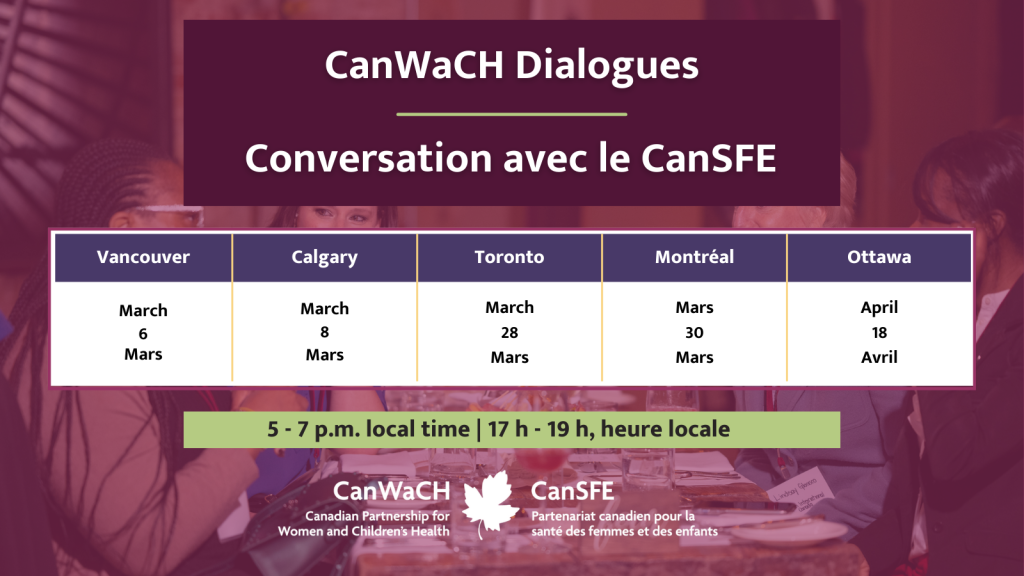 CanWaCH is happy to share that we will be coming to a city near you as a part of our CanWaCH Dialogues in spring 2023! Our members and partners have shared that in-person dialogues offer tremendous value in driving momentum towards new partnerships and collaboration. Join us for a casual evening of discussion and networking with colleagues from across the CanWaCH membership and international cooperation sector.
Register for FREE at a location near you:
We kindly request that you register for Vancouver and Calgary as soon as possible and no later than February 20, 2023.
International Development Week 2023: #GoForTheGoals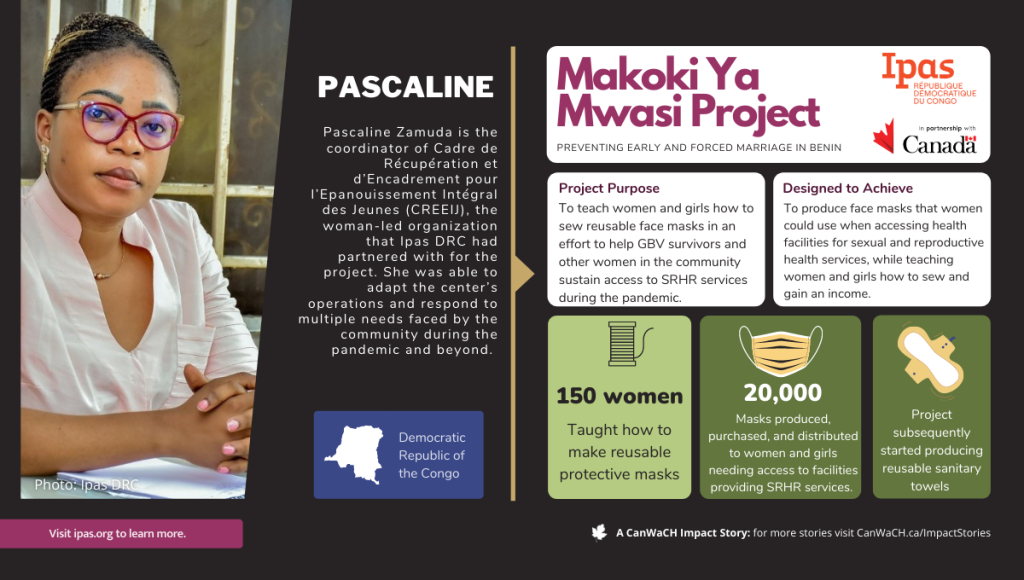 International Development Week (IDW) 2023 takes place from February 5 to 11! The week places a spotlight on international development efforts and celebrates Canadian contributions made through partnerships around the world. Check out our impact stories to learn about some of the efforts by CanWaCH members and partners!
Join the conversation by using the #GoForTheGoals and #IDW2023 hashtags across social media! Hosting an IDW event or looking to amplify your work on CanWaCH channels? Please contact Biko Mwalagho.
Get Caught Up on the Global Health News You May Have Missed During the 2022 Holidays
Check out important stories about the Taliban's ban on women working for NGOs in Afghanistan, the ongoing impact of floods in Pakistan, member updates and awards and more. Read the latest news in global health here.
Book Your Spot at Equal Futures 2023!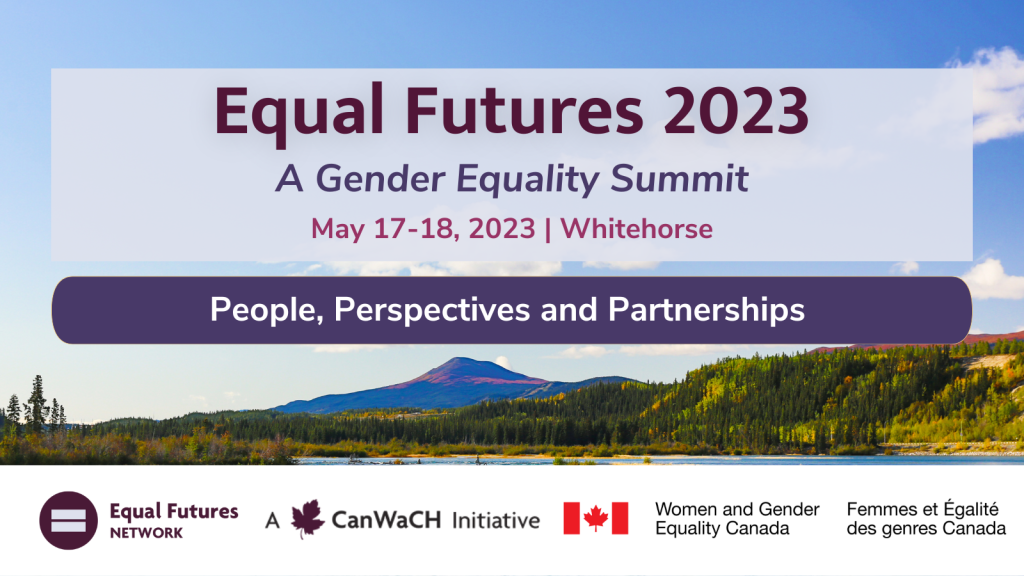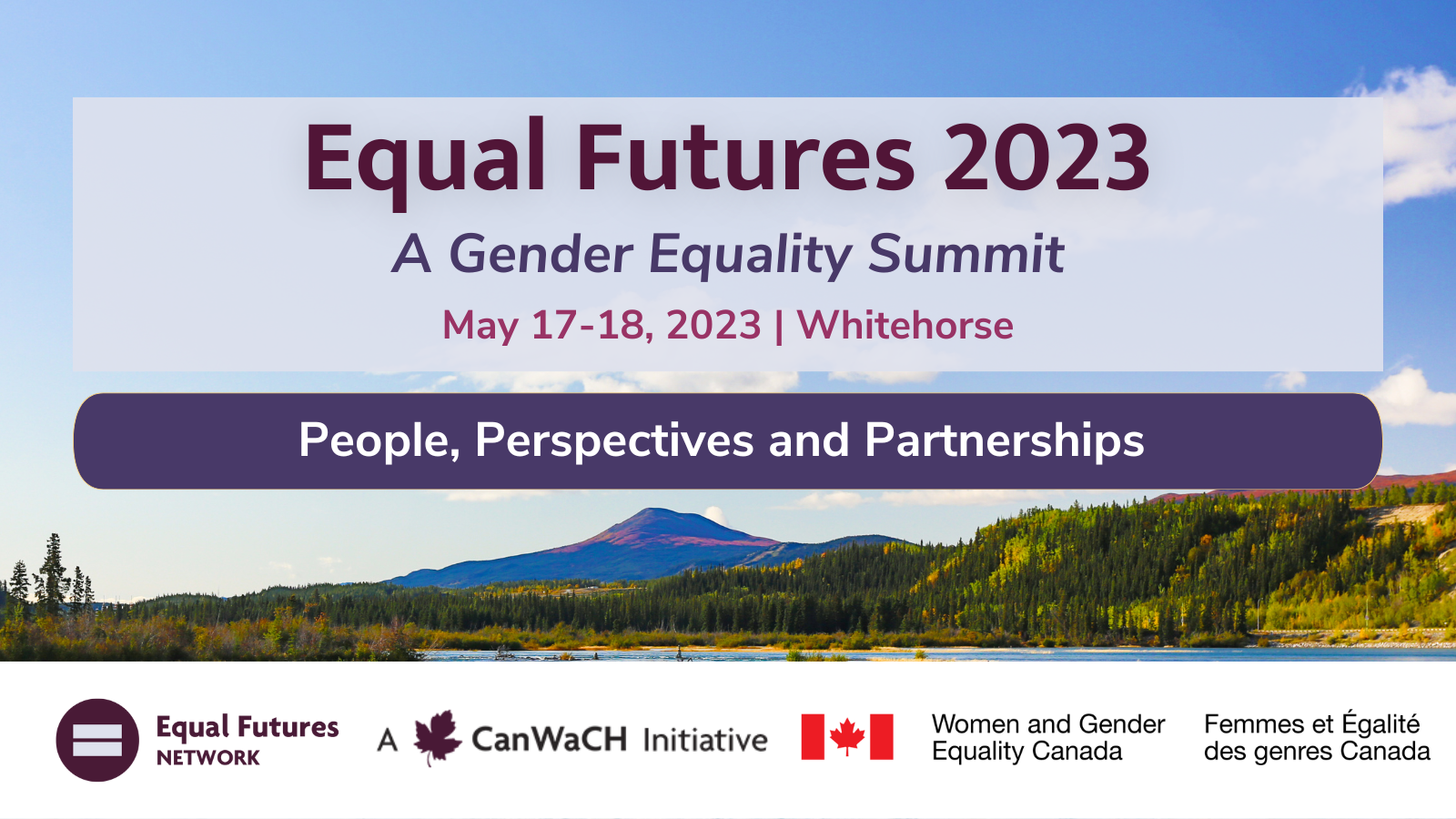 Registration for Equal Futures 2023: A Gender Equality Summit is now open! Taking place from May 17-18, 2023, the summit will be held at the beautiful Kwanlin Dün Cultural Centre on the traditional territories of Kwanlin Dün First Nation and Ta'an Kwäch'än Council, also known as Whitehose.
Registration Open for CanWaCH's Gender Equality Training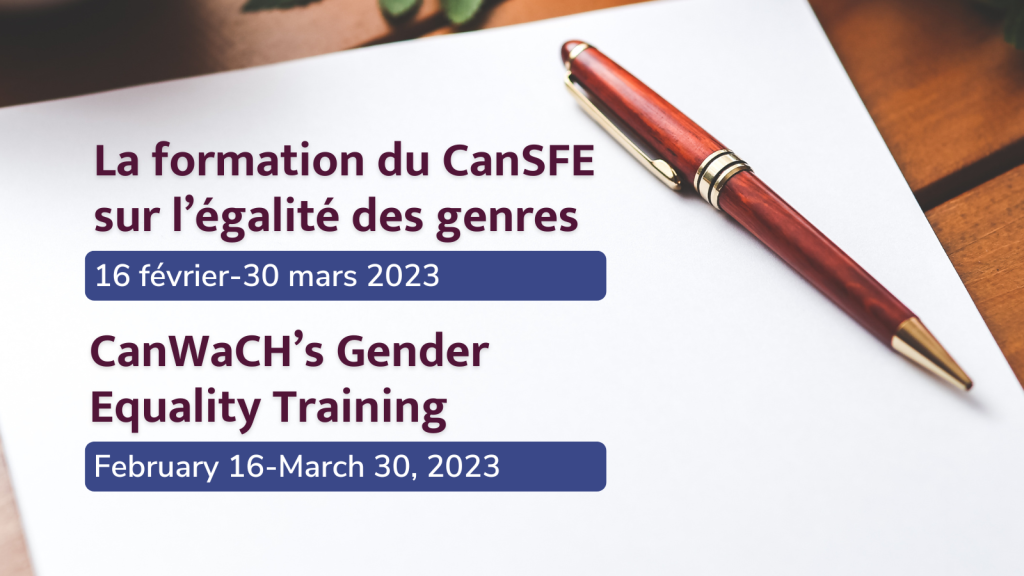 CanWaCH is thrilled to announce the eighth offering of our virtual Gender Equality Training sessions! Designed to build the confidence and capacity of the CanWaCH membership in the application of gender transformative programming in women, adolescent and children's health, sessions will be held throughout February and March 2023. View the training agenda here. For the registration details, please contact Erin Jex. Please note that space is limited to 25 participants per session. All sessions will be held in French. An English session will be offered in Spring 2023.
Global Affairs Canada Releases its Stakeholder Report on 10-year global health and rights commitment
Global Affairs Canada's 10-Year Commitment to Global Health and Rights Annual Report – 2020-2021, is now available! The annual report is part of Canada's Accountability Framework for the 10YC and provides a progress update on the 10YC's first year of implementation (April 1, 2020 to March 31, 2021) with a focus on financial, policy and programmatic achievements.
Data Matters: 11 Journeys Towards Advancing the Health and Rights of Women, Adolescent Girls and Children
In 2019, the Government of Canada announced a historic 10-year commitment to increase funding to reach an average of $1.4 billion annually by 2023 to advance the health and rights of women and girls around the world.
Following this announcement, 11 projects received funding to reach ambitious outcomes that will make a difference in the lives of millions, especially adolescent girls and women, and marginalized populations who have historically lacked access to adequate sexual and reproductive health services.
Our new short analysis, 11 Journeys, provides a first glance at the impact of the 11 projects.
Member Spotlight: One Drop Foundation
2022 marked a significant milestone for the One Drop Foundation as they celebrated 15 years of promoting access to safe drinking water, sanitation and hygiene! They will soon have impacted more than 2.7 million people through their efforts towards Sustainable Development Goal 6 – Ensure availability and sustainable management of water and sanitation for all. Learn more about what they have achieved in 2022 and what awaits them in 2023.
News, Publications and Resources
2021-2022 Annual Report, Partners in Health Canada
2022: celebrating milestones, innovations and making a difference globally, Nutrition International
A third of Pakistan is under water. Sending aid won't cut it, Canada, Mahmuda Khan, Executive Director of Human Concern International
Adapting Through Water and Art: Creating Ripples in Rajasthan, One Drop
Amplifying Haitian Voices, Partners in Health Canada
Annual Report, CECI
Annual Report 2021-22, Santé Monde
Decolonising knowledge and practices: an imperative for social justice [French only]. Recording of the November 24, 2022 webinar organized by UNESCO-GHE in partnership with REFIPS
Finding the nexus between Family Planning and Universal Health Coverage, Adebiyi Adesina, Director of Health Financing and Systems Strengthening, PAI and Cate Nyambura
Global Affairs Canada's approach to feminist evaluation practices, OECD
Government of Andhra Pradesh and Nutrition International join hands to steer universal salt iodization in state, Nutrition International
Global Health Insights, Peter Singer
Human Concern Concluded its Water for Life National Tour in Support of the United Nations #JusticeBeginsHere Campaign, Human Concern International
The Lancet Series on racism, xenophobia, discrimination, and health, The Lancet
Netflix Star Engin Altan visits Edmonton for HCI's water for life campaign – Video; Article, Human Concern International
NEW ANALYSIS – Afghanistan tops list of 7 countries where children were most in need in 2022, Save the Children Canada
Nutrition International affirms commitment to end malnutrition in Africa, Nutrition International
Nutrition International partners with the Government of Bangladesh to develop an e-learning solution for the National Vitamin A-Plus Campaign, Nutrition International
Prioritizing adolescent nutrition for students with disabilities, Nutrition International
Raising Generation Hope.The stakes of the climate crisis are too high for the world's youth.
Their voices need to be heard now, The Walrus
Reimagining Civil Society Collaborations in Development. Starting from the South
Margit van Wessel, Tiina Kontinen, Justice Nyigmah Bawole eds.
Seven can't-miss moments for global nutrition in 2023, Nutrition International
The denial of safe drinking water for Indigenous Peoples is a social disparity that must end, Mahmuda Khan, Executive Director of Human Concern International
Upcoming Events
January 13-27, Online Workshop on Results based Management and Theory of Change in a Changing World, by Mosaic International
January 24, International Day of Education
January 25, Shaping Space: Culturally Responsive Public Spaces. What We've Heard So Far (online)
[French only]: 25-27 janvier, Sommet de la santé durable. Ensemble pour notre santé (format hybride: en ligne et à Québec).
26 January, FIGO's initiative on the impact of pregnancy on long-term health (webinar)
January 30, World NTD Day
January 31, MIH Canada – Experiences of working with Tribal Population for reproductive health
February 1, #BlackLivesMatter in public health: Critical race theory, historical roots and legacies of anti-Black racism, first in an NCCDH Webinar series on anti-Black racism in public health
Starting Feb 6, Gender Data 101 (Free online course, 5 weeks, starting February 6, 2023)
5-8 March, Resilient Health Systems for Africa: Re-envisioning the Future Now (Africa Health Agenda International Conference – #AHAIC2023), Kigali, Rwanda
13-16 March, IATI Members' Assembly and Community Exchange, Copenhagen, Denmark and hybrid format.
Jobs and Opportunities
Data Analysis and Report Writing Consultant, Oxfam Canada. Deadline: January 20
International Program Manager – Youth Empowerment Program, SOS Children's Villages Canada. Deadline: January 27
Executive Director, Horizons of Friendship. Deadline January 31
Senior Manager, Program Finance, Right to Play. Deadline Jan 22
Vice President of Finance and Operations, Canadian Feed the Children. Deadline Feb 7
Vice President of Programs and Partnerships, Canadian Feed the Children. Deadline Feb 7
Call for Proposals – The International Youth Internship Program (IYIP) 2023-2028, Global Affairs Canada. Deadline: March 1
CS Fund Just Transitions Request For Proposals. Deadline: March 1
Social Media & Marketing Officer, Egale Canada. Deadline Mar 7
Institutional Funding Officer, Human Concern International. Deadline: Ongoing
Manager—Monitoring, evaluation, research and learning, One Drop Foundation
HerStart Fellowships (Youth Challenge International), various opportunities.
Associate Director, Major Gifts & Legacy Giving, Cuso International
Accounts Payable Technician, One Drop Foundation
Policy and External Engagement Advisor, Health (Remote in or near Ottawa), World Vision Canada
Specialist, Inclusion, Diversity, Equity and Accessibility, World Vision Canada
Have an opportunity that you would like to share with us? Please contact us at [email protected].