February 2023 Newsletter
Introducing the CanWaCH Global Health Impact Summit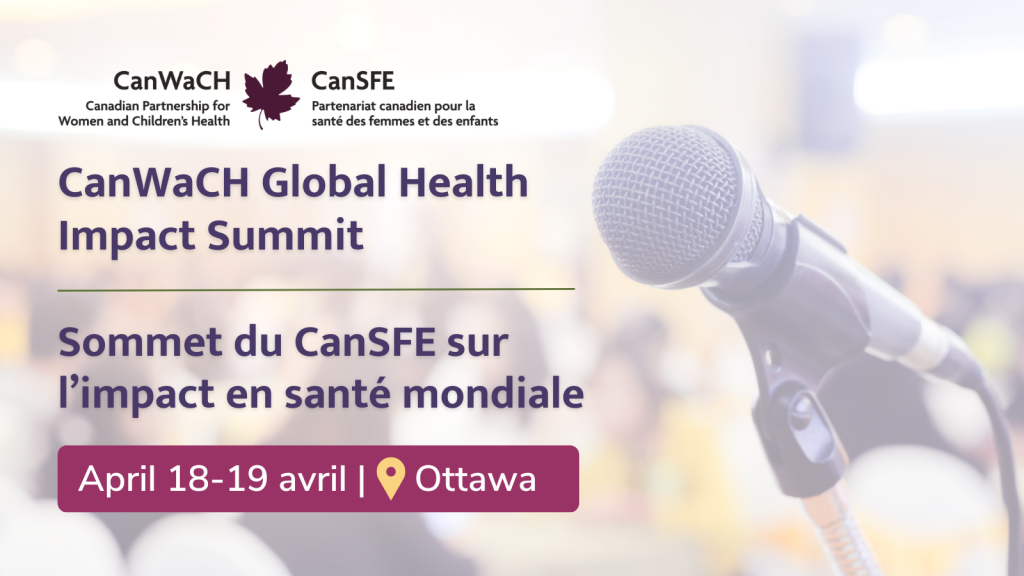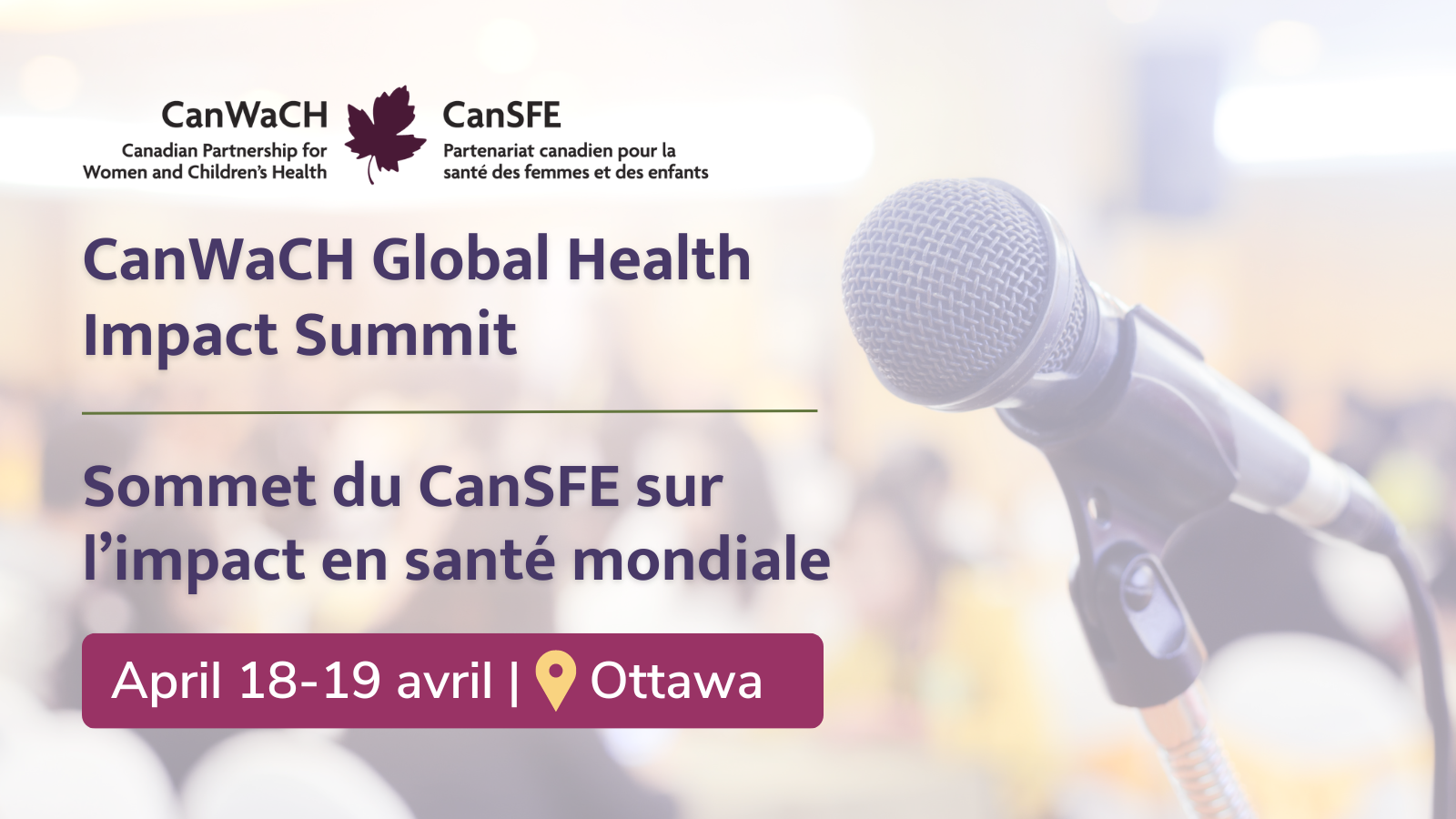 CanWaCH is thrilled to announce our first Global Health Impact Summit! Hosted in Ottawa on April 18 and 19, the summit will bring together organizations and institutions engaged in health and rights programming within the international cooperation sector. This is not your typical event. Be prepared for something new as we try an innovative, rapidfire approach to sharing, learning and connecting. The 2023 summit will take a deep dive into sexual and reproductive health and rights project implementation, considering the challenges, successes and the impact of project efforts. For an opportunity to join the discussion and present to peers, practitioners and a panel of global leaders and technical experts, submit your interest by filling out this short form. The deadline for submissions is March 6.
Last Chance to Register: Vancouver and Calgary CanWaCH Dialogues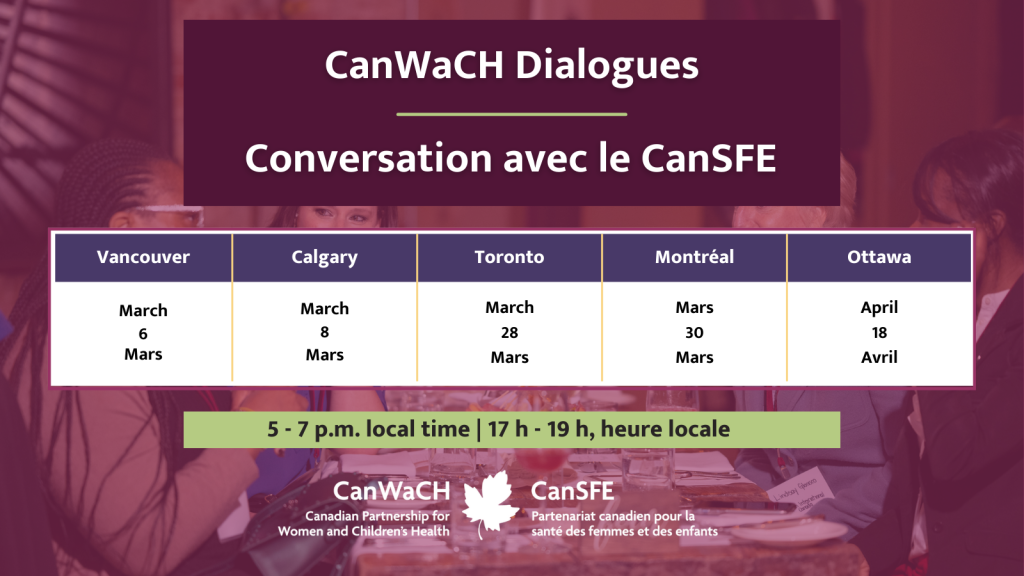 Our CanWaCH dialogues in Vancouver and Calgary are quickly approaching! Building off of the success of our cross-country gatherings in 2022, these in-person dialogues offer tremendous value in driving momentum towards new partnerships and further collaboration. Help us wrap-up each day with a casual evening of discussion and networking open to our colleagues from across the CanWaCH membership and from the Canadian global health and international cooperation sector.
Register for FREE:
We kindly request that you register for Vancouver and Calgary as soon as possible and no later than February 20, 2023.
Applications Open for Equal Futures 2023 Youth Bursary Program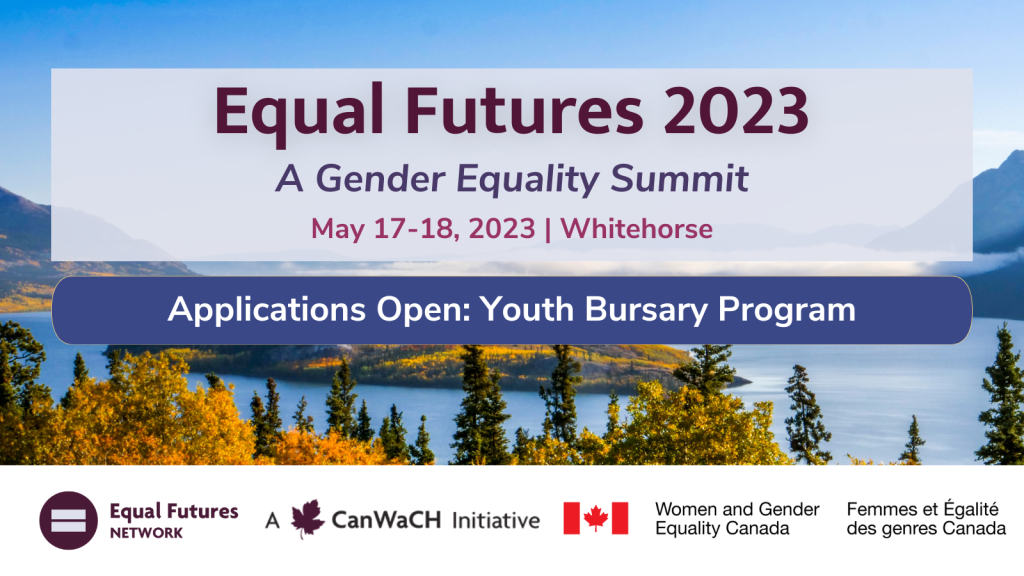 Applications for the Equal Futures 2023: Youth Bursary Program are now open! The bursaries are open to individuals between the ages of 18 (as of May 1, 2023) and 30 (as of December 31, 2023), but preference will be given to applicants working/volunteering/interning in initiatives that work to advance gender equality and social justice in communities across Canada, women's health, rights and wellbeing and with grassroots/community/volunteer-led organizations and entities with small operating budgets.
Help make the Equal Futures 2023 Youth Bursary program even better! By partnering with us, we can provide more opportunities for deserving youth from coast-to-coast-to-coast to attend the summit, develop partnerships, and actively engage in critical discussions. Email us and become a Youth Partner today!
Taking place from May 17-18, 2023, the summit will be held at the beautiful Kwanlin Dün Cultural Centre on the traditional territories of Kwanlin Dün First Nation and Ta'an Kwäch'än Council, also known as Whitehorse.
In Review: International Development Week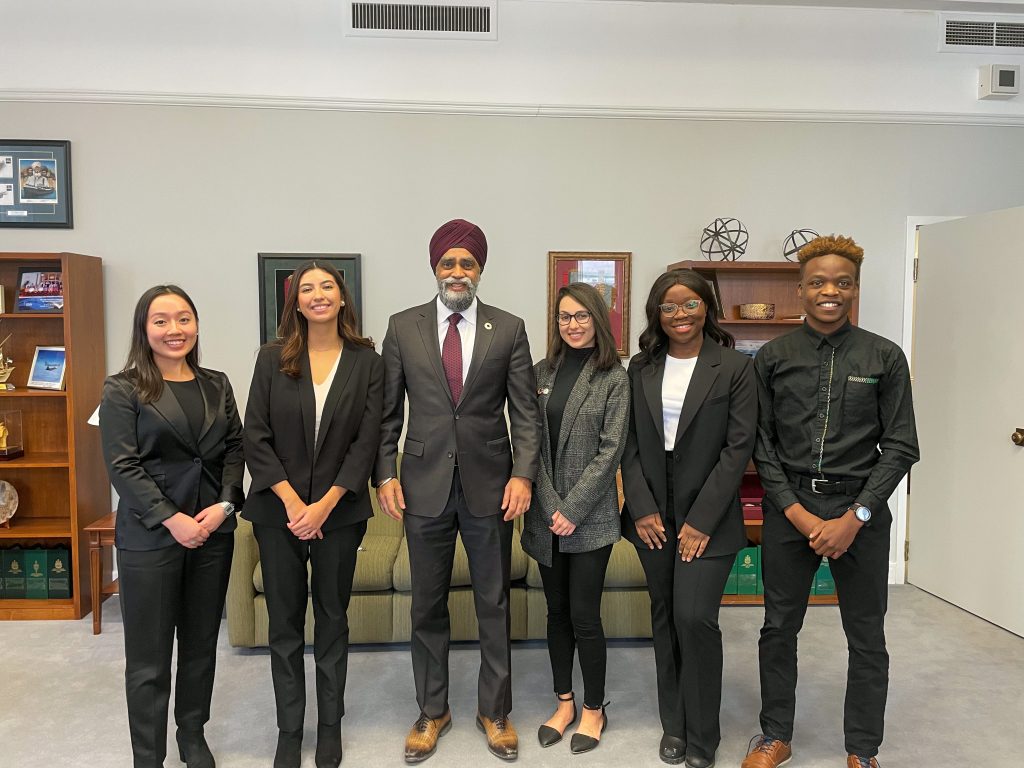 Congratulations to all engaged in an eventful International Development Week! The week featured an exciting variety of activities, announcements and events featuring CanWaCH and several of our members and partners. These included a full house parliamentary reception, a vibrant youth roundtable with the Minister of International Development, a documentary screening in Toronto, funding for public engagement activities and an insightful stakeholder engagement workshop that followed the launch of Canada's 10-Year Commitment to Global Health and Rights 2020-2021 Annual Report. Check out our LinkedIn and Twitter pages for more on #IDW2023!
As part of the week, we shared an impact story from Human Concern International on their Zero Hunger program in Afghanistan. In a new ThriveHire blog, they share more on efforts to support isolated communities and survivors of conflict in Yemen through a clinic project with a local partner.
#IDW2023 Stat: According to a poll released by Cuso International during IDW, almost half of Canadians listed increased access to sexual and reproductive health rights for women and girls (48%) as a priority investment for Canada's international development. And more than a third of Canadians report their understanding has improved regarding gender equality, climate and human rights. CanWaCH is grateful for the opportunity to contribute to this public opinion research project by Cuso International.
Mark Your Calendars: Resilient health systems for all – Call for proposals
Global Affairs Canada will be launching a "resilient health systems for all" call for proposals in May 2023. As a first step, this call will invite eligible organizations to submit concept notes that describe how their projects will adopt an integrated multi-sectoral approach to strengthening health systems especially in terms of primary health care delivery, including sexual and reproductive health and rights, and at the community level. Learn more here.
Responding to the Earthquake in Türkiye and Syria
In response to the devastation in Türkiye and Syria, international cooperation organizations are working to provide humanitarian assistance to people in need. Learn how 12 Canadian charities, including several CanWaCH members and partners, are uniting to respond as the Humanitarian Coalition by visiting this page.
February Spotlight: Black History Month and Sexual and Reproductive Health Awareness Week
Challenging past and present effects of anti-Black racism and violence, uplifting the diverse and unique voices of Black folks, while creating various learning, sharing, and community opportunities, Black History Month by the Anti-Racist Cooperation Hub is aimed at centering efforts in the context of the Canadian International Cooperation Sector. Programming will offer different access points to gauge where the sector is at, what needs may be, what works and doesn't work and more.
This week marks Sexual and Reproductive Health Awareness Week! Held annually, the campaign is designed to raise awareness on sexual and reproductive health and promote resources to improve community health. Check out a snapshot of projects with areas of focus related to SRHR by visiting our new data analytics portal! Download the Sexual and Reproductive Health Education Toolkit for immigrant communities prepared by the Canadian Advisory of Women Immigrants, a youth-led community organization dedicated to empowering immigrant women in Canada through advocacy efforts.
News, Publications and Resources
Toolkits:
Sexual and Reproductive Health Education Toolkit, Canadian Advisory of Women Immigrants
NGO CSW67 Advocacy Toolkit, United Nations Commission on the Status of Women
–
Active in Cambodia, applauded in Canada, CAWST
An urgent call for the environmental sustainability of health systems: A 'sextuple aim' to care for patients, costs, providers, population equity and the planet, The International Journal of Health Planning and Management
After Earthquakes Devastate Turkey And Syria, Action Against Hunger Deploys Emergency Team, Action Against Hunger
Breastfeeding 2023, Lancet Series
Canadian parliamentarians witness impact of health and nutrition programs in Makueni County, Nutrition International
Climate crisis and women's rights: Mission inclusion and IUCN selected for a 3-year, $30 million project under the Canadian government's Partnering for Climate, Mission inclusion
Des synergies porteuses en faveur de la lutte contre le cancer du col de l'utérus au Mali (French Only), Santé Monde
Five areas for action on vitamin A supplementation for child survival in 2023, Nutrition International
Government of Kenya releases the Kenya Demographic and Health Survey 2022 Key Indicators Report, Nutrition International
"International charities in Canada fear funding cuts as federal budget looms", Global News
Kayes, Mali – L'engagement du gouvernement canadien reconnu à travers le projet Yellen (French only), Université de Montréal
Mind the Disruption – Season 1, Episode 6: Disrupting Colonialism for Two-Spirit Health (Podcast), National Collaborating Centre for Determinants of Health
Nutrition International supports The Lancet's new breastfeeding series' renewed call for breastfeeding to be protected, promoted and supported, Nutrition International
Nutrition International convenes regional technical meeting on vitamin A supplementation for child survival in Africa, Nutrition International
Peer to Peer: Student governments in India support nutrition for adolescent girls, Nutrition International
Prioritizing adolescent nutrition for students with disabilities, Nutrition International
Starting a new life in Nigeria, Cuso International
Sustainable farming project in Jamaica supports women with disabilities, Cuso International
When celebrating Canada's efforts, history and solidarity need a seat at the table, Partners in Health Canada
WHO recommendations on maternal and newborn care for a positive postnatal experience, WHO
Upcoming Events
February-April: Introducing Cohort 2 of Designing Digital Dialogues! Join a series of community sessions and workshops designed to help you create meaningful online communications starting this February! Use the code 'CanWaCHmember' to enroll in the training and receive access to the toolkit, training modules and other materials for free! Please ensure that you sign-up online using your organizational email.
February: Black History Month
February 13-17: Sexual and Reproductive Health Awareness Week
February 21: Reading Group: Afrotopia
February 22: Engaging Feminism: Is Democracy in Crisis? With Violeta Barrientos-Silva, as part of the Feminist Leadership Speaker Series (Coady Institute International Centre for Women's Leadership)
February 23: Solutions in Scarcity: Harnessing Development Assistance for Smart Gender Data Financing
February 28: Community Conversations
February 27: IATI CSO Course Demo on World NGO Day
March 5-8: Resilient Health Systems for Africa: Re-envisioning the Future Now (Africa Health Agenda International Conference – #AHAIC2023), Kigali, Rwanda
March 6 – March 17: CSW 67
March 15-16: IATI Members' Assembly and Community Exchange, Copenhagen, Denmark and hybrid format. (Deadline for submissions extended to Feb 20)
May 17-18: Equal Futures 2023: A Gender Equality Summit
Jobs and Opportunities
Senior Writer and Editor, Canadian Partnership for Women and Children's Health. Applications reviewed on a rolling basis
Agent ou agente d'administration, CIDIS : Centre interdisciplinaire de développement international en santé de l'Université de Sherbrooke. Application deadline: February 16
Monitoring, Evaluation, Research and Learning Manager, Aga Khan Foundation Canada. Deadline: February 16
Digital Communication Specialist, Canadian Feed the Children. Deadline: February 19
Coordonnateur(rice) projet "Devenir". Niger, Médecins du Monde Canada. Deadline: February 23
Become a Mentor/Mentee (MentorNet Program), CAGH. Deadline: February 24
Digital & Social Engagement Specialist, SOS CHildren's Villages Canada. Deadline: February 25
Operations & Membership Services Manager, Dignity Network Canada. Deadline: February 25
Project Financial Analyst, Crossroads International. Deadline: February 25
Conseillère ou conseiller en communication, Santé Monde, Deadline: February 28
Director – Finance & Administration, Tearfund Canada. Deadline: February 28
Executive Director, Hope and Healing International. Deadline: February 28
Fund Development Officer, Planned Giving, Oxfam Canada. Deadline: February 28
Manager—Monitoring, evaluation, research and learning, One Drop Foundation. Deadline: February 28
RFP – Knowledge Management Consultant for My Choice for My Life Project, Plan International
Call for Proposals – The International Youth Internship Program (IYIP) 2023-2028, Global Affairs Canada. Deadline: March 1
CS Fund Just Transitions Request For Proposals. Deadline: March 1
Program Analyst (STARS), Global Health Innovation, Grand Challenges Canada. Deadline: March 2
Program Analyst (Transition to Scale), Global Health Innovation, Grand Challenges Canada. Deadline: March 2
Executive Director, Elizabeth Bagshaw Clinic. Deadline: March 2
Social Media & Marketing Officer, Egale Canada. Deadline: March 7
Annual General Assembly (AGA) Support Intern, Médecins Sans Frontières. Deadline: March 14
McGill Summer Institutes in Global Health Courses, McGill Summer Institutes in Global Health. Deadline: May 23
Accounts Payable Technician, One Drop Foundation
Institutional Funding Officer, Human Concern International. Deadline: Ongoing
HerStart Fellowships Youth Challenge International, various opportunities.
Bolivia – Strategic Planning Advisor, Oxfam-Québec. Deadline: As soon as possible
Honduras – Fundraising Advisor, Oxfam-Québec. Deadline: As soon as possible
Policy and External Engagement Advisor, Health (Remote in or near Ottawa), World Vision Canada
Specialist, Inclusion, Diversity, Equity and Accessibility, World Vision Canada
Have an opportunity that you would like to share with us? Please contact us at [email protected].
Subscribe to our monthly newsletter here.