November 2022 Newsletter
Dr. Herminia Palacio to Deliver Keynote Address at the CanWaCH Annual General Meeting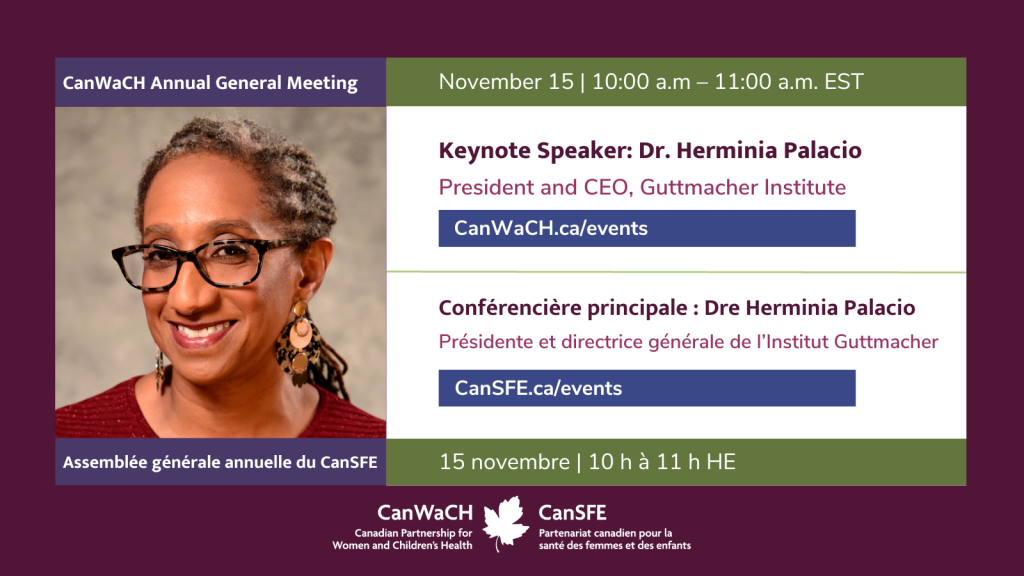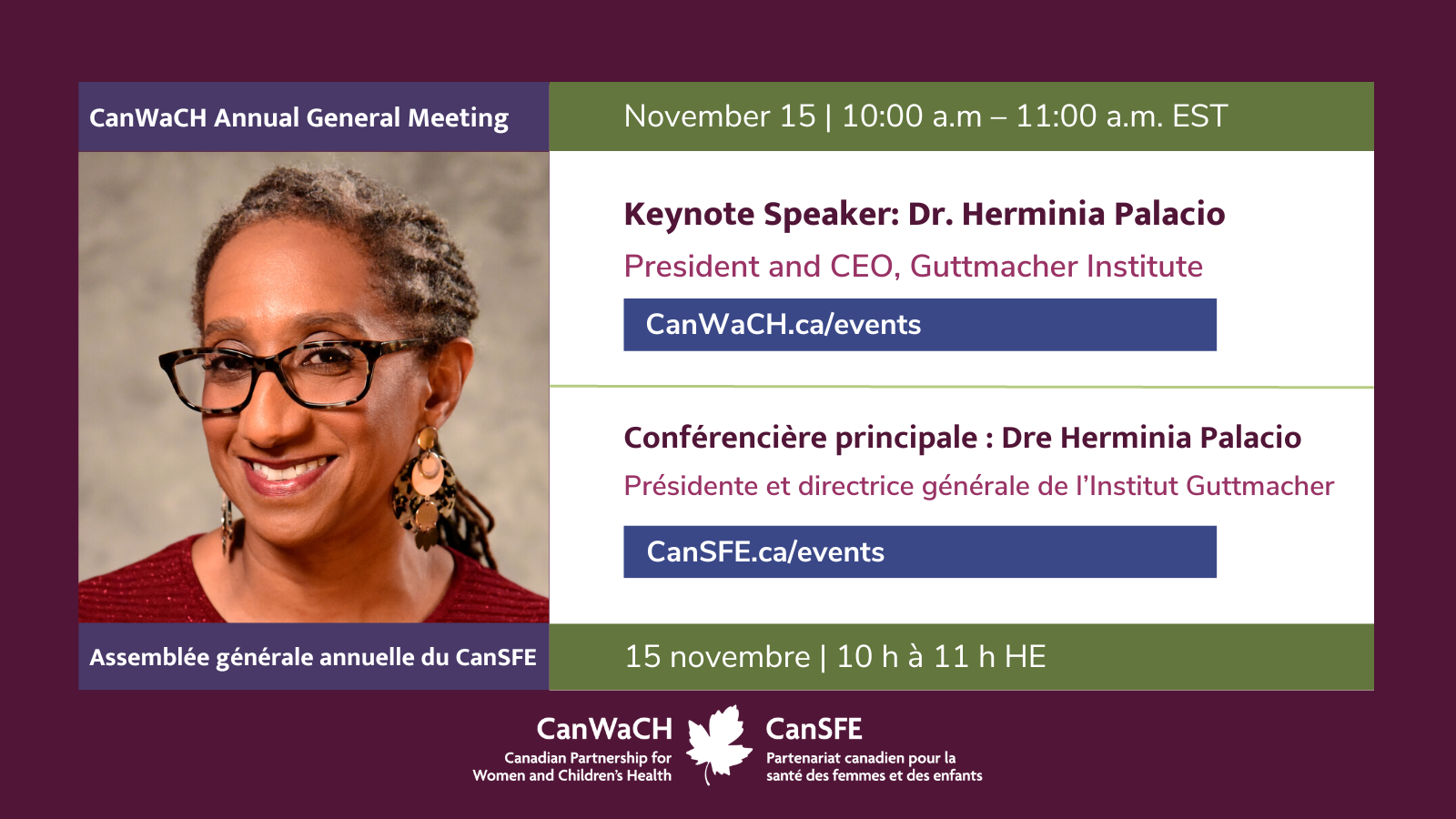 We are thrilled to announce Dr. Herminia Palacio as the keynote speaker of our Annual General Meeting (AGM)! The President and CEO of the Guttmacher Institute, an organization aiming to advance sexual and reproductive health and rights globally, Dr. Palacio has dedicated her career to advancing health equity. Get to know Dr. Palacio and register for our AGM on November 15 here.
The CanWaCH AGM will be followed by a cultural competency workshop hosted by Breakfast Culture at 1 p.m. EST. Open to all, the session will provide an in-depth focus on how to integrate the principles of diversity and inclusion into your work. Be sure to register separately for the AGM and the workshop.
Renew your membership and cast your AGM votes now!
Membership renewal notices and voting information for the AGM have been sent to all CanWaCH member organizations. Membership fees must be paid before the AGM on November 15th in order for your organization's votes to be valid. If you would like to request a financial accommodation waiver, or if you have any questions about your membership invoice or AGM voting access, please email us at [email protected].
International Conference on Family Planning (ICFP) Starts Next Week
The world's largest gathering of family planning and reproductive health professionals starts on Monday, November 14! This year's theme, Innovate. Collaborate. Accelerate., underscores the key role that family planning plays in achieving universal health coverage.
In preparation for ICFP, we want to hear from you on your engagement in the conference and the challenges you are facing in your current sexual health and reproductive rights work. Please fill out this short google form to share your plans. This will help inform how we can use our attendance at ICFP to build new partnerships, amplify your voices and engage members and partners by sharing our key learnings.
Out now on ThriveHire Files: (Re)Imagining the Future of International Development: Reflections from the Cooperation Canada Futures Festival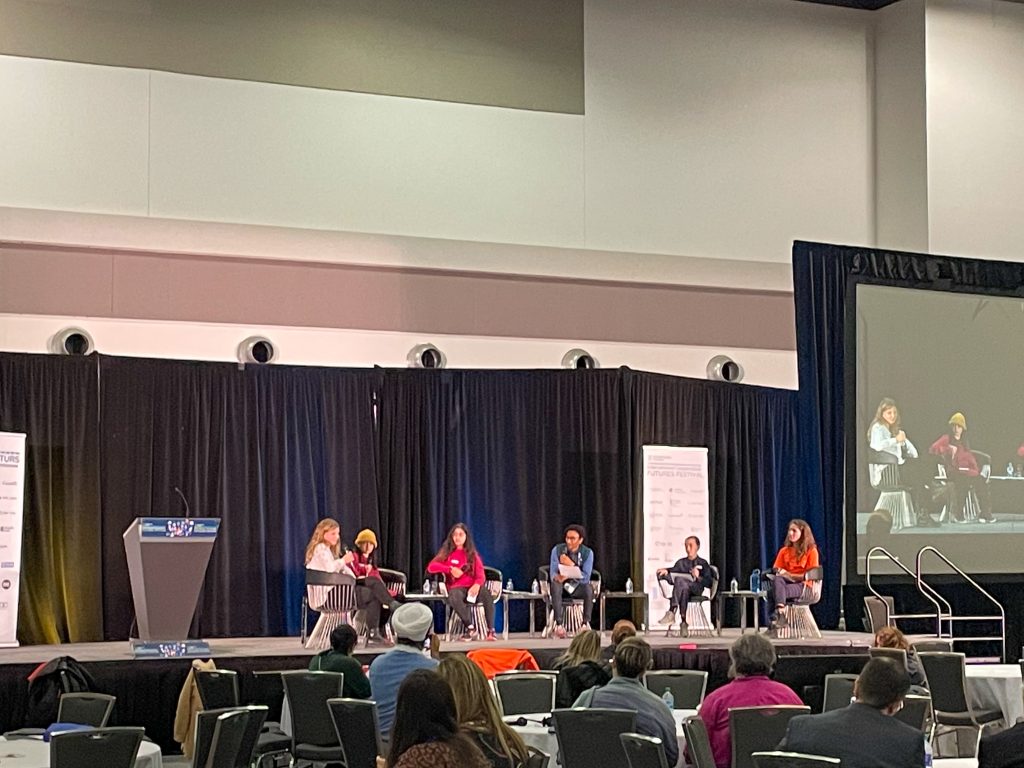 From October 17 to October 20th, CanWaCH was proud to be a partner of Cooperation Canada's International Cooperation Futures Festival! The festival saw us reconnect with members and partners in person while learning from change-makers in Canada and around the world. Sophia Mirzayee, an education and youth engagement officer at Aga Khan Foundation Canada and member of CanWaCH's Youth Working Group, reflected on her experience at the festival in the latest blog on ThriveHire Files.
Are you interested in submitting an article to the ThriveHire Files? Visit CanWaCH.ca/ThriveHire for details!
Is your organization participating in Women Deliver 2023?
The Women Deliver 2023 (WD2023) conference will take place in Kigali, Rwanda from July 17 to 20. One of the largest multi-sectoral convenings to advance gender equality, WD2023 will bring together 6,000 people in Kigali. CanWaCH will be connecting Canadian organizations in advance and during their attendance at WD2023. If your organization will be represented at WD2023, please let us know at [email protected].
Sector Moment: World Children's Day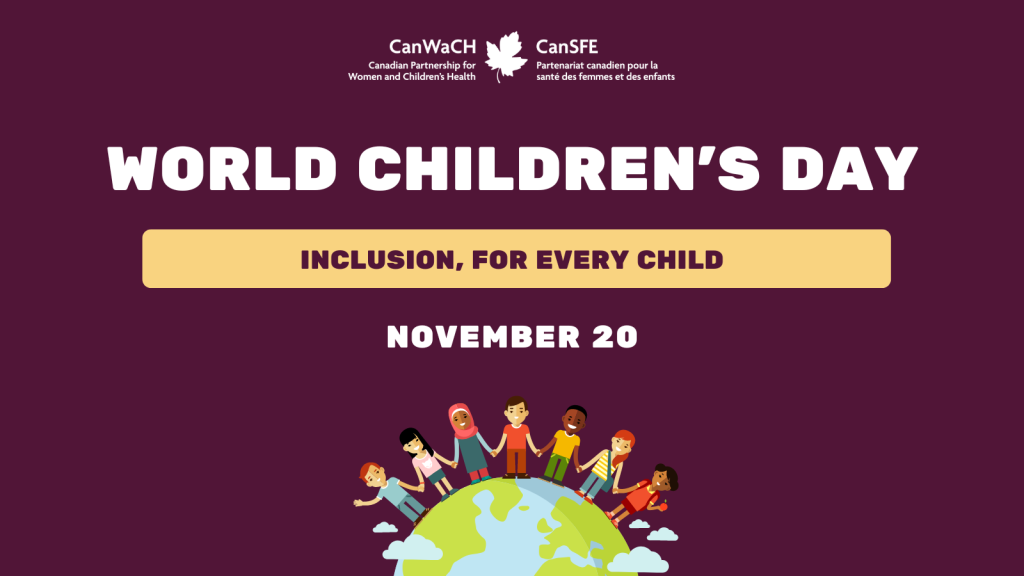 November 20 is World Children's Day! As we mark this year's theme, Inclusion, For Every Child, get to know how some of our members are supporting the wellbeing of children around the world:
Cuso International: Through the U-GIRLS 2 program, Cuso International works to provide resources and trainings to support the education of girls. Over the past year, 400 girls and women in the Benishangul Gumuz region have received support through U-GIRLS 2. Read the full story.
First Comes Food: A podcast by Canadian Feed The Children, listen in to hear about some of the surprising ways communities are feeding children and families in the face of a global food crisis. The podcast shares stories from early childhood community programs in Bolivia, Indigenous food forests in Saskatchewan and farming communities in African countries.
Being: Hosted by Grand Challenges Canada, in partnership with Fondation Botnar, United for Global Mental Health and Global Affairs Canada, Being works with young people to improve their mental wellbeing through research and innovative youth-focused approaches to create positive, lasting change in local communities and beyond. Learn more here.
Children Believe: Driven by a belief that creating access to education is the most powerful tool children can use to change their world, Children Believe works towards providing girls with equal access to education. Read their story featuring five young leaders shared during October's International Day of the Girl.
SOS Mother and Child Hospital: Created to provide maternal and newborn health services, the Mother and Child Hospital has seen over 6,700 women and children receive inpatient care and treatment and healthcare provided to children living in the internally displaced community. Learn more at SOS Children's Villages Canada.
Keep up with us on our social media channels @CanWaCH as we amplify members on World Children's Day, World Toilet Day and the 16 Days of Activism Against Gender-Based Violence. Have stories or resources you would like CanWaCH to amplify? Please send them to Biko Mwalagho at [email protected]!
How do you measure that? Tools for measuring empowerment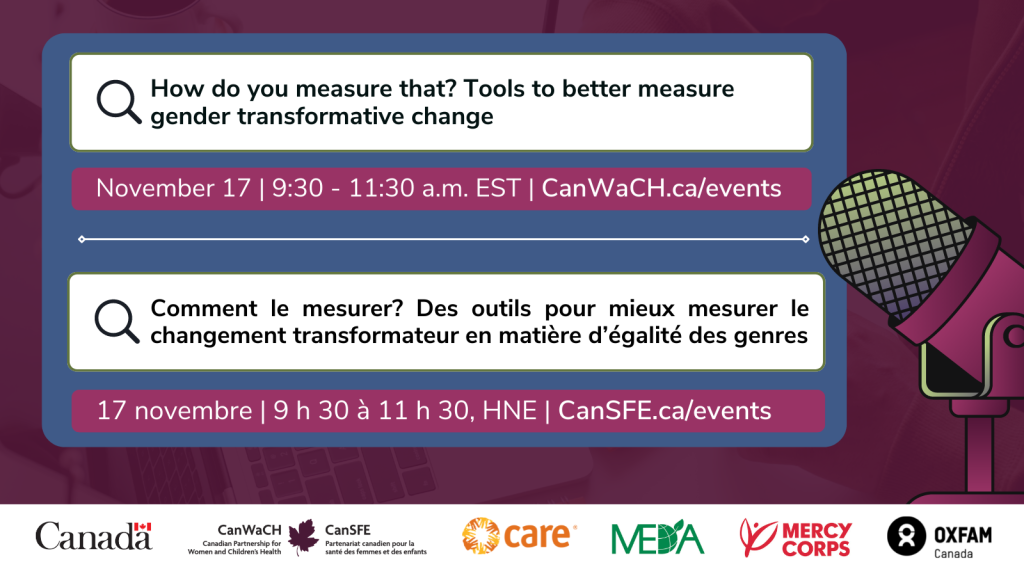 Call for resources! We are compiling tools for the measurement of gender equality and women and girls' empowerment, including but not limited to those that apply a feminist methodology, and/or reflection exercises and after-action reviews on the use of these tools. If you would like to share, email them to Erica Fotheringham at [email protected].
Don't forget to register! Join us on Thursday, November 17th from 9:30 – 11:30 a.m. EST for an interactive virtual symposium to examine tools for measuring gender equality and empowerment, and practical learnings from their application. This symposium will feature presentations from CARE, Global Affairs Canada, MEDA, and Oxfam Canada. Register here.
Data Matters
CanWaCH is excited to be taking part in sessions at this year's Canadian Conference on Global Health (CCGH)! Are you planning to attend CCGH? Add these sessions featuring CanWaCH and our members to your calendar:
November 21, 2 p.m. EST: Digital storytelling for global health research and action, hosted by the team behind the Digital Storytelling for Global Health Research and Action Collaborative initiative
November 22, 11 a.m. EST: Decolonizing global health monitoring, evaluation, research and learning: with, by and for communities
November 23, 12 p.m. EST: Challenges implementing a field trial in rural Benin focused on improving women's health and gender equity during the pandemic, hosted by Lucky Iron Fish
November 23, 1:30 p.m. EST: Learning how to walk the talk: operationalizing research, practice and partnerships for more equitable and inclusive health and wellbeing for ALL
If you are attending the conference in person and wish to connect with members of the CanWaCH team and member organizations? Contact us at [email protected].
News, Publications and Resources
Designing Digital Dialogues: Communications for Systems Change Toolkit, CanWaCH (Use code 'CanWaCHmember' for free access)
Advocating for the LGBTQ2I community in the DRC, Cuso International
Bridging Cameroon's IT gender divide, Cuso International
Five shining examples of how empowering girls can change the world, Children Believe
First Comes Food (Podcast), Canadian Feed The Children
Keeping a sound mind after disaster strikes, Food for the Hungry
Launch Presentation and Statement, Pledge for Change
Le féminisme décolonial en pratique : discutons-en!, AQOCI (French only)
Let's never take water for granted, One Drop Foundation (French Only)
Mobile Mira Channel: A Digital BCC Model for Improving the Uptake of Prenatal Care Services in Rural Nuh, India, ZMQ Global
New global initiative will harness food fortification to fight micronutrient deficiencies, Nutrition International
Nutrition International celebrates 30 years of Canadian leadership in global nutrition, Nutrition International
Rapport annuel 2021-2022, Oxfam-Québec
Prioritizing gender equity and intersectionality in Canadian global health institutions and partnerships, Plos Global Public Health, by Bianca Carducci ,Emily C. Keats, Michelle Amri, Katrina M. Plamondon, Jeannie Shoveller, Onome Ako, F. Gigi Osler, Carol Henry, Nitika Pant Pai, Erica Di Ruggiero
SABC: When equity and diversity foster positive change at multiple levels, One Drop
Sharing the gift of entrepreneurship through volunteering, Cuso International
Sustainable farming project in Jamaica supports women with disabilities, Cuso International
Supporting students' education and success, Cuso International
Tanzanian women and youth are harvesting hope as well as crops, Cuso International
The "Great Resignation" of Health and Care Workers (Video), Women in Global Health
The Impact of Climate Change on Maternal and Newborn Health Outcomes, Wilson Center's Maternal Health Initiative, in collaboration with UNFPA
Water, health, heart, and art: transforming health centres in Burkina Faso, One Drop Foundation
Women and water: on the frontline of climate change, WaterAid Canada
Your step by step guide to researching funding for women's economic empowerment and women's financial inclusion, Publish What You Fund
Upcoming Events
November 17, How do you measure that? Tools to better measure gender transformative change
November 2022, Journées québécoises de la solidarité internationale
November 10, 2022, IATI Virtual Community Exchange 4 (VCE4)
November 14-17, International Conference on Family Planning- ICFP 2022, Pattaya City, Thailand & virtual
November 17, 2022, Household water treatment and safe storage (HWTS) Network Annual Meeting
November 18, Canada's Leading Forum for Racialized Perinatal Healthcare
November 19, 2022, 12:00 – 1:30 pm ET, November Global Reads – AKFC's Book Club: "The Ministry for the Future", by New York Times bestselling author Kim Stanley Robinson (discussion led by Catherine McKenna), Ottawa & online
November 21-23, "Inclusive Global Health in Uncertain Times: Research and Practice", 28th Canadian Conference on Global Health
November 22, Santé Monde Annual General Meeting
November 22-24, Africa Evaluation Indaba: Transforming Evaluation for Equity and Social Justice, Online Series
November 24, CSO roundtable with WHO's Regional Director for Africa, Dr Matshidiso Moeti
November 28-30 and December 1, Journées Annuelles de Santé Publique, Montréal (French Only)
November 29-20, Africa Virtual Learning Exchange: Household Water Treatment and Safe Storage Best Practices Towards safe drinking water for all across Africa, organized by CAWST.
December 6, 2022, 10:00 – 11:30 am ET, December Global Reads – AKFC's Book Club: "What Strange Paradise", by Omar El Akkad. Ottawa & online. Stay tuned for more details
January 13-27, 2023, Online Workshop on Results based Management and Theory of Change in a Changing World, by Mosaic International
February 24-26, 2023, Oxfam Canada X Canadian Centre For Gender And Sexual Diversity Youth Summit – Application deadline: November 28, 2022
Jobs and Opportunities
Being: Opportunity for Collaboration, Grand Challenges Canada
Executive Director, Canadian Association for Global Health
Funding Opportunity – Stars in Global Health Program, Grand Challenges Canada
Operations Coordinator, Amref Health Africa in Canada
Parliamentary Affairs Manager, Results Canada
Project Manager, Action Against Hunger Canada
Research Associate Academic, Institute on Ethics & Policy for Innovation (IEPI), McMaster University
Research and Policy Manager, PolicyWise
Senior Manager, Business Development and Partnerships, Lucky Iron Fish
Technicien(ne) ressources humaines (dotation coopération internationale), Oxfam-Québec (French only)
Have an opportunity that you would like to share with us? Please contact us at [email protected].
Receive our latest newsletters in your inbox by subscribing at https://canwach.glueup.com/org/canwach/subscriptions/